'I've never worked through a night'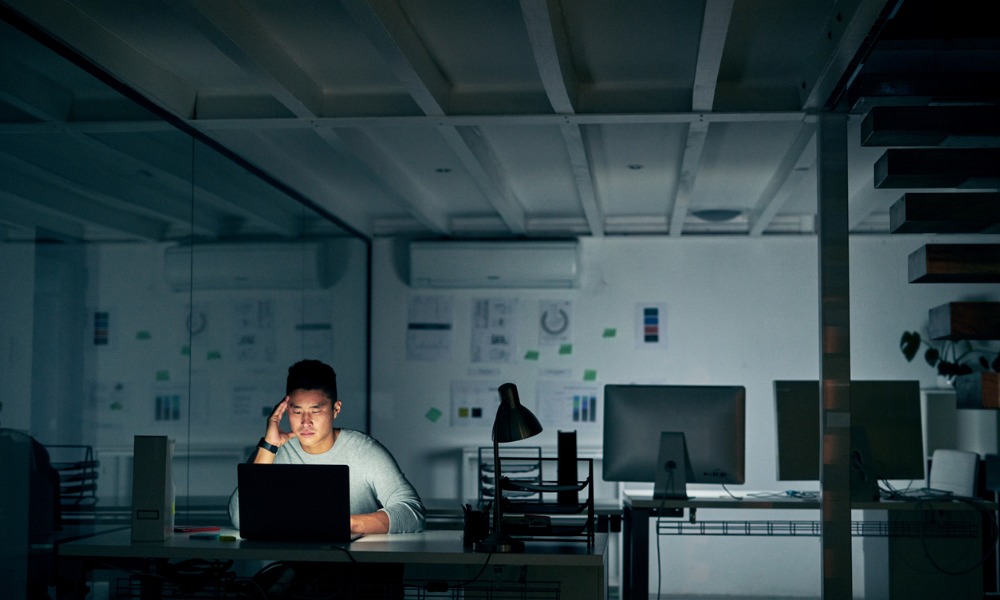 A culture of overwork is not necessary for tech firms to achieve business success, said Shopify's co-founder and CEO Tobias Lutke.
In a recent Twitter thread, Lutke called out the tech industry's practice of making employees work long hours – even labelling 80-hour work weeks "exploitative".
Responding to an online debate over whether 40-hour work weeks were "a good idea" at tech companies, the founder of the US$48 billion e-commerce software firm shared he's "never worked through a night".
"The only times I worked more than 40 hours in a week was when I had the burning desire to do so," Lutke wrote. "I need 8ish hours of sleep a night. Same with everybody else, whether we admit it or not."
He also shared how he maintains work-life balance.
"I'm home at 5.30pm every evening," he wrote. "I don't travel on the weekend. I play video games alone, with my friends, and increasingly with my kids.
"My job is incredible, but it's also just a job. Family and personal health rank higher in my priority list."
A bad reputation
Lutke's views seem at odds with the industry's prevailing reputation. In China, for instance, '996' culture came into the limelight after it was revealed how tech firms enforced 9am to 9pm work schedules, six days a week.
READ MORE: Chinese tech works go viral with overtime protest
Jack Ma, the billionaire owner of Alibaba even said that if people "don't put out more time and energy than others", they won't be able to achieve "the success you want".
At one point he defended the practice, calling it a "huge blessing".
Days after he changed his tone and branded it as "foolish", saying companies who practiced it are "doomed to fail".
Besides enforcing the culture for Alibaba's employees, Ma had also shared that he worked the same 12-hour days to get his billionaire status.
READ MORE: Jack Ma on '996' overtime culture
Ma wasn't the only one. Tesla's CEO Elon Musk had also shared that he worked 120-hour weeks during the company's "difficult" years, adding that slowing down was "not an option".
Jack Dorsey, head of Twitter and Square also reportedly had 20-hour workdays, dividing his time between the two tech start-ups.
The employee experience
For Lutke, having such expectations for employees simply makes the working relationship "exploitative".
"In some places average tenure is only 18 months," he wrote. "Yes, you might want to work everyone 80 hours to make that work. Onboarding is expensive, so you skip it. You need value [from] day 1. The relationship is exploitative."
READ MORE: 'Forced' overtime the greatest productivity killer
How can leaders balance the equation then? Ever since Shopify was founded in 2004, despite all the changes with the company, Lutke shared that the leaders remain invested in the employee experience because of personal reasons.
"[Co-founder Daniel Weinand] always said: let's not build a company that we wouldn't want to work for in 10 years' time," Lutke wrote. "Future regret minimisation is a powerful force for good judgement.
"While we did work hard (whatever that means in tech) in the early days, we also always took time to play."
He added that Shopify's leaders are on the same page when it comes to offering a positive employee experience.
"We don't burn out people," he wrote. "We give people space. We love real teams with real friendship forming. We understand the power of individual potential and proximity.
"And that's why people show up to work as their authentic selves. With all their quirks and skills and ideas. They tell us what they see and how it relates to the mission. They work on those ideas. Shopify enables them, but they drive the company forward."
Despite Shopify's success, the tech leader made clear that what they do works "great for us", and there's no "black/white" solution to improve the industry's practices.
"Grey thinking is important and not everything is an absolute," Lutke wrote. "Take your own path, judge the tools people offer you wisely. Then pick and choose what fits."