Here is a roundup of the award-winning organizations and professionals featured in our Special Reports

Throughout the year, our 30-strong Intelligence Unit researches a series of Special Reports – each showcasing the top-performing HR professionals and companies across a number of important categories. Over the past 12 months, 160,000 surveys have been completed across Asia, Australia, Canada, New Zealand, the UK and the US. The culmination of all that reporting is our annual Global Best in HR digital edition.
The Global Best in HR recognizes the HR award winners from all of our special reports in 2022, which have already attracted 1.7 million online pageviews between them.
This important list provides a definitive annual collection of those who have delivered outstanding results, introduced new initiatives, refined existing workplace practices, and also acted as a source of inspiration to colleagues.
As a global publisher, our Intelligence Unit dedicates itself to carrying out detailed research including harnessing our wide-ranging resources to canvass industry experts and knowledgeable sources to determine who is worthy of a place on the list.
This annual guide was curated and published by Canadian HR Reporter, Human Resources Director Australia, Human Resources Director NZ, Human Resources Director Asia, Human Resources Director Canada and Human Resources Director US.
We also thank the International Project Management Association for their help with our reports.
Below is the Global Best. We hope you enjoy discovering all of those who we believe are shining brightest and who are shaping the future of HR.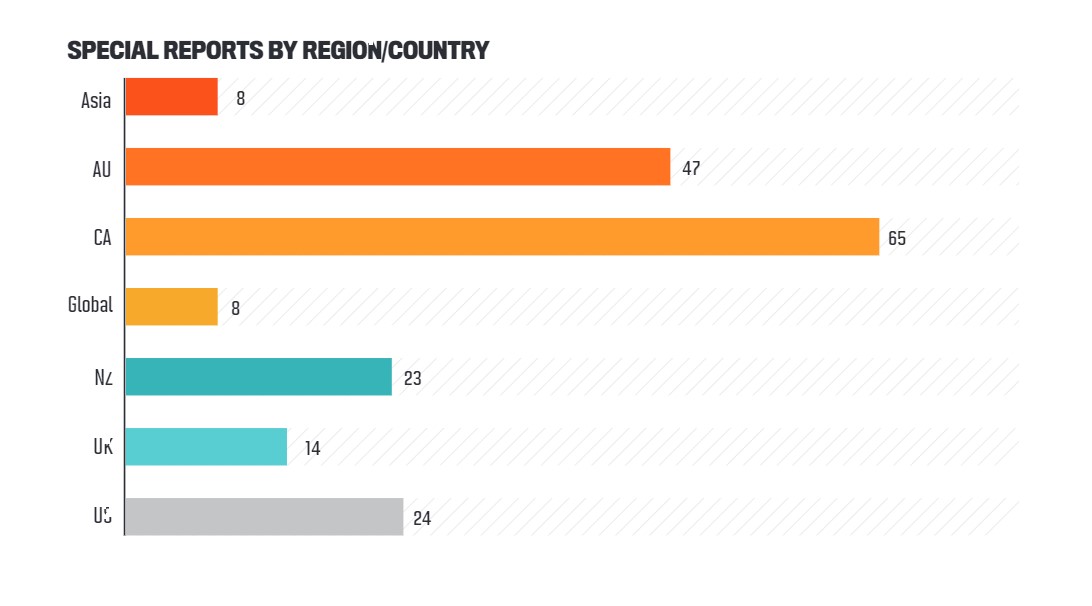 5-Star Diversity and Inclusion Employers
5-Star Employer of Choice
5-Star Employment Lawyers and Law Firms
5-Star HR Software and Technology Providers
5-Star Learning and Development
5-Star Rewards and Recognition
Best Places to Work
Global 100 HR Leaders
Hot List
Innovative HR Teams
Readers' Choice
Rising Stars
Service Provider Awards
How we choose the best
Each year our research team sends out thousands of surveys to the HR industry, that it then follows up with phone interviews to find out just who the industry thinks is worthy of recognition. Shortlisted finalists are then put in front of our judging panel to help make a final decision on who to include in the list of award winners.
1,686,345 Pageviews of the 'Best In' page
232 Surveys we sent out globally in 2022
189 Special reports we produced globally in 2022

Head Office Address:
London, ON, Canada
Email:
hrdownloads.com/contact-us
Website:
hrdownloads.com
There's always something happening at HRdownloads.
Depending on the season, employees may be planting trees, donating socks, contributing to food banks or some other form of almsgiving. In fact, the London, Ontario-based HR technology firm selects a charity each month to showcase on social media, encouraging followers to donate and then matching the total donation. The philanthropy not only positively impacts the community, but also brings the distributed workforce together.
"You can't just hope employee engagement happens, so you have to look for those opportunities," Sharon Bunce, chief of staff at HRdownloads, told HRD. "We make sure there's a concerted effort because it won't just happen naturally. You have to be deliberate, but at the same time, you can't make something feel forced for employees. They have to feel it's an opportunity and space to be authentic, and it's our job to provide those opportunities."
Like many HR leaders in this remote/hybrid world, Bunce is tasked with maintaining employee engagement despite 80% of staff working from home. To foster a collaborative, fun and high energy environment, the company offers a bevy of benefits and perks, such as gym memberships, professional development opportunities, five paid sick days and shutting down during the holidays (employees are also fully paid during this period).
"It can be easy to lose sight of that work-life balance when you're working from home, so we're building a culture where employees can balance their personal commitments while focusing on and achieving success at work," says Bunce, a 12-year veteran of HRdownloads.
The company's "work where you're most productive" policy stems from employees' overwhelming reluctance to return to the office. The 10 paid wellness days, which were implemented in 2021, also resulted from staffers' desire for increased flexibility. Bunce attributes listening to the workforce as the best weapon for combatting turnover, which HRdownloads wasn't immune to during the Great Resignation.
"We've gone through this transformation of really looking at how our culture supports our employees to love what they do and putting that at the forefront of decision-making when it comes to internal policies and practices," says Bunce, adding that brief employee experience surveys (three to five questions) allow staff to voice their concerns.
"People change so you want to be mindful of what's important to your people today and as we look to the future," Bunce says. "We're continuing to build out our retention strategies, making any tweaks and adjustments along the way, and making sure our staff are empowered to use our professional development and benefits to grow their career with us."
Additionally, as the war for talent continues in 2023, HRdownloads has improved its recruiting strategy. Its flexible work policy expands the talent pool to include more diverse applicants, and its hiring process has been expedited to meet the demands of job seekers with seemingly endless options. Plus, the company has shifted from phone screeners to video interviews to establish face-to-face interaction from the beginning of the process.
"Employee engagement starts even before someone starts working for you," Bunce says. "We're being extremely responsive to applicants and moving them forward in a timely manner, as we try to fill our positions as efficiently as possible."