Jump to winners | Jump to methodology
Making HR operate better
The pandemic ushered in rapid digitisation. Organisations have been overhauling internal systems such as payroll, onboarding, recruitment and employee assistance programs, to sync with the digital age.

HRD's annual Service Provider Awards recognise the top providers across Australia and New Zealand enabling organisations to overhaul their systems and operate more efficiently. Key areas were analysed such as corporate health and wellbeing, employment law, human capital management systems, learning and development, payroll systems, pre-employment screening and psychometric assessment, recruitment systems and technology, rewards and recognition, talent management and workforce management software.
"We understand the deep complexities of managing employment, and the consequences of doing it wrong"



Ben Thompson, Employment Hero
The HRD team selected the most deserving following in-depth analysis of all submissions. Back in 2017, statistics from Deloitte's The Future of Work: Aussie HR Professionals Unprepared report showed that 84% of HR professionals said building the 'organisation of the future' was a priority, but only 9% knew how to go about achieving this. Now, five years later, they are equipped to do that, thanks to the offerings from service providers and HRD's award winners.
Alan Pettersen, founder and director of Positive People HR Consultancy, says, "Many organisations are now genuinely latching on to that fact and are wanting more than a superficial HR administration system parading as HR." He also adds that a key factor is "using technology to simplify and speed up HR administration".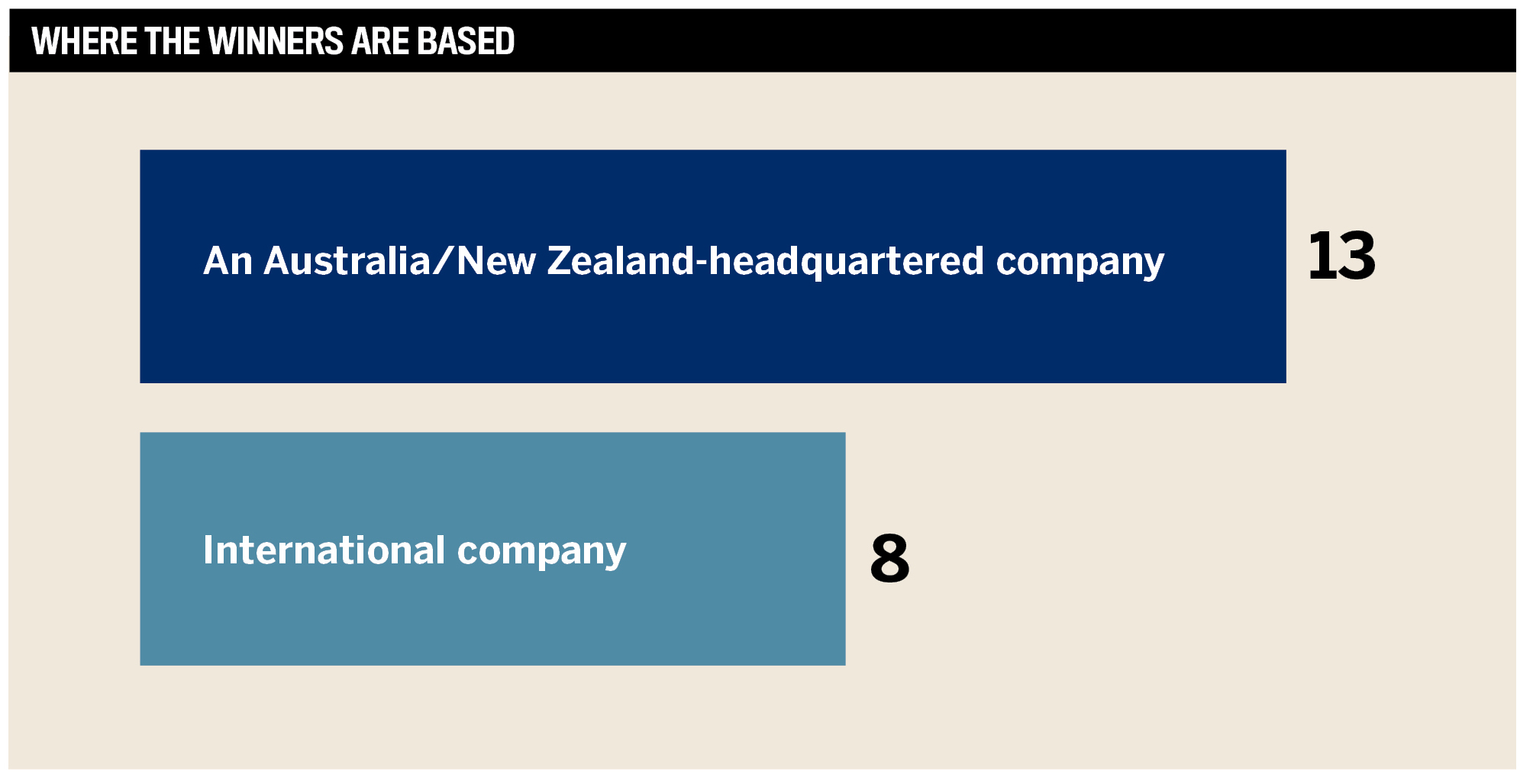 Skyrocketing demand and growth
All of this year's winners have experienced significant growth, either in revenue or client base, in the last 12 months , with vendors enjoying 20% growth on average. Others reported exceptional results, with one vendor seeing its customer base grow by 200%.
HR software provider Employment Hero won medals across six different categories and has also been named as Australia's #8 tech unicorn. Founder and CEO Ben Thompson says his background as an employment lawyer has been a huge contributor to the firms' success by allowing them to fundamentally appreciate what HR professionals need.
"We understand the deep complexities of managing employment, and the consequences of doing it wrong," Thompson says.
"Our offering has been built from the ground up with employers, their HR teams and their employees top of mind from day one. Our goal is to make these tools as great as they can be, and to deliver them to every employer and employee on the planet."
This mindset is echoed by Patricia Hubbard, senior consultant at Gallup, who has observed how it translates into an improvement in a company's performance. She explains, "An organisation that runs effective engagement programs and allows managers to have conversations with their teams and create simple actions see an improvement in business outcomes. Our research shows a highly engaged workforce leads to lower absenteeism, a reduction in safety issues, reduced staff turnover, and higher productivity."
In the case of Employment Hero, its impressive growth rate in its eight-year existence has led to its 'unicorn' status after being valued at $1.25bn in February 2022. Thompson explains that it has been down to a "relentless focus" to make employment easier and more valuable for everyone.
"We make sure to hire the right people who align with our purpose," he adds. "When everyone is focused and connected to the one ambition, it makes things a whole lot easier. We also focus on driving efficiencies across each part of the business. If a process can be improved, why shouldn't we make the change?"
Along with new tech companies, the winning service providers this year include established firms.
One of them is specialist DDI, which was founded in 1970. It took the gold in the Learning & Development category and credits its success to "science-based solutions that truly change the lives of leaders, and the people they lead."
"We've been in the leadership development industry for fifty years and have heard every complaint in the book about bosses," says DDI managing director Dominique Powrie.
Each client receives a dedicated strategic learning team for implementation support "to help effectively leverage the content in their subscription to deliver the desired results". It's a blend of classroom and digital learning. There is also flexibility so "clients can add other assessments to their subscriptions, enabling key decisions around promotions or identifying potential, as well as validate behaviour change".
Powrie adds, "We also know that bad bosses are the number one reason people leave jobs. But leadership is a uniquely human endeavour, and it's incredibly difficult. At DDI, we help leaders develop the skills that will make them successful at every level of leadership. From the first hello to measuring results, we commit ourselves to making their success, our success."
"We help keep employees happy and engaged while overcoming the challenges of a workforce that is more distributed and lacks the natural social opportunities of coming into an office every day"



Damien Andreasen, HiBob
Facing the challenges of the future
HRD's winners have adapted swiftly to emerging trends over the past year and are helping HR leaders to confront their most pressing challenges. Human Capital Management Systems bronze medal winner HiBob is enabling HR leaders to tackle the "unprecedented war for new talent, fuelled by incredible economic growth". Through its advanced analytics, automation capabilities and easy-to-use employee platform, it has helped boost employee engagement while giving HR leaders some much-needed reinforcement.
HiBob was founded with "the vision to lead the underserved $80bn HR tech market of the 3Ms – modern, mid-sized, and multinational companies".
The platform operates via a social media-like homepage, a central place for all the company's information including an employee directory with their pictures and titles. There is also "a unique Club View app that allows people to view peers by hobbies, superpowers, gender pronouns, nationality, site, or any shared interest the company wishes to encourage". An additional feature is the Payroll Hub, a centralised dashboard that updates payroll data in real time.
"The great resignation and talent shortage mean that HR leaders need to protect their company's bottom line, while also holding onto their existing talent," explains HiBob country manager Damien Andreasen.
"We help keep employees happy and engaged while overcoming the challenges of a workforce that is more distributed and lacks the natural social opportunities of coming into an office every day."
This is also identified as a key challenge by Pettersen. "With the current employee-centric environment, organisations are having to look beyond traditional benefits that have attracted and retained employees and look deeper into what their organisation feels like to both employees and prospective employees," he says. "We are talking here about the employee experience and what it means to an employee to work in a certain business with its particular workplace environment."
Multi-category award winner Employment Hero focuses on small-to-medium enterprises (SMEs), the main source of employment in New Zealand, and a huge source of job creation globally. Thompson says that employment can be particularly tricky to navigate for SMEs, and so Employment Hero's mission is to boost their confidence in creating quality employment opportunities.
"I have witnessed first-hand the devastation of poorly managed employment," Thompson says. "In my 20 years as an employment lawyer, I helped SMEs to navigate the complex role of being a compliant and effective employer. I knew there must be a better way. No one starts a business to be an employer, and most find it difficult to manage employment successfully – that's why we developed a platform with the tools to help."
"We don't know what the future holds, and there will be days when leaders don't know what hit them. But we do know that leaders will need to quickly adapt and learn to guide organisations in the right direction"



Dominique Powrie, DDI

Adaptation
In this period of change, leaders and managers have faced some tough challenges. They've had to adapt to managing a remote or hybrid workforce, as well as considering the complexities of mental health and wellbeing.
For DDI, leadership development can't be a "one and done". As employees need change over time, leaders need to grow with them. That's why DDI's future strategy is to help leaders quickly adapt to demanding situations, build emotional intelligence, drive change, and lead virtually.
"We don't know what the future holds, and there will be days when leaders don't know what hit them," Powrie says.
"But we do know that leaders will need to quickly adapt and learn to guide organisations in the right direction. That's why we constantly innovate and create leadership development experiences that enable leaders in any organisation to be their best selves."
Learning and Development
Talent Management
Human Capital Management Systems
Payroll Systems
Aurion People & Payroll


Silver

Frontier Software


Bronze
Reward and Recognition
My Rewards International


Bronze
Pre-employment Screening and Psychometric Assessment
Xref Limited


Silver

Testgrid


Bronze
Corporate Health and Wellbeing
Mental Health First Aid Australia


Gold

Unmind


Silver

Wellable


Bronze
Employment Law Firm
FCB


Gold

Harmers Workplace Lawyers


Silver

Anderson Lloyd


Bronze
Recruitment Systems and Technology
LinkedIn


Gold

Xref Limited


Silver
Workforce Management Software