Jump to winners | Jump to methodology
From 'living to work' to 'working to live'
Employees used to stay in one position until they had a better offer – often for a similar job with better pay. These days, the pattern is less straightforward since the pandemic had a significant impact on how people think about work.
When it comes to motivation, things like work-life balance, career opportunities, flexibility and meaningful work rank alongside remuneration. That means employers must compete across all of these areas, particularly as talent is scarce. KPMG's "Keeping Us Up at Night" survey found that talent acquisition, retention, and reskilling or upskilling people to perform well in a digitised future topped the list of chief executives' perceived challenges for 2022. These issues also ran a close second to digital transformation as the biggest challenge they're likely to face over the next three to five years and beyond.
HRD's Employer of Choice award takes all of these factors and more into account. These areas represent the core facets of HR, as well as the new challenges employers must face as a result of the pandemic.
The call for submissions earlier this year encouraged Australian organisations of all sizes, and across all industries, to participate. This year, 35 companies were commended for their achievements and selected as Employers of Choice. In addition to the prestige that this award confers on any organisation, it also supports the winners' recruitment strategies at such a crucial time with impartial evidence of their commitment to keeping employees healthy, safe, and supported.
"We recognise that fostering an inclusive workplace is essential to ongoing success"
Angela Edwardson, Novotech
Fair compensation and opportunities
If there's a single theme running through both employees' changing expectations and the winners' approach to their people, it's fairness.
Even when it comes to remuneration, there's a sense that the size of the pay packet is less important than whether it's a fair reflection of the effort involved. This was top of mind for Fluent Commerce when the company achieved 110% revenue growth over the 12 months before the company lodged its submission.
"Our senior leaders prioritised remuneration packages to ensure employees' compensation was in line with their high performance," says Alex Pusenjak, vice president, people and culture. "A company-wide compensation review plan resulted in more than 70% of employees receiving a salary increase of at least 5%, with the majority receiving significantly more. This has now been implemented as a bi-yearly priority."
Talented people also look for a fair chance to progress their career. This touches on everything from training and development to sound policies on diversity, equity and inclusion (DE&I).
Australian Catholic Superannuation sees ongoing professional learning as central to its place in the market and the quality of work life of each employee as well as legislative compliance. Sandy Rimagmos, head of people & culture, says: "We actively encourage employees to improve their skills to perform their current role more effectively, and also to develop the abilities and capabilities needed to perform more senior positions when they become available."
Export Finance Australia includes insights into the broader business context.
"Our promotion process recognises and fosters potential so our people can take their next career step internally, rather than moving outside the organisation," says Stacey Zannakis, the organisation's director of HR and organisational development. "We also provide critical experiences, such as access to governance forums, executive meeting presentations, participation in international forums and multi-lateral networks."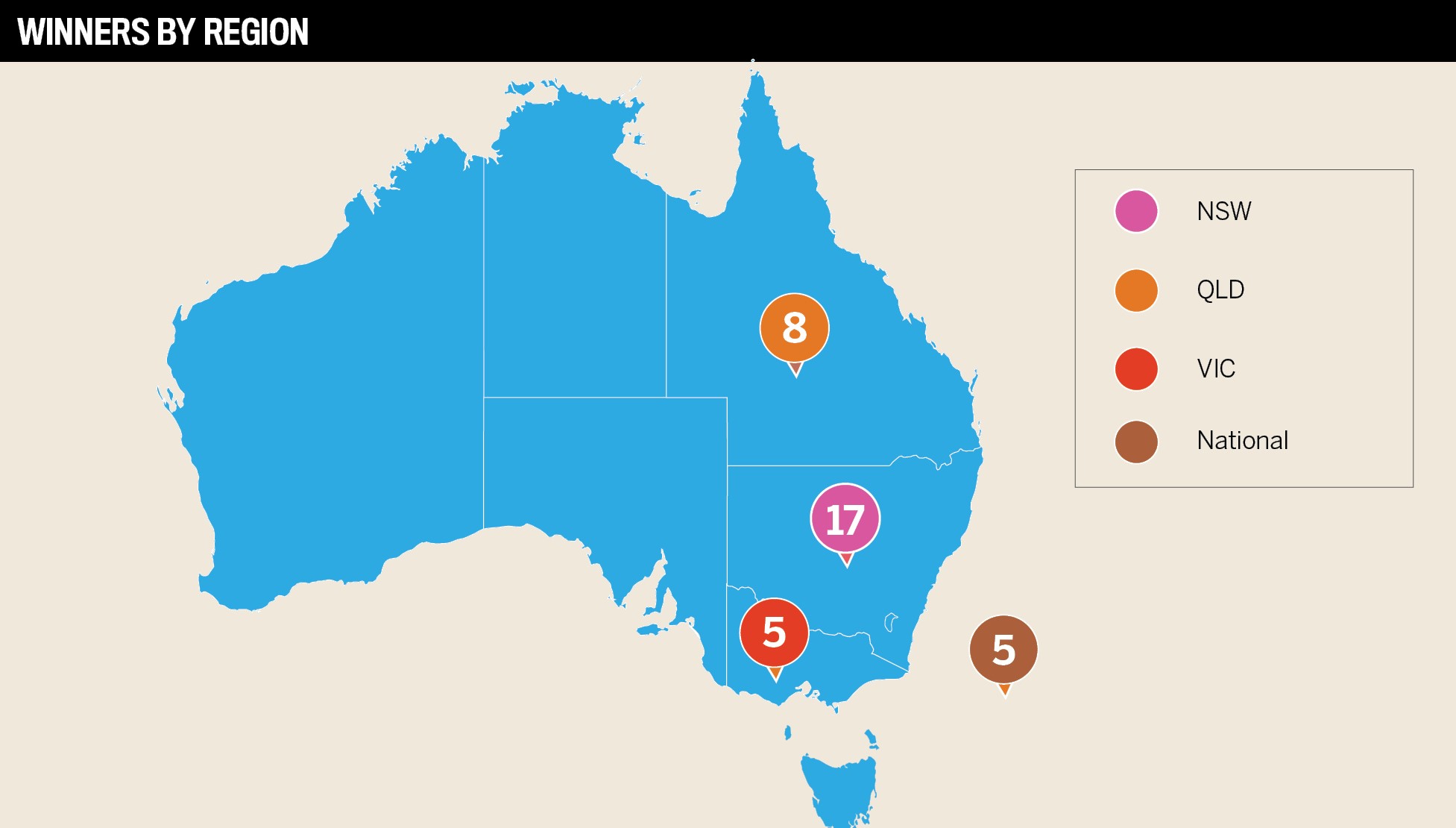 Reward and recognition
Many employers recognise and reward performance. Madison Group Enterprises takes that a step further by rewarding hard work regardless of the outcome.
"This is to encourage learning through failure," says Kate Arnold, head of people. "We pay for both performance outcomes and alignment to our values though sales commissions, short- and long-term incentives, and values-based discretionary bonuses."
The Madison Group also provides non-financial incentives and encourages its people to acknowledge fellow workers through "living our values" posts on Teams.
"We're proud that 80% of these posts aren't made by managers but team members acknowledging their peers for living the values," Arnold says.
DE&I measures
When environment, social and governance (ESG) programs started to gain traction, the environmental aspect tended to grab much of the attention. Now, there's also pressure to consider the social aspect, which has DE&I at its heart.
Gender equality directly affects around 50% of the population, so this is an obvious place to start. Novotech, for example, was certified as an Employer of Choice for Gender Equality by the Workplace Gender Equality Agency in 2020. However, Novotech, which operates across 12 geographies, also understands there's much more to DE&I.
"We recognise that fostering an inclusive workplace is essential to ongoing success," says chief people officer Angela Edwardson. "Our commitment to inclusion extends to cultural background, LGBTI and disability to ensure our workplace is safe and inclusive for all."
Liberty Financial is a great example of how much smaller organisations can achieve. As well as continuing to support cultural and gender diversity, Liberty received Bronze status at last year's AWEI Inclusion Awards and was named Most Improved Small Employer.
"In 2021, our Pride Network continued to educate team members and the community about the challenges and achievements of the LGBTQI+ community," says Anne Bastian, group manager, culture & community.
"Our promotion process recognises and fosters potential so our people can take their next career step internally, rather than moving outside the organisation"
Stacey Zannakis, Export Finance Australia

Building a healthy workplace
The pandemic shone a spotlight on health and wellbeing. Many people struggled with the fear of physical illness while uncertainty, further uncertainty and the stresses imposed by lockdown affected their mental health.
"We knew that some people were struggling with working from home, from feeling constantly 'on' to conflicting priorities such as home schooling," says Sarah McCormick, people & culture executive at Tilt Renewables. "We offered opportunities to start their days earlier and finish earlier or switch to a late start and later finish, and supported a move from full-time to part-time work. Reminding our people about the importance of balancing work and personal life was a key message throughout the year."
Over the last couple of years, mental health became a primary area of concern. Research commissioned by Atlassian Corporation found that 69% of Australian respondents are willing to turn down a promotion in order to preserve their mental health. This number was broadly consistent across generations and income levels.
Cooper Grace Ward Lawyers has made mental health integral to their core values and culture.
"Poor mental health is extremely common in the legal industry, so fostering programs that assist to improve mental health and wellbeing is a major focus at CGW," says marketing and communications adviser Matthew Pailthorpe. "We have trained five mental health first-aid officers for team members to contact if they have mental health concerns. We also provide access to an Employee Assistance Program, which gives team members and their families access to confidential support from trained mental health professionals."
Visionary leadership
Ultimately, a workplace of choice reflects visionary leadership. Singleton Council takes a collective approach by empowering its employees to have input into how the organisation delivers for the community. The Council also created a leadership framework and invested in building leadership qualities. This started at the top levels of the organisation and is now being rolled out in a systematic approach to developing leaders of the future.
"Our leadership expectations are articulated through a competency and capability framework," says Alison Bodiam, manager, people and culture. "This supports a shared vision, a strong identity and a culture that feeds into people management practices such as recruitment and selection, learning and development, managing performance, succession planning and career development to create an environment where our staff can succeed."
1-99 employees
Australian Physiotherapy Association
Corporate Technology Services
Lexmark International
100-499 employees
AbbVie
BPAY Group
CareFlight
Cooper Grace Ward Lawyers
Diageo Australia
Export Finance Australia
Fluent Commerce
Holman Webb Lawyers
Marsden State High School
Slalom Australia
500+ employees
Allianz Australia Insurance
Data#3
Fastly
Frucor Suntory
Gold Coast Health
Novotech
PepsiCo Australia and New Zealand
The review board considered both qualitative and quantitative data, such as engagement survey results, average employee tenure, and turnover rate. In 2022, 35 companies have been commended for their achievements and selected as HRD's Employers of Choice.