Jump to winners | Jump to methodology
HR digitalization on the fast track
Human resource management software is a huge business that's only going to get bigger – and HRD's 5-Star Software and Technology Providers are leading the way to further growth. Illustrating how lucrative this sector is, the payroll software market alone was valued at $25.1 billion in 2021 and is expected to reach $46.6 billion by 2028, according to Vantage Market Research. That's a compound annual growth rate of 11%. Other studies estimate the HR management market to grow even faster, closer to 13%.
The driver has been two-pronged: adapting to immediate remote or hybrid work, and then accepting that it is not a temporary phase.
"Tracking every interaction with our clients, we can match those insights against competitive trends and overall market trends. Because of that, we're able to create products that are just a little ahead of the game on a continuous basis"
Tom Hammond, Paychex
Industry expert Matt Burns, CEO of BentoHR, explains, "The organizations I've talked to in the past two years had made investments in this area with business continuity in mind and now they're doing a second run and saying 'this is the new normal, we've got to provide an employee experience that will be commensurate with being in the office.'"
But he stressed it would be incorrect to assume the process is one single shift. "Business continuity and employee experience are not the same thing. Now they're looking back at technology with an employee experience lens."
The Hackett Group's research proves how key HR tech will be. Their data predicts HR headcounts to drop by 0.4% but workloads to increase by 9.3% in 2022. All the indicators point to companies' tech dependence accelerating.
This report examines what HR professionals in the United States think of the current HR software landscape and which companies perform best in four categories: HRIS solutions, payroll solutions, recruitment software solutions, and reward and recognition. Integration with payroll, employment agencies and onboarding platforms have also been listed as primary factors in choosing the winners, along with efficiency, ease of use, and best bang for one's buck.
For Burns, the mindset everyone in the sector should adopt is clear. "Curiosity is the antidote to complacency," he says.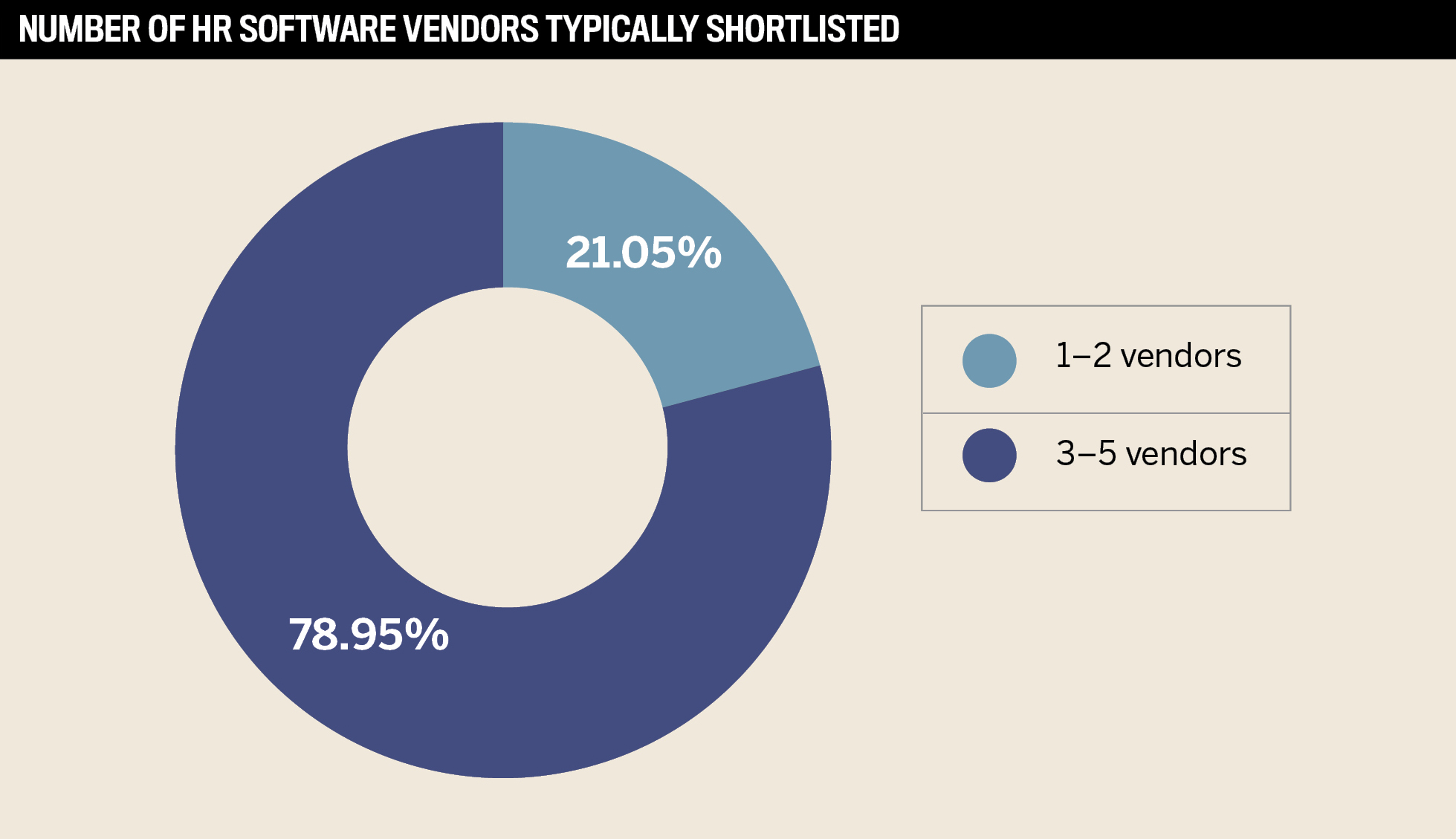 Tech soothsayers
Nearly 50% of buyers have an over 12-month timeline when purchasing HR software, while 21% follow a three-to-six-month timeline, according to HRD America data. That means the pressure is on for these providers to stay ahead of the game, thinking long-term about what products and services their customers will need.
"We have hundreds of thousands of clients providing us insight every day," explains Tom Hammond, vice president of corporate strategy and product management at 5-Star award winner Paychex," which currently has approximately 730,000 clients.
"Tracking every interaction with our clients, we can match those insights against competitive trends and overall market trends. Because of that, we're able to create products that are just a little ahead of the game on a continuous basis. We also have 200 compliance analysts on staff, and their entire function is to create a one-on-one relationship with every federal, state and local tax jurisdiction in the US. Through them, we're gaining insight into what's shaping regulatory policy in each of these geographic locations."
At the height of the pandemic, Paychex introduced tools to provide clients with access to Paycheck Protection Program (PPP) loans on April 3, 2020, the day the government program went live. Paychex created a report that pulled all the relevant data from clients' payroll records to transfer directly onto a PPP loan application.
"We didn't stop there," Hammond says. "We recognized it wasn't going to be about who gets the money, but about how you track the data so the loan can be transformed into a grant by being forgiven."
To address this need, the company created a PPP tool that tracked how many dollars have been applied to forgiveness every pay period. Once clients reached the threshold, Paychex provided them with three choices for signature-ready applications. "That was a combination of payroll and HR functions coming together on a unified market-leading platform," Hammond adds.
According to Burns, there are three areas that software and tech can exploit. The first is payroll, which he sees as "probably the most impactful when it comes to dollars and time [given] the number of organizations that do not have properly integrated payroll solutions is staggering."
The second area is related to talent – "everything from how to use AI to post your jobs and make sure they go to the right audiences, as well as machine learning in AI for recruitment and selection, and there's automation, notification, nudges for employees during the onboarding process."
The final one is learning and development. "Since most of us are not coming together as often as before, asynchronous learning, digital learning is now the modality in most cases," adds Burns. "So, organizations now are making investments in their text stacks, graduating from asynchronous, prerecorded e-learning courses to more customized, personal, more blended learning models."
"Our support team typically responds to customers within an hour – you can't find that at most software companies"
Greg Harris, Quantum Workplace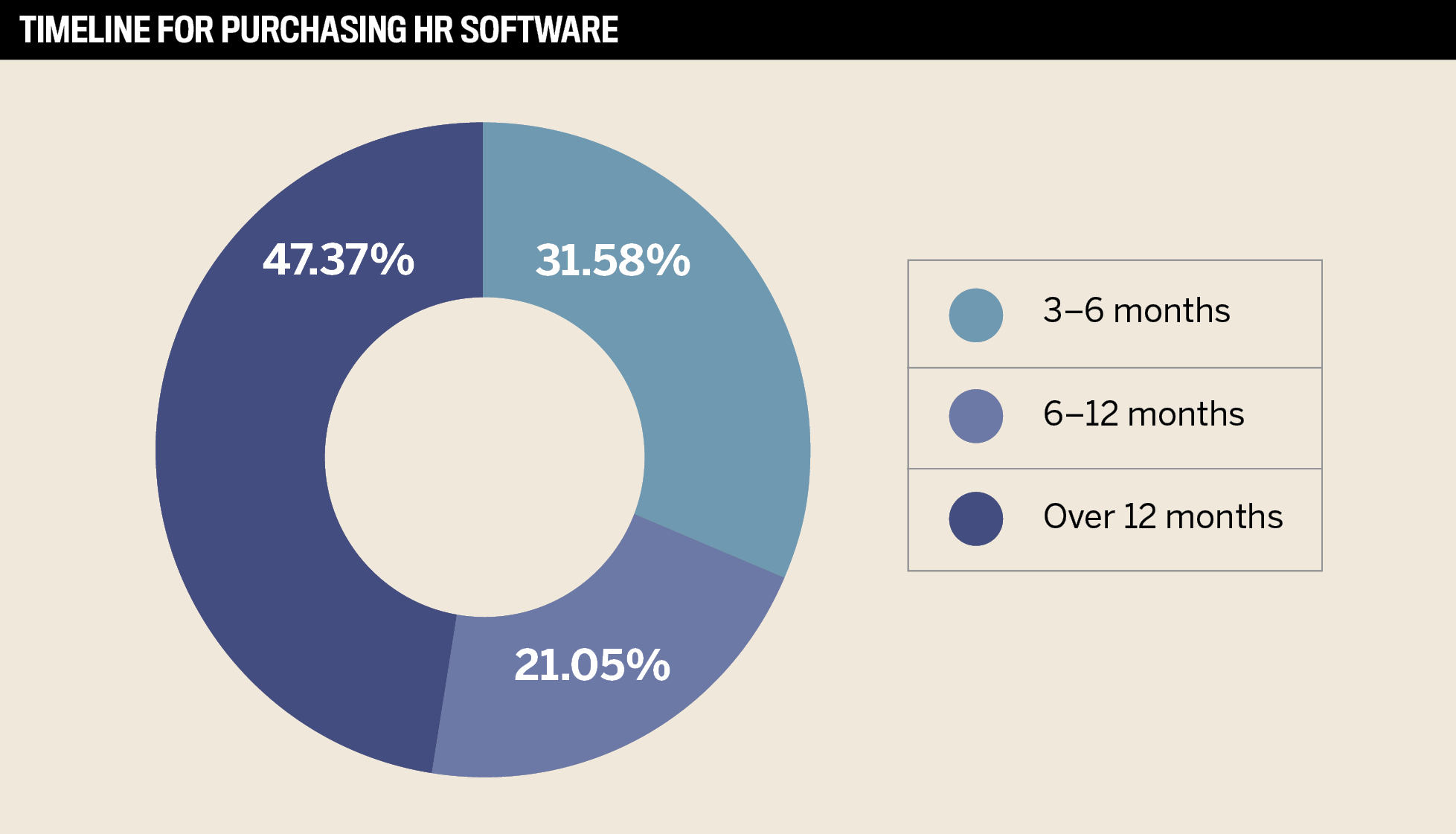 Tag team partners
Most of the winning HR software and tech providers this year share Paychex's sentiment that their relationships with customers inspire and fuel their creations. After all, current clients are the most valuable focus group.
"We have the best customer service out there," says Greg Harris, CEO of Quantum Workplace. "We're unmatched [by our competitors in] customer support and [we have] higher NPS and CSAT scores than the industry average. Our support team typically responds to customers within an hour – you can't find that at most software companies. This is a huge benefit to our customers, helping them move at their pace, make smarter decisions, improve engagement and performance, and meet their business goals." 
Tracie Sponenberg, a keynote speaker on HR and tech, highlights the issue with so much feedback readily available. From a provider's viewpoint, it's a positive but when directed at a client, it can be counterproductive. "It's really hard to know what to do or where to turn when you're constantly being bombarded with all of the new software. We, as HR professionals, should improve our skills in choosing the right HR software."
This is something Quantum Workplace has factored into its model as it has been commended for its easy-to-use platform to increase employee engagement, especially in a dispersed workforce. This year, the provider launched Messages Powered by Quantum Workplace, which allows companies to reach employees through text message survey invitations and reminders, so HR leaders can increase survey participation, drive higher response rates and increase visibility at every level of the organization, especially among frontline workers.
"Our selling point is our reliability," Harris adds. "Our technology is reliable and helps organizations get results. We're also experts in what we do – our customers see that."
UKG is another platform that has been lauded for its "years of good performance," particularly in terms of payroll assistance. Over the past five years, the company has invested $2.2 billion in research and development, including more than half a billion dollars last year alone.
This UKG Dimensions review will give you an in-depth understanding of how it works. See if this is the right HR analytics software for you.
"We recognize that the needs of people are constantly evolving, and at the same time, there's always new technologies that are emerging to meet those needs," says Hugo Sarrazin, executive vice president and chief product and technology officer at UKG. "To ensure we're able to take care of our customers both today and tomorrow, we've committed to making tremendous investments in research and development. This ensures we always have an eye to the future so we can thoughtfully disrupt ourselves."
"Ultimately, we want to help employers get to the hire even faster"
Ryan Batty, Indeed
High expectations
Indeed, another 5-Star award winner, has seen job postings in the US rise more than 60% from February 2020 to February 2022 – an illustration of a very tight labor market. Unfulfilled vacancies rocketed from 5.4 million in Q2 2020 to 11.5 million in Q1 2022, but there was a reversal in the trend with a slight drop in Q2 2022 to 11.2 million, according to data from the St. Louis Fed.
Overall scales have tipped in favor of labor, with most employers having to attract and retain talent.
Through a strategic partnership with sister company Glassdoor, Indeed has brought 80% of online US job seekers to employers to help them hire faster and more efficiently, according to Ryan Batty, vice president of global enterprise marketing at Indeed.
"Indeed stays ahead of the game when it comes to meeting employers' needs by delivering on their actual needs, showing them data that we are helping, conducting research and receiving feedback on both job seekers' evolving needs and employers' hiring challenges," Batty says.
"This informs our portfolio and roadmap to even better help employers recruit and hire the best talent faster than ever before."
On average, the time to interview on Indeed is 18% faster than in-person interviews or virtual interviews with a third-party app, Batty says. Plus, employers who use and conduct interviews on the platform are on average 22% more likely to make a hire, and 67% say Indeed's solution got them to the interview stage faster.
"While this is incredible progress to help match the right workers with the right opportunities quickly, we know we can do even more to better connect hiring managers and employers with the very best talent based on even more specific preferences from both the job seeker and employer," Batty says. "Ultimately, we want to help employers get to the hire even faster."
Sponenberg has her eyes fixed on an even bigger picture, the complete virtual world, potentially having a sizeable impact on HR. "I'm watching the metaverse closely. If it takes off in the way it might take off, that's going to potentially revolutionize the way we work and how we work and where we work and how that looks like," she explains.
"Anything that can help manage a person's entire life and wellbeing, I think, is really right for reinvention. It's hard to predict the future but I wouldn't expect it to look like something we have today."
Employee Recognition
Paycor
Point Recognition
Quantum Workplace
RecogNation
Terryberry
HRIS Solutions
ADP
Paychex
Paycom
Paycor
Paylocity
Prism
Taleo
UKG
UltiPro
Workday
Payroll Solutions
ADP
Paychex
Paycom
Paycor
Paylocity
UKG
Ultipro
Workday
Recruitment Software
ADP
ApplicantPro
ClearCompany
Indeed
Paycom
Paycor
Paylocity
SilkRoad Technology
Taleo
UKG
Workday
In the process of selecting the best HR software and technology providers for 2022, the HRD America team conducted one-on-one interviews with professionals and surveyed hundreds more within HRD's network to gain a keen understanding of what these professionals thought of current market offerings. Respondents were asked to rate their overall satisfaction with the HR technology providers they had dealt with across four categories: payroll, HRIS, reward and recognition, and recruitment software solutions. At the end of the 15-week research period, 18 companies were named 5-Star award winners.