Jump to winners | Jump to methodology
HR problem solvers
"Companies are facing a pivotal moment in time to think about their people. While it will take time and investment, the time is now to invest in structure, systems, and skills to support employees," says McKinsey & Company's chief people officer, Katy George.
That makes HRD America's Readers' Choice 2022 even more important. The winners' list reveals the vendors and suppliers that HR professionals in the US consider to be the most outstanding in their industry.
"We're always innovating, with solutions like Intelligent Self-Service and Voice of the Employee empowering leaders everywhere to meet the evolving needs of their employees"
Joe Kleinwaechter, ADP
Companies have been evaluated in 12 categories: favorite top employer; consultants; education; employee benefits and perks; engagement and recognition; health, safety, and wellness; law and workplace dispute resolution; recruitment; screening, assessments, and outplacement; skills development and training; technology; and uniform supplier.
"HR leaders are at a crossroads, caught between efforts to recover from recent crises while preparing for an economic forecast that could be damaging to culture," says Meghan Stettler, director of O.C. Tanner. "Part of the challenge is determining where to invest effort and resources, because while culture and engagement scores have gone up, the Great Resignation persists."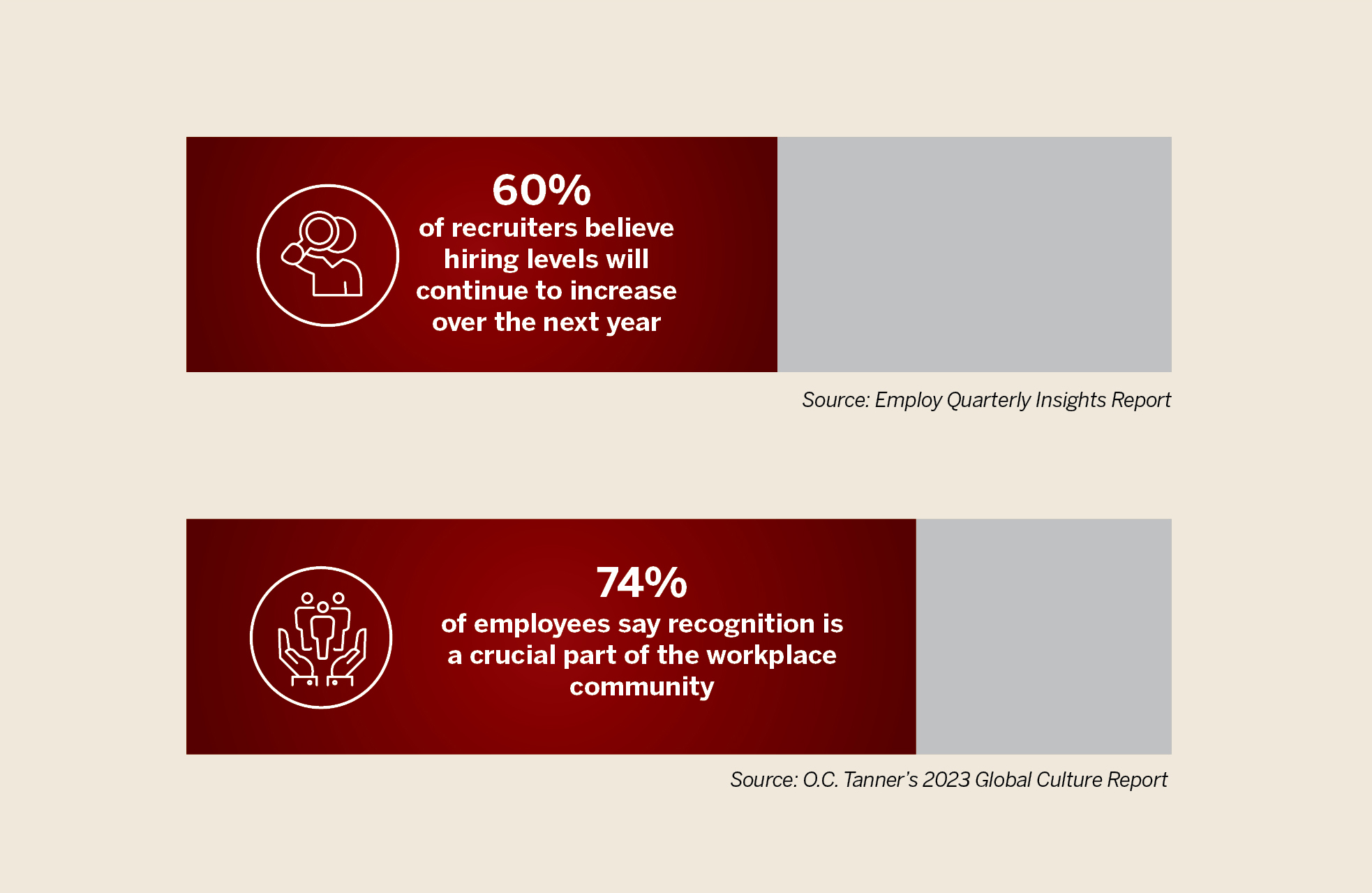 Raising the bar
Reward Gateway was voted a top performer in the Recognition Programs and Service Awards category.
Explaining the mindset and approach behind the company's success, COO Rob Boland says, "We are reimagining reward and recognition by delivering a unified system that connects a workforce through enhanced employee reward and recognition and the overall employee experience – one that meets the expectations of today's employees and offers choice, flexibility, transparency, and personalization."
And he adds, "Our vision is all about usage and adoption – making recognition a natural part of the flow of work and supporting the cultures and values of our clients. We're proud to have clients in the US that have so successfully embedded recognition in their cultures by partnering with us."
ADP is also a winner in the Payroll Solutions and Talent Management Consultant categories and considers itself a partner to HR leaders; it currently pays one in six workers in the US. "There are many reasons HR leaders turn to ADP every day, but there are two big differentiators: the range of innovative HR services that we offer and the comprehensive data that drives the solutions and expertise we provide," says Joe Kleinwaechter, vice president of global UX at ADP.
"ADP's breadth of offerings to HR practitioners spans the entire employee journey, from hire to retire, helping employers support the whole human experience of their workers. We're always innovating, with solutions like Intelligent Self-Service and Voice of the Employee empowering leaders everywhere to meet the evolving needs of their employees."
Joy Seymore, vice president of HR at Wilson Manufacturing in St. Louis, is another company relying on ingenious solutions. She cites recruiting as the biggest challenge for HR leaders over the past year. Relying on Indeed, which was voted Favorite Top Employer by HRD America's readers, she commends the job-posting platform for being "easy to use" and for enabling the company to attract "quite a few good hires" amid such a competitive landscape.
Deborah Klein, HR and EHS manager at Pawling Engineered Products in New York, says her company also advertises for employees on Indeed, as well as LinkedIn, another Favorite Top Employer, because the "platforms are recognized by those that we're looking to attract."
"HR leaders are at a crossroads, caught between efforts to recover from recent crises while preparing for an economic forecast that could be damaging to culture"
Meghan Stettler, O.C. Tanner
What do HR professionals want?
The acid test for any service provider is delivering a solution that works for its clients.
According to George, employees' demands are putting new pressure on HR leaders to deliver.
She cites technology and the pandemic as playing a part, saying, "These factors served as a wake-up call to companies. Employees are demanding change that goes beyond traditional tools like compensation and promotions. Those are still important; however, factors like purpose, engagement, and loyalty have also come into stark focus."
"Our foundational philosophy is that relationships are all there is," says Rhonda Hall, vice president of HR and organizational development at University Federal Credit Union in Austin, Texas. "I'm not selecting a vendor just on the quality of the product but also on how well I'll be serviced after the sale. That's paramount to our decision-making, not just in HR but across the organization. We want a true partner who will listen, adjust, and understand that we're in this together. It's a two-way dialogue."
Nannette Wellstein, the Racine Dominicans' HR and information technology director, has a straightforward mandate. She says, "I'm looking for a provider to supplement what I'm doing or have a better information system to automate things."
However, the relationship between service provider and HR professional doesn't cease after agreeing to a contract.
When asked what would attract her to a particular service provider, Wellstein explains, "Dedicated customer service, not call centers where you get somebody different every time and you must repeat yourself for an issue."
This is echoed by Janet Schmidt, HR generalist at Ellis County in Kansas. "If I'm doing payroll and my system goes down or something's not working the way it's supposed to, I can call somebody and get an answer right away," she says, "To me, customer service is the number one thing. I don't care what kind of computer system you use; without someone able to help you when something goes wrong, you're dead in the water."
Providers also need to be mindful that a client may require several services and will probably use more than one platform. Schmidt says, "Last year we purchased UKG for our onboarding system, and they also do the application system. Now for personnel and payroll, we are currently with CIC Plus. We're OK with using different providers as long as they cater to our needs."
Giving his view on what HR professionals need from their products and services, industry expert Matt Burns, CEO of BentoHR, explains, "The biggest challenge I'm seeing is that, although organizations publicly tell you that they've made the transition to hybrid work, many are still struggling with how to operationalize that on an ongoing basis. There are some organizations and leaders that think that things will go back to the way they once were. They haven't fully integrated the new ways of working throughout the entire organization."
"Our vision is all about usage and adoption – making recognition a natural part of the flow of work and supporting the cultures and values of our clients"
Rob Boland, Reward Gateway

Workers demand appreciation
Staffing is a concern for HR leaders. According to an Axios/Generation Lab poll from September 2022, 82% of Gen Zers say the idea of doing the bare minimum to keep their jobs is attractive or extremely appealing, and some 15% say they're already doing it.
Ultimately, quiet quitting is simply an extension of employees' growing desire for work-life balance. Now more than ever, the onus is on employers to support employees' holistically, and successful HR leaders are being forced to incorporate that support into their company culture.
"Culture is a living, breathing thing that can be influenced and morphed by internal and external forces, so we can't leave culture to chance," Stettler says. "We've got to be very intentional. More than anything else, HR policies and programs – and the people leaders who carry them out – shape how workplace culture is experienced in the micro moments of employees' daily lives."
This has been addressed by Reward Gateway. The company's Catrin Lewis, head of employee engagement and internal communications, explains, "With a globally distributed workforce, it's important to keep employees engaged. Reward Gateway continues to evolve our recognition strategy to engage, motivate, and retain our people."
And discussing what top-performing HR service providers need to deliver now, Mindi Cox, chief marketing and people officer at O.C. Tanner, says, "People are being more thoughtful about where they want to spend their time and energy, so we have to be compelling as a company and as an employer to offer an experience that's worthy of their time, energy, and talents and a purpose that they feel connected to. Those are the challenges right now, to make sure that you're giving something of value to people who choose to spend their time with you."
FAVORITE TOP EMPLOYER
Glassdoor
Indeed
LinkedIn
CONSULTANTS
BENEFITS AND PENSION CONSULTANT
Gallagher Benefit Services
HUB International
Mercer
COMPENSATION CONSULTANT
Korn Ferry
Marsh & McLennan Agency
Willis Towers Watson Data Services
DISABILITY MANAGEMENT CONSULTANT
Guardian Life
Mutual of Omaha
The Hartford
DIVERSITY/EMPLOYMENT EQUITY CONSULTANT
Bain & Company
McKinsey & Company
Path Forward Consulting
HR MANAGEMENT CONSULTANT
impactHR
Mercer
OneDigital HR Consulting
TALENT MANAGEMENT CONSULTANT
EDUCATION
HR CERTIFICATE PROGRAM
American Payroll Association
HR Certification Institute
The Society for Human Resource Management
HR DEGREE PROGRAM
DePaul University
Illinois State University
Northern Illinois University
HR MASTERS PROGRAM
Bridgewater College
Cornell University
Florida International University
HR-RELATED PhD PROGRAM
University of Illinois Chicago
The University of Arizona
University of Illinois Urbana-Champaign
EMPLOYEE BENEFITS AND PERKS
COMPENSATION SURVEY/SALARY FORECAST
Mercer
Payscale
Willis Towers Watson Data Services
DISCOUNT PROGRAM
GROUP AUTO/HOME INSURANCE
AAA Life Insurance Company
Geico
Progressive Insurance
GROUP INSURANCE
Anthem
Cigna
Lincoln Financial Group
Unum
ENGAGEMENT AND RECOGNITION
EMPLOYEE ENGAGEMENT PROGRAM
Glint
Kazoo
Motivosity
TINYpulse
EMPLOYEE ENGAGEMENT SURVEYS
BambooHR
SurveyMonkey
TINYpulse
RECOGNITION PROGRAMS AND SERVICE AWARDS
Kazoo
Reward Gateway
WeGift
HEALTH, SAFETY AND WELLNESS
EMPLOYEE ASSISTANCE PLAN (EAP)
Anthem
ComPsych
LifeWorks
Optum
MENTAL HEALTH SERVICES
Calm
Ginger
Headspace
Talkspace
SAFETY TRAINING
HAZWOPER OSHA Training
J.J. Keller & Associates
National Safety Council
WELLNESS PROGRAM
ComPsych
LifeWorks
Wellness360
LAW AND WORKPLACE DISPUTE RESOLUTION
EMPLOYMENT AND LABOUR LAW BOUTIQUE
Fisher Phillips
Littler
Ogletree, Deakins, Nash, Smoak & Stewart, P.C.
EMPLOYMENT AND LABOUR LAW – FULL SERVICE FIRM
Baker & Hostetler
Baker McKenzie
DLA Piper
IMMIGRATION LAW BOUTIQUE
Fragomen, Del Rey, Bernsen & Loewy
Goldstein & Lee PC
Ogletree, Deakins, Nash, Smoak & Stewart, P.C.
RECRUITMENT
EMPLOYER RATINGS
Glassdoor
Indeed
LinkedIn
EXECUTIVE RECRUITMENT AGENCY
Egon Zehnder
Korn Ferry
Robert Half
JOB BOARD
Facebook Jobs
Indeed
LinkedIn
ZipRecruiter
RECRUITMENT AGENCY
Lucas Group
Randstad
Robert Half
SCREENING, ASSESSMENTS AND OUTPLACEMENT
DRUG AND ALCOHOL TESTING
Medcor
Quest Diagnostics Employer Solutions
Sterling
EMPLOYEE ASSESSMENT
Aon
Korn Ferry
Lee Hecht Harrison
OUTPLACEMENT
Challenger, Gray & Christmas
Lee Hecht Harrison
Right Management
PRE-EMPLOYMENT SCREENING
GoodHire
IntelliCorp
Sterling
SKILLS DEVELOPMENT AND TRAINING
LEADERSHIP AND TEAM DEVELOPMENT
Center for Creative Leadership
Dale Carnegie Training
DDI
Franklin Covey
Skillsoft
MANAGEMENT/EXECUTIVE DEVELOPMENT
Columbia Business School
Harvard Business School
Yale School of Management
TECHNOLOGY
PAYROLL SOLUTIONS
HR MANAGEMENT/INFORMATION SOLUTIONS
RECRUITMENT SOLUTIONS/SOFTWARE
ApplicantPro
BambooHR
LinkedIn
UNIFORM SUPPLIER
The survey for the Readers' Choice Awards 2022 took place between August 22 and September 16, 2022. HRD America compiled nominations to create an impressive list of vendors and suppliers in the HR community across the country, based on the team's knowledge and additional research within each area.
Readers were invited to cast their ballots through an online survey, and responses were completely confidential. Survey participants were invited to select up to a certain number of organizations, depending on the category. A participant could nominate additional organizations that did not appear on the list if they thought they should be considered.
Three nominees who received the highest number of overall votes in each category were awarded the Readers' Choice designation.