76% of employees would rather work for an authentically diverse company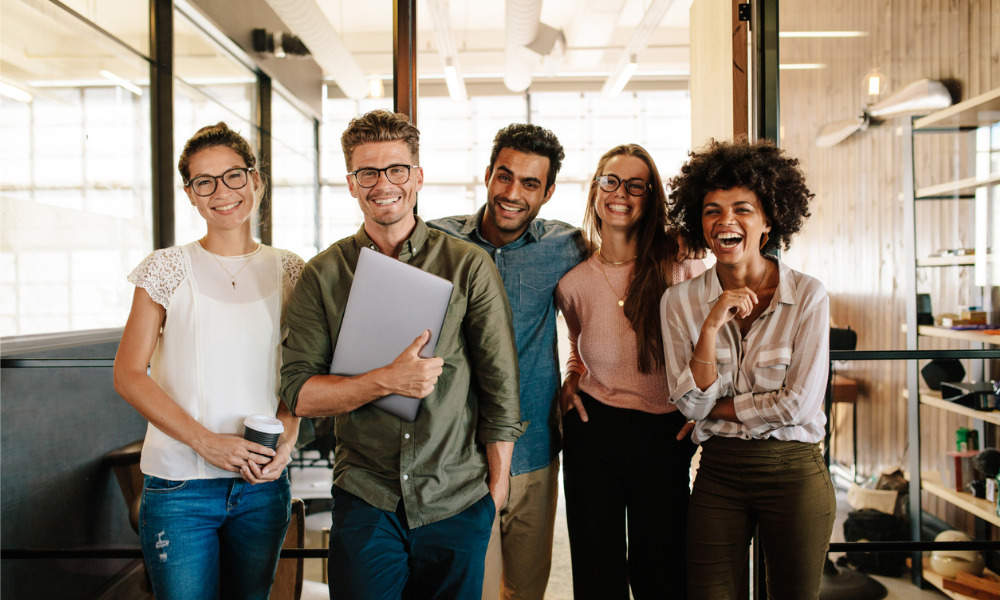 You'd be hard pushed to find an aspect of HR that's undergone quite as much transformation as diversity. Having moved from a 'buzzword' to a 'nice-to-have' to a certifiable strategic necessity, DEI really is the new world order. And, for organizations that believe they can get away with paying lip service to authentic inclusivity, you're in for a rude awakening. HRD recently conducted their 5-Star Diversity and Inclusion Companies 2022 awards survey, which looked at Canadian organizations that went above and beyond in their DEI offerings over the past 12 months. From our extensive research, HRD hit upon some startling findings regarding employee and employer sentiment – and uncovered the key areas of concern that HR needs to address moving into 2023.
The definition of authentic diversity
One of the biggest mistakes employers make when it comes to diversity is not following through. A report from Glassdoor found that 76% of employees would rather work for an authentically diverse company, with 80% of workers actively selecting an inclusion organization, It's clear that candidates prefer DEI-focused businesses – and so many employers have hit upon diversity as a recruitment tactic. However, simply claiming to be inclusive to get talent through the door won't help you in the long-run.
Read more: Amazon Canada to hike pay for frontline workers, hire 15,000 staff
"A truly diverse workplace is made up of a collective, meaningful effort by both the organization and employees, including diversity of thought and ideas," added Sada Carman, HR generalist at BlueCat – one of your award winners. "You only get that when you are being intentional about having a diverse group of people at the organization. This of course impacts so many pieces of the employee lifecycle from recruitment, to onboarding, to development and retention. We must ensure that we are looking at all areas of the employee lifecycle and measurable, focused DEI goals around the lifecycle. These efforts promote empathy, compassion, and the principles of equity to support an environment that embraces diversity for our team and community."
Challenges of DEI in remote and hybrid work
The pivot to remote work was tough on everyone, but when it came to being consistent in DEI policies, HR had a challenge on their hands. Rolling out successful diversity initiatives can be tricky in in-office work – add to that the stress of the pandemic and it became very stressful. And, as 50% of employees have called on their employers to increase their commitment to diversity, employers need to start adding to their program as soon as possible.
"I'd argue that DEI has holistically been neglected," Dr Alex Lovell, director, research & data science at O.C. Tanner, told HRD. "Many organizations have focused exclusively on diversity, and typically from a risk mitigation standpoint. Furthermore, after significant events in several Western countries, there's been an increase in performative DEI. But organizations have often put less effort into inclusion and equity than they have diversity. Part of this is natural—organizational risk is typically more expensive in the short term due to diversity issues. It is time to rethink the way our organizations work."
But it's not only equity and inclusion that's presented challenges. The shift to remote work placed a disproportionate amount of strain on female employees – especially those with children. Lockdowns and school closures meant that homeschooling became the norm, with many working parents having to balance their own professional lives with caring for their young ones.
Read more: 'It's scary' if Roe v. Wade is overturned, says Women Corporate Directors CEO
"It is no secret that the COVID-19 pandemic has disproportionally created some challenges from a DEI front for women who often had to manage home schooling children and/or taking care of family members while continuing to perform at work," added Carman. "BlueCat was no different which is why we created wellness days, made sure leaders connected with their employees to ask about their wellbeing offering flex hours where it was needed, and highlighted our senior leaders who vulnerably shared they were experiencing difficulties."
What will DEI revolve around in 2023?
If we consider what drive meaningful change in DEI over the past 12 months, we're reminded of societal changes and global movements. Events such as the murder of George Floyd, #MeToo, Greta Thunberg's activism – change always begins outside of the workplace. It's up to HR leaders to reflect those changes in their company culture and mission.
"Far too often, diversity is treated as one item on a list of countless boxes to check when assessing company culture and public image," Rolddy Leyva, chief diversity officer at technology giant Splunk told HRD. "In addition to leadership commitment and accountability, DEI success ultimately depends on innovative thinking, bold ideas, a commitment to embrace each and every employee voice as well as bringing everyone along the journey," he told HRD. "The most impactful DEI leaders pull rich perspectives from every corner and it's critical you have the ability to assess, listen and amplify voices within an organization. DEI cannot be exclusive to any one team or person – everyone has a role to play, an experience to share and an ear to give."
For employers looking to make meaningful and lasting change to their DEI offerings in the months to come, remember – this is not a solo sport. You have to draw upon the skills and ideas of your people, listening to what they want and believe, to make the changes that will best suit your company. Most importantly, don't rely on 'one-size-fits-all' programs that bear no relevance. All the best ideas on how to commit to DEI in 2023 will already be swimming around in your employees' minds.
"We understand DEI is a journey not a destination," added Carman. "We're committed to supporting on-going personal and professional development to provide a safe, diverse, and inclusive environment. And, as Deni Letts, co-chair of the DEI council, says: "DEI is not a spectator sport and requires everyone to actively participate."