Provincial government reduces minimum exposure period requirement for colorectal cancer support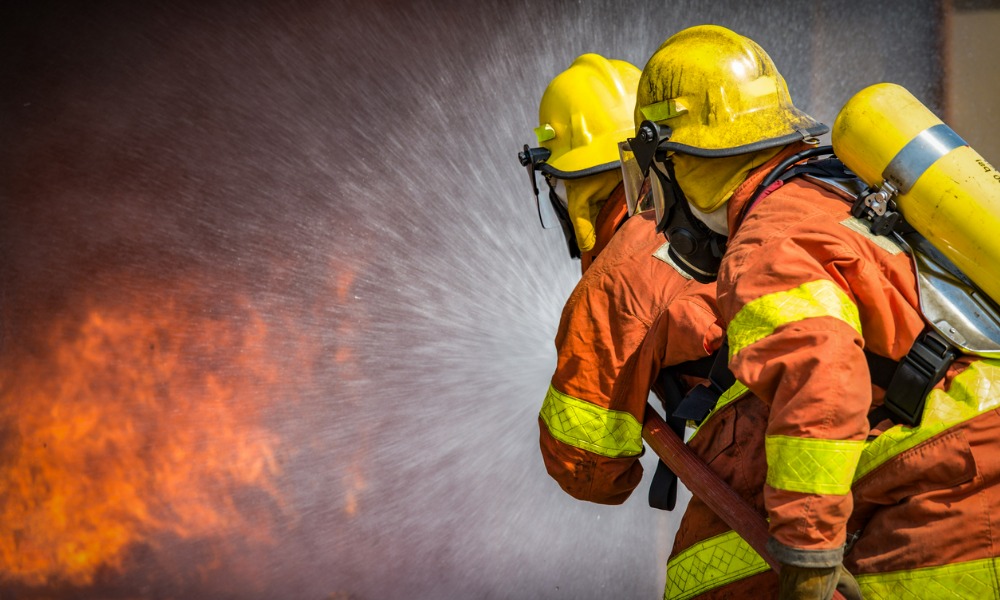 Alberta's Workers' Compensation Board (WCB) is adding four more types of cancers covered for firefighters.
The provincial government is making pancreatic, thyroid, mesothelioma and soft tissue sarcoma cancers eligible for workers' compensation presumptions, pushing the total number of cancer types covered to 20.
"Firefighters put themselves at great risk to protect Albertans' lives and property and deserve to be compensated for their sacrifices," said Brian Jean, minister of jobs, economy and northern development. "More cancer presumptions help firefighters and their families receive the benefits and support they need with fewer delays and hurdles. Alberta was one of the first provinces to provide these presumptions, and I am proud we are leading the nation today."
Other types of cancer covered in Alberta are:
Primary leukemia
Primary site brain cancer
Primary site bladder cancer
Primary site cervical cancer
Primary site lung cancer in non‑smokers
Primary site ovarian cancer
Primary site ureter cancer
Primary site kidney cancer
Primary site colorectal cancer
Primary site testicular cancer
Primary site esophageal cancer
A primary non‑Hodgkin's lymphoma
A primary site prostate cancer
A primary site skin cancer
A primary site breast cancer
Multiple myeloma
Nova Scotia, Ontario and Yukon have also previously expanded cancer coverage for firefighters in their respective territories.
Exposure requirement
Alberta is also reducing the minimum exposure period for firefighters to qualify for coverage for colorectal cancer to 15 years, down from the previous 20 years.
Firefighters have a 1.21 greater times risk of getting colon cancer than the general public, according to the Firefighter Cancer Support Network.
The regulation applies to full-time, part-time and volunteer firefighters employed by a municipality or Metis Settlement who are exposed to fire scene hazards, excluding forest fires.
Cancer is the leading cause of death among firefighters in North America, according to Matt Osborne, president, Alberta Professional Fire Fighters and Paramedics Association.
"Research shows the profession of firefighting is carcinogenic to humans. When buildings burn, it is a toxic soup of chemicals," he said. "Firefighters and their families greatly appreciate the Government of Alberta adding these needed WCB coverages. Alberta is now leading Canada again in the number of presumptive cancers covered."
"These steps are of significant importance in showing appreciation for firefighters in Alberta," said Randy Schroeder, president, Alberta Fire Chiefs Association.
"The addition of four new cancers to the workers' compensation presumption list and a reduction of the minimum exposure period for an existing cancer on the list is a positive step towards ensuring that firefighters and their families receive the support they need recognizing the dangers they may face every day. This decision recognizes the unique risks that firefighters face in their line of work and shows a commitment to their well-being."
Fort McMurray
Recently, Alberta's WCB adopted a special provision for firefighters who fought in Fort McMurray or any other area in Alberta within the area of the Horse River wildfire in the period beginning on May 1, 2016 and ending on June 1, 2016.
Effective March 28, 2023, if a firefighter who responded to this specific fire develops one of the primary site cancers listed above, the provincial government will presume their cancer is related to their work regardless of their length of service as a firefighter.
The special provision for Fort McMurray firefighters applies to full-time, volunteer, part-time and casual firefighters employed by a municipality or Metis settlement impacted by the 2016 "Beast" fire and "assigned exclusively to fire protection and fire prevention duties not-withstanding that those duties may include the performance of ambulance or rescue services; who have been regularly exposed to the hazards of a fire scene, other than a forest fire," said WCB.
There are more than 14,000 firefighters in Alberta, about 80 per cent of whom are volunteers.
Between 2017 and 2022, Alberta firefighters had 177 workers' compensation claims for cancers listed in the regulation. The Workers' Compensation Board accepted 84 per cent of these claims.
Previously, a former HR director for the city government of Decatur, GA was accused of discriminating against a firefighter in the city because of her alleged bias against LTBTQ people.