This Jobvite review can help HR professionals and managers determine whether it's the right choice for their company's hiring needs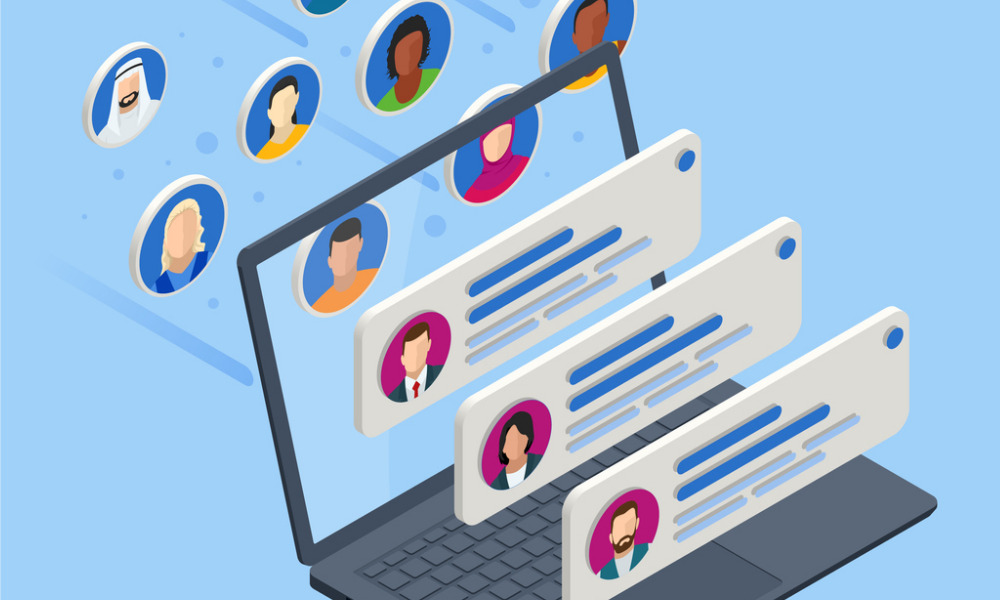 The recruitment process can be a daunting task. Sorting through piles of resumes, scheduling interviews, and tracking candidate information is a time-consuming and tedious process for HR teams everywhere. This is where an applicant tracking system (ATS) can be useful as businesses can streamline their recruitment process by managing job postings, applications, candidate information, and communication all in one place.
If you're looking for an ATS to help simplify your recruitment process, this Jobvite review is for you. Jobvite is an all-in-one talent acquisition suite that streamlines the recruitment process by integrating employer branding, applicant management, onboarding, advanced analytics, and more into a single solution to optimize hiring outcomes for your company.
For the purpose of this review, we will look at how Jobvite measures up as applicant tracking software. We will delve into its features, capabilities, and overall usefulness, so that you can determine whether it's the right choice for your company's hiring needs.
Jobvite is a talent acquisition software designed to streamline the hiring process by bringing together every aspect of recruitment into a single, easy-to-use platform.
With intense competition for talent and multiple point solutions to manage across the talent journey, many companies struggle to keep up with the ever-changing labor market. Jobvite addresses these challenges by providing a single solution to every aspect of talent acquisition.
From employer branding, applicant management, onboarding, internal mobility, to advanced analytics, Jobvite's Evolve Talent Acquisition Suite is designed to help organizations deliver predictable hiring outcomes and create exceptional experiences for candidates.
In this section, we will look at the modules that make up Jobvite's talent acquisition suite. We will get into each one below, the numbered bullets below correspond to the number found in the headings:
Applicant Tracking System
Career Sites
Source and CRM
Analytics
Employee Referrals
Internal Mobility
Job Broadcast
Intelligent Messaging
1: Applicant Tracking System
Jobvite's ATS enables quick and confident hiring by automating repetitive tasks and utilizing real-time analytics to enhance the hiring process and reduce time-to-hire. With AI-driven features, recruiters can devote their time to fostering relationships with potential candidates and improving the quality of new hires.
Recruiters often face the challenge of finding available time for interviews. With Jobvite, interview scheduling can be automated, allowing for seamless scheduling between candidates and hiring team members. This feature saves valuable time and keeps the recruitment process moving smoothly.
Jobvite also helps elevate your company's recruitment game with a versatile platform that offers customized dashboards, workflows, and feedback options to suit your specific needs.
Jobvite enables HR teams to streamline their recruitment process and stay ahead of the competition by adopting a fully digital hiring approach that is optimized for all devices, ensuring a fast and efficient hiring process that attracts high-quality candidates.
Here's a video on Jobvite's Bias Blocker tool:
Key features:
Configurable Workflows
Video Interviewing
Smart Scheduling
Bias Blocker
Job Description Grader
Native eSignature
Dashboards
2: Career Sites
Jobvite's Career Sites module is designed to help companies showcase their employer brand to attract and engage with potential candidates. The module provides personalized job recommendations and targeted content based on job seeker's interests, allowing them to easily filter relevant roles.
Its intuitive CMS enables your HR department to create branded career site pages and share personalized employee stories. The module ensures that company job openings appear in Google for Jobs and allows for easy integration with an applicant tracking system, making it simple to manage complex sites and offer multiple languages and brands.
Key features:
Content Management System (CMS)
Manage Multiple Languages and Brands
AI-Powered Recruiting
3: Source and CRM
Jobvite's Source and CRM tool streamlines the candidate sourcing process for HR departments. This tool enables users to publish job postings and consolidate candidate information from multiple databases into one record. Users can also communicate with candidates via email, text, or social media to engage with them in the channels where they are most responsive.
Jobvite enables users to segment their talent pool into targeted audiences and create personalized campaigns to drive conversions. In addition, users can natively integrate the Source and CRM tool with Jobvite's ATS and Onboard, Intelligent Messaging, and Career Sites modules.
Key features:
Intelligent Candidate Sourcing
Streamlined Posting and Search
Omni-Channel Campaigns
Automated External Job Board Search
Strategic Audience Pipeline Builder
4: Analytics
Jobvite's Analytics and Advanced Analytics modules provide real-time insights to support talent acquisition teams in better visibility, smarter automation, and faster time-to-hire.
With the Jobvite Analytics dashboard, HR managers can uncover trends, identify recruiting bottlenecks, and pinpoint areas for improvement. Custom analytics dashboards combine hiring data with employee performance data, enabling HR teams to measure the quality of new hires. Additionally, Jobvite's Data Exchange give your HR department direct access to recruiting data.
The Advanced Analytics version allows users to directly access their talent acquisition data from hundreds of supported HR systems. With industry benchmarks and historical performance data, users can easily assess what's working and what isn't. Additionally, session recordings give insight into candidate behavior, enabling strategic optimizations based on actual user patterns.
Jobvite not only provides a robust applicant tracking system, it also gives companies access to powerful data to make better hiring decisions.
Here's a look at some of their thinking on analytics in the workplace:
Key features:
Analytics and Advanced Analytics Platforms
Company Quarterly Hiring Benchmark Analysis
Standard and Custom Reports
Data Exchange
5: Employee Referrals
Jobvite offers an employee referral program to help companies find high-quality talent and improve their retention rates. The program includes automated tracking of referrals, engagement campaigns, and eligibility requirements.
Jobvite's employee referral program is designed to be easy for employees to use and offers incentives to encourage participation. By leveraging existing employee networks, companies can reduce hiring costs and create a culture that promotes employee engagement and personal referrals.
Key features:
Social Sharing
Deep Analytics
AI-Powered Textbot
Gamification
6: Internal Mobility
Jobvite's Internal Mobility module allows businesses to empower top performers to grow their careers internally, while boosting employee morale and reducing churn. With a streamlined portal, employees can easily express interest in roles, and hiring managers can identify and match internal candidates to open positions.
Key features:
Talent Profiles
Automated Messaging
Advanced Role Matching
7: Job Broadcast
With Jobvite's Job Broadcast module, automatically post to over 20 job boards, including LinkedIn, Indeed, Glassdoor, ZipRecruiter, and more, and take advantage of targeted job boards to reach specific audiences. Jobvite allows HR managers to manage job postings across multiple channels in a centralized portal that also distributes job descriptions to hundreds of job boards, social networks, and agency partners.
Key features:
Auto Distribute and Refresh
Agency Management
Compare Job Board Performance
8: Intelligent Messaging
Jobvite's Intelligent Messaging module allows HR managers to communicate with job seekers through text messaging or career site chatbots, automating, organizing, sharing, and tracking text conversations. With high open rates and quick response times, candidate texting can streamline interactions and speeds up the hiring process for your company.
Key features:
Career Site Chatbots
Targeted Text Campaigns
Candidate Screening
Compliance
Headquarters address: Guaranty Building, 20 N. Meridian St., Suite #300, Indianapolis, IN 46204, United States
Year established: 2006
Number of employees: 400+
Global locations: Offices in the U.S., Canada, and India
Businesses served: 18,000+
Key people: Pete Lamson (CEO), Corey Berkey (Senior VP, People & Talent), Allie Kelly (CMO), Chris Le Breton (Senior VP, Strategic Initiatives), Ashley Emery (Senior VP, Demand Generation), Zach Linder (Senior VP, Operations)
Jobvite has evolved from being an ATS provider to a company that offers a unified talent acquisition suite for large and high-growth companies. Jobvite's Evolve Talent Acquisition Suite aims to provide exceptional candidate experiences, increase a company's recruiting capacity, and deliver results at scale.
Jobvite's mission is to streamline and enhance the entire talent acquisition lifecycle from recruiting to onboarding. By offering innovative, purpose-built technology, Jobvite serves as a trusted partner for organizations, driving positive business growth, and giving enterprises an edge in a competitive labor market.
Jobvite review: FAQs
What companies use Jobvite?
Jobvite's diverse clientele spans various industries, including healthcare, manufacturing, financial services, technology, retail, business services, media, and many more.
Check out what HR leaders have to say about Jobvite in this video:
What tools does Jobvite integrate with?
The company has made a big effort to integrate with many of the HR tools you use already. Here's a photo from their website which shows the standout integrations: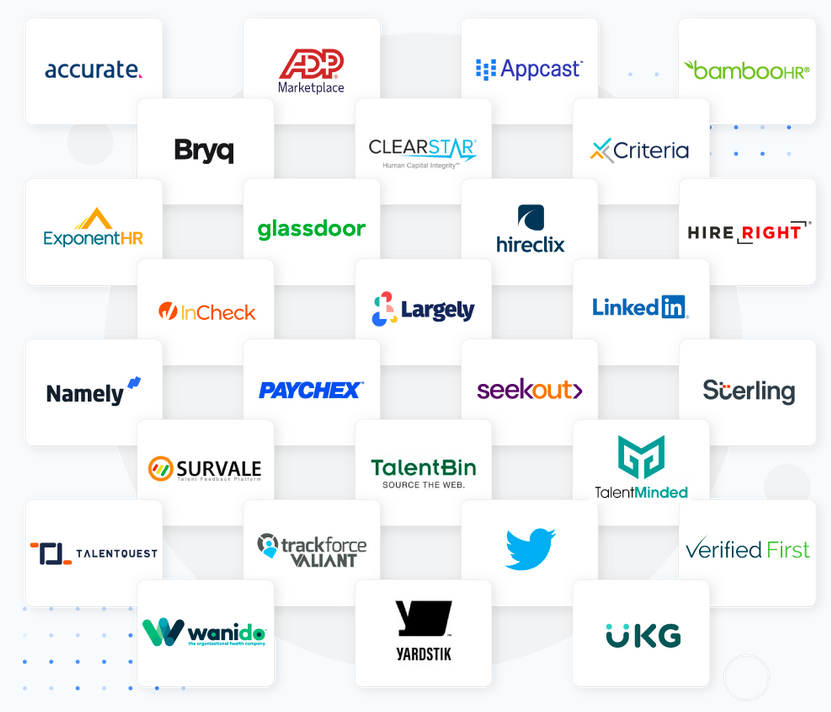 What are Jobvites standout features?
Robust Employer Branding: Companies can showcase their values with a customizable career site that highlights who they are and who would be a good fit for their organization.
Intelligent Sourcing: Jobvite's platform automates the process of locating and engaging with qualified candidates, saving valuable time and effort for HR teams while improving quality of hire.
Easy Workflow Configuration: Recruiters can configure their hiring processes for optimal results by location, department, role, and more.
Benchmark Reporting: Jobvite allows companies to compare their hiring outcomes to industry benchmarks, helping them identify where they can further optimize their recruiting practices.
Data-Driven Innovation: Jobvite provides data-driven insights at every stage of the recruiting funnel, enabling companies to accelerate and streamline their recruitment strategies across the entire talent acquisition lifecycle.
AI-Backed Automation: Jobvite's end-to-end technology combines the power of AI with the human touch of recruiting.
What are the competitors of Jobvite?
Curious about how Jobvite compares to other applicant tracking software? Check out these alternative options:
SmartRecruiters
Workable
JobDiva
Teamtailor
Zoho Recruit
JazzHR
Recruitee
Hireology
Manatal
If you're looking for an applicant tracking system that goes beyond the basics, Jobvite could be the right choice for you. With a wide range of features and capabilities, including social and innovative tools, Jobvite provides HR departments and managers with the means to efficiently recruit and filter out the best candidates for the job.
Jobvite is an ideal choice for high-growth and established enterprises, as well as medium-sized companies. If your company has multi-dimensional roles and complex hiring workflows, Jobvite could be the ATS that enables you to scale your HR's hiring efforts and attract top talent without limits.
Looking to improve your hiring process beyond just using an ATS? Check out this article on how to ensure your hiring process doesn't scare off potential candidates. If you would like to explore more HR software options, our HR software reviews section has you covered.
Do you have experience using Jobvite? Let us know your thoughts in the comments section below.