How should companies manage capacity, contact tracing, and health and safety in a meaningful way?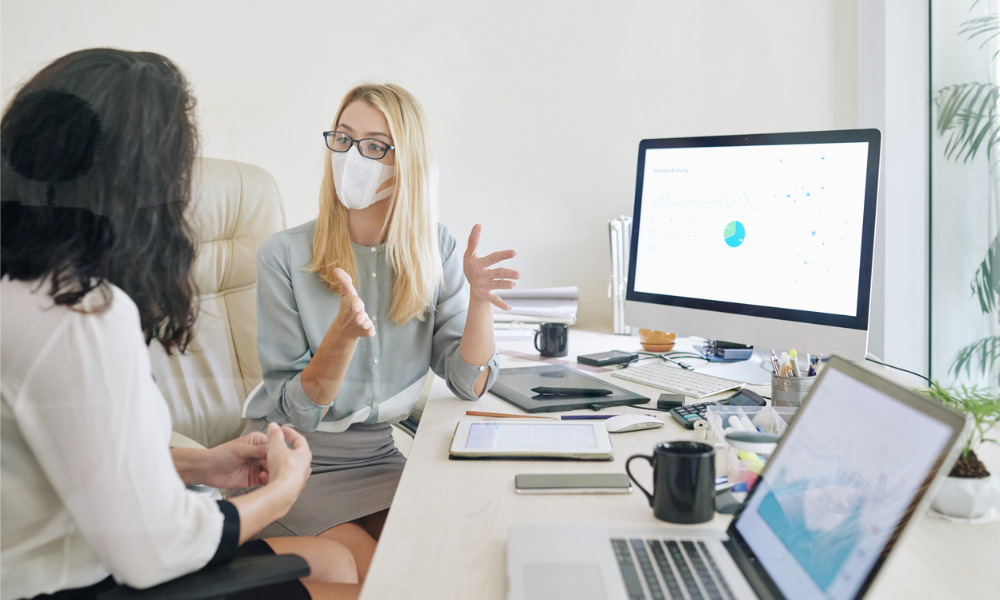 All Canadian employers are mandated by law to ensure the health and safety of their personnel – but more so now in the midst of the COVID-19 pandemic.
Despite enforcing stricter rules to curb transmission at work, 50% of business leaders say they cannot guarantee employees it is now safe to return to work, a survey from enterprise app Get Working showed.
"The question is how do companies manage capacity, contact tracing, and health and safety in a meaningful way that supports the needs of workers and employers alike," Get Working CEO Marc Gingras said.
Read more: Canadians reluctant to return to the workplace
For one in five decision makers, preventing an outbreak and ensuring no one falls ill in the workplace remain their biggest concerns about reopening.
Half of executives surveyed believe implementing social distancing measures on-site would be "logistically difficult". Some are taking the extra step of reconfiguring their offices to maintain a safe distance between workers (61%) while others are prohibiting employees from sharing computers and other items in the office (59%).
Apart from introducing health and safety protocols, some employers have also begun to offer flexible work options, including remote working, in the long run (79%).
Workers' anxiety
Employees are hesitant to return to work on-site, according to nearly four in five business leaders (79%). But workers aren't the only ones feeling anxious about their return.
Read more: COVID-19: Can you refuse to return to work?
Business leaders have also voiced out the following as their top concerns about reopening:
Ensuring the safety of the work environment/procedures that govern the workplace (22%)
Maintaining social distancing (22%)
Maintaining productivity (8%)
Communicating effectively virtually and in a new office set-up (6%)
Retaining good employees/enough employees (5%)
Implementing policies and procedures (5%), and
Adjusting to the 'new normal' (5%).
"Both employees and employers are anxious about returning to the office given the significant health and safety challenges created by COVID-19," Gingras said.
"Business leaders know that their employees are anxious about offices reopening, and the majority of those same decision-makers admit that it's going to be difficult enforcing social distancing in the workplace," he said.
The analysis is the latest to tackle Canadians' anxiety about returning to the workplace.
In August, HRD reported that only one in five employees are willing to return to the worksite as soon as they receive the green light.
Others say they will avoid returning until they feel safe around other people (17%) or that they will reduce interaction with colleagues by coming in for only a few days a week (14%).