ILO calls on countries to adopt Convention 190 to improve monitoring, mechanisms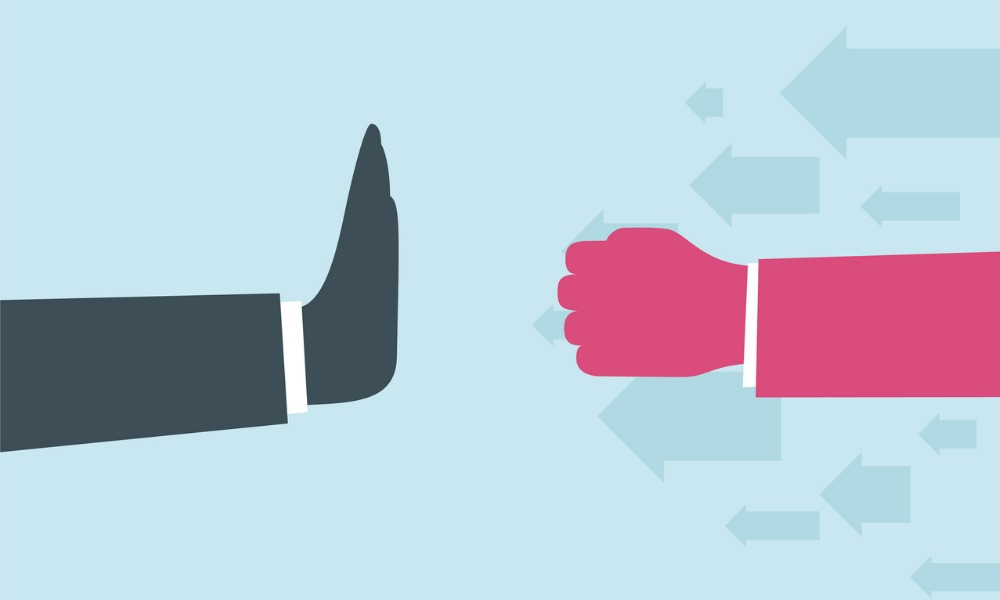 The federal government has joined numerous other countries in vowing to fight violence and harassment in the workplace.
Seamus O'Regan Jr., Canada's minister of labour, ratified International Labour Organization (ILO) Convention 190, the Violence and Harassment Convention, 2019 (C190) in Geneva on Jan. 30.
The government worked closely with provincial and territorial governments to deliver on its commitment to ratify C190, which will apply across all jurisdictions, Ottawa said.
More than one in five people have experienced violence and harassment at work, according to a previous analysis released by ILO.
Commitments
C190 – the first-ever global treaty on ending violence and harassment in the workplace – calls on countries that ratify the agreement to respect, promote and realize the right of everyone to a world of work free from violence and harassment. They must also adopt an inclusive, integrated and gender-responsive approach for the prevention and elimination of violence and harassment in the workplace.
C190 applies to violence and harassment occurring, "linked with or arising out of work," including:
in the workplace, including public and private spaces
in places where the worker is paid, takes a rest break or a meal, or uses sanitary, washing and changing facilities
during work-related trips
through work-related communications
in employer-provided accommodation
when commuting to and from work.
"No one should face violence or harassment on the job – not in Canada, or anywhere else," said O'Regan Jr. "We're joining countries around the world to protect workers, and make sure they have the safe, respectful workplaces they deserve."
Recently, the Amalgamated Transit Union (ATU) Canada called for a national task force involving all levels of government to tackle violence against workers and riders on public transit systems across the country.
Under C190, member countries must, among others:
monitor and enforce national laws and regulations regarding violence and harassment in the world of work
ensure easy access to appropriate and effective remedies and safe, fair and effective reporting and dispute resolution mechanisms and procedures in cases of violence and harassment in the world of work
protect the privacy of those individuals involved and confidentiality, to the extent possible and as appropriate, and ensure that requirements for privacy and confidentiality are not misused
provide for sanctions, where appropriate, in cases of violence and harassment in the world of work.
'Significant milestone'
Numerous stakeholders commended the federal government for ratifying the agreement.
"By ratifying Convention No. 190, Canada reaffirms its longstanding commitment to the creation of a world of work free from violence and harassment, based on dignity and respect for all and leaving no one behind," said Gilbert F. Houngbo, ILO director-general. "It is time to make that right a reality everywhere, thereby promoting and realizing social justice for all."
The Federally Regulated Employers – Transportation and Communications (FETCO) also supports the ratification of C190 by Canada.
"It will contribute to safer workplaces worldwide, and is an excellent complement to Bill C-65 within the Canadian federal sector," said Derrick Hynes, president and CEO, FETCO. "As with all ILO conventions, what sets C190 apart is that it came about via extensive tripartite collaboration in which all three Canadian social partners played a vital role. It is through tripartism that better workplace solutions emerge."
The new standard is "a significant milestone in our ongoing efforts to prevent, address and eliminate violence and harassment in the world of work," said Bea Bruske, president of the Canadian Labour Congress (CLC), noting that seven in 10 workers in Canada are affected by workplace violence and harassment.
"C190 is a comprehensive and inclusive agreement that, once implemented, will help make all workers safer. Canada's unions are ready to get to work with governments and employers on a plan to swiftly implement these new protections. Together, we can build a world of work free of violence and harassment, in all its forms."
In Canadian workplaces, one in four (25%) Canadian women and one in six (17%) Canadian men experienced workplace sexual harassment in the year prior to the onset of the COVID-19 pandemic.
The CLC previously called on the federal government to address the growing violence that workers face in the workplace.