CLC cites Ottawa's delay in ratifying ILO C190 global standard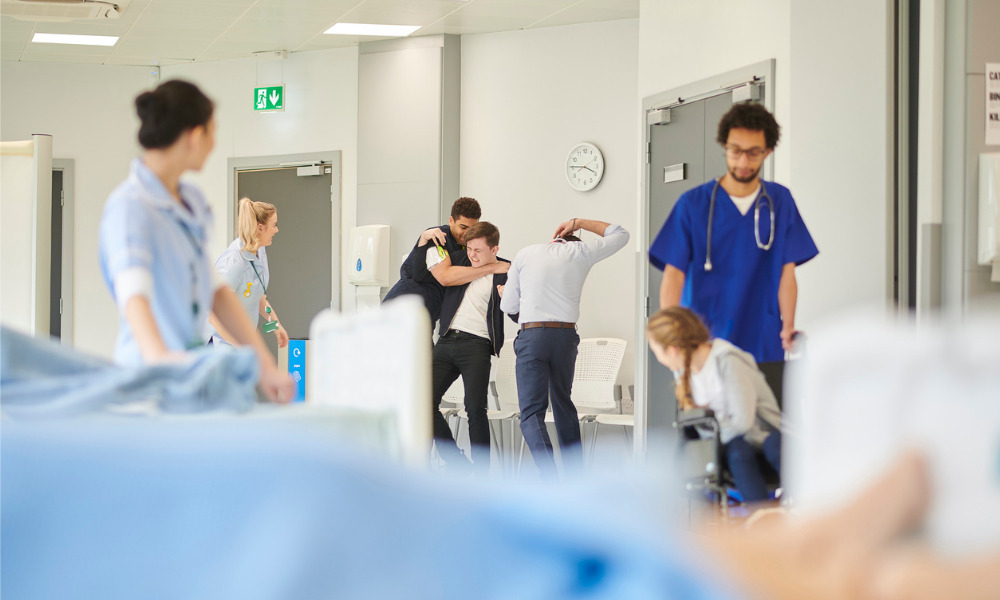 The Canadian Labour Congress (CLC) is calling on the federal government to address the growing violence that workers face in the workplace.
"A call centre worker receives a torrent of verbal abuse while helping a customer. A nurse returns from work with bruises and torn scrubs after being attacked by an agitated patient. A barista is stalked by a regular customer. These stories are a daily reality for many workers across Canada — and unfortunately, current worker protections fall short," it says.
"It's high time for the federal government to wake up and say, 'Never again' to violence and harassment at work."
ILO standard
In 2019, the International Labour Organization (ILO) Convention No. 190, also known as C190, was introduced as a global standard to establish the right to a world of work free from violence and harassment.
Governments that ratify C190 are required to put in place the necessary laws and policy measures to prevent and address violence and harassment in the world of work.
However, "we are still waiting for the [Canadian] government to ratify C190 and take this step toward addressing third-party and gender-based violence at work," says the CLC in time for the 16 Days of Activism against Gender-Based Violence, an annual campaign from Nov. 25 to Dec. 10.
In June 2022, Ottawa said many of the issues addressed by C190 fall under provincial and territorial jurisdiction: "The government of Canada is working with the provincial and territorial governments towards the ratification of the convention as a matter of priority."
Mid-year, Canada's Department of Justice announced additional funding for projects that support survivors of workplace sexual harassment, among others, in Ontario.
Harassment figures
The group points to the growing phenomenon of third-party harassment and violence in the world of work. Specifically, seven in 10 workers have experienced harassment and violence at work in the past two years – often at the hands of third parties such as customers, patients, and members of the public, according to the CLC.
To emphasize the gravity of the situation, the group also notes numerous studies released by several groups.
Nearly two-thirds (63 per cent) of healthcare workers experienced physical violence, and more than seven in 10 (71 per cent) of racialized workers reported they are subject to harassment or abuse because of their race or appearance, according to a survey from the Canadian Union of Public Employees (CUPE).
Meanwhile, four out of six home care workers say they regularly experience verbal assault, finds an SEIU Healthcare survey, according to the Canadian Labour Congress. Two in five experience being punched and one in four experience sexual assault while delivering care at a client's home.
"These workers are some of the lowest-paid healthcare workers and they are also subject to some of the highest rates of workplace violence outside the walls of big institutional care settings," according to the CLC.
Ninety per cent of respondents of a United Food and Commercial Workers (UFCW) survey say they have experienced harassment in their workplaces.
"As you can imagine, workers report feeling stressed, and worthless, and some are even forced to leave their jobs. Few legal protections exist against third-party violence, which leaves workers vulnerable to harm. No one should have to feel unsafe when doing their job," says CLC.
Gender-based violence
Meanwhile, the federal government has announced funding in hopes of addressing gender-based violence.
To this end, the government is providing up to $4.05 million to 12 organizations based in Quebec, up to $1.1 million to two organizations in British Columbia, up to $982,000 to three organizations in Ontario and up to $482,000 to one organization in Nunavut.
"Gender-based violence is a human rights violation still too deeply rooted in our society," says Marci Ien, minister for women and gender equality and youth. "The projects announced today will address the root causes of violence, while giving better support to those who survived it - charting a path toward building safer communities. Based on relevant data and culturally informed practices, these organizations and initiatives will build a better future for all everyone living in Canada."