Are you haemorrhaging employees? It's time to revamp your internal communications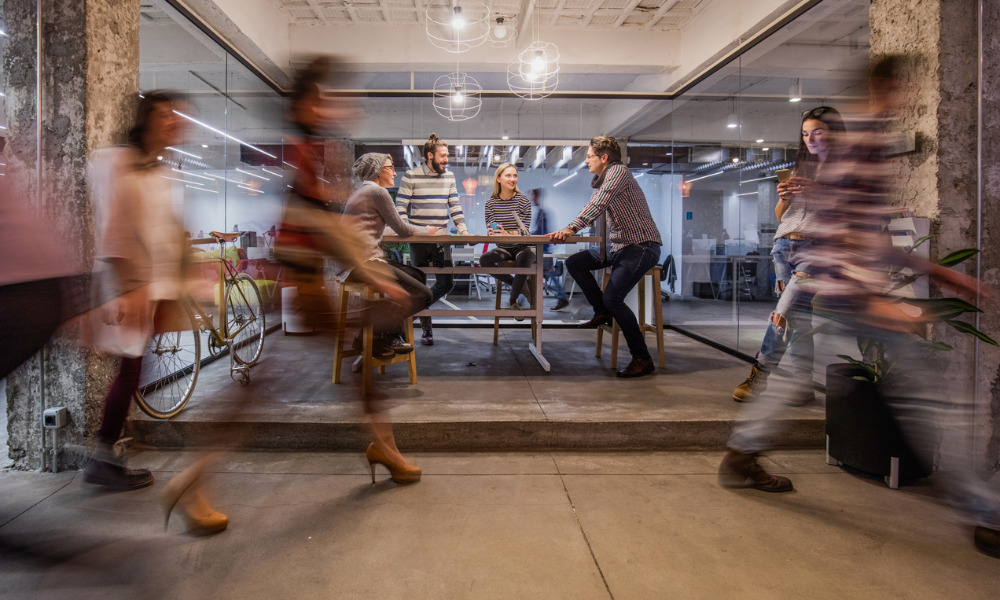 In the past couple of years, how we communicate with our employees has never been so important. The pandemic and the sudden shift to remote work meant that relaying important information to workers became both a priority and a challenge. Now, as we move into a somewhat post-pandemic workplace, HR leaders need to keep up the momentum with internal communications.
A study from Harvard Business Review found that a failure to build brand awareness internally 'risks employees undermining the expectations set by your advertising' – essentially forcing your people out of the door. Strategies like corporate storytelling and mirroring internal and external brand messaging can help organisations achieve goals that might otherwise be out of reach.
"Having strong internal communications is essential when it comes to a growing company," Simon Bacher, co-founder of Ling, told HRD. "Seeing as the company is new, structures and guidelines might not yet be in place. This is where effective communication comes in. Employees need to feel comfortable communicating with their leaders, boss, etc. in order to get clarification.

"Research about ineffective internal communication reveals that 52% of employees felt higher stress levels in the workplace; 44% of employees failed to complete their projects and 31% of employees missed their performance goals. These are shockingly high percentages. If you're facing these issues, along with the many others caused by ineffective internal communications, at your company, then it's time to change things. You might be the founder, but without high-quality employees, your ideas and projects won't have any chance of becoming a reality."
Companies can improve toxic communications by implementing a rolling calendar of stories to support key strategic themes of growth, profitability, people, collaboration, and international connections. They can then share these examples via internal channels such as the newsletter, as well as highlighting specific examples of how the work of people from across the organisation contribute to the strategic goals.
"Human resources plays a crucial role when it comes to internal communications because they are usually the middle person," Bacher said. "In other words, if something important needs to be communicated to the entire company, they will be the ones delivering that information. So, they need to deliver it in a clear, concise manner in order to ensure that everyone will understand it.

"When it comes to communication between individual employees, the role of HR is to mediate any conflicts that arise. This is also important because problems between employees can quickly spin out of control if they are left unaddressed."
Deloitte research suggests companies that prioritise collaboration are twice as likely to be profitable and twice as likely to outgrow competitors.
Internal communications have a pivotal role to play in promoting collaboration and helping employees understand and engage with change, such as new technology, systems, and processes. Research from Bain and Company found that during times of change and transformation, 'leadership teams that address inside-game risks are nearly twice as likely to achieve their ambitions.'
"Internal communications play a vital role in the growth and success of any company. By regularly communicating key messages to employees, businesses can ensure that everyone knows their goals and objectives.," Megha Gaedke, founder of ketoconnect, said. "Also, internal communication links human resources and the rest of the company. It is important to make sure that communication is effective to maintain a cohesive and productive workforce."
Additionally, by ensuring employees understand our sectors, services, and key representatives in each space, they will be more likely to collaborate across teams and geographies. Employees will also be better prepared to discuss the full breadth of services with clients so that none of our offerings are 'left on the table' during client discussions.
"The effectiveness of internal communications can be measured in several ways," Gaedke added. "One way is to survey employees to see if they are aware of the company's mission and values. Another way is to gauge employee satisfaction levels. If employees are happy and engaged, internal communications are likely effective. Finally, businesses can track employee productivity to see if there is a correlation between improved communication and increased productivity."