Investment will focus on workers' physical, mental health safety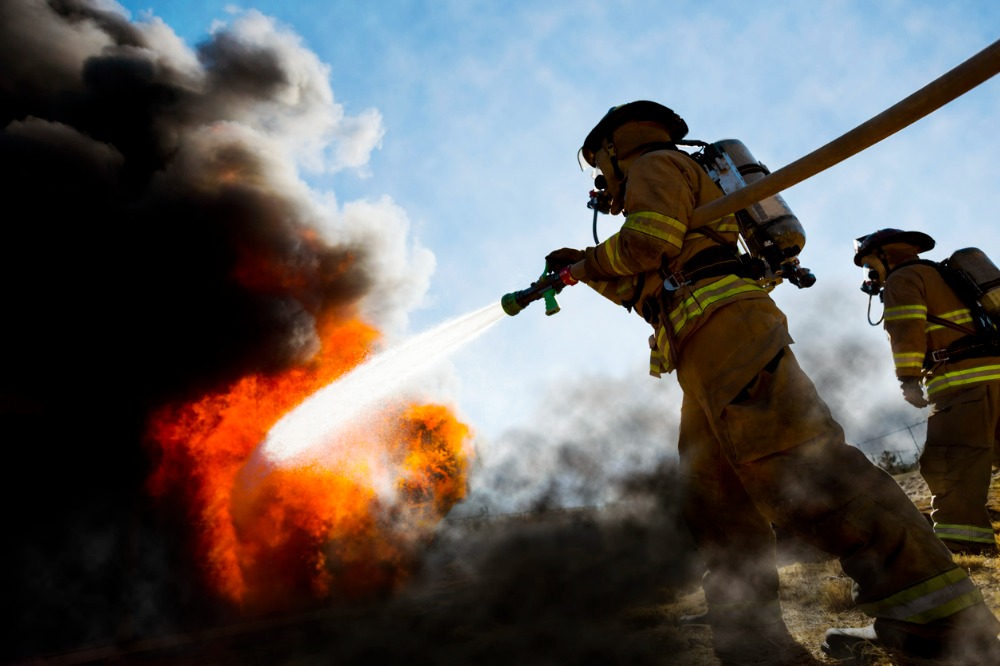 Ontario is ensuring that provincial firefighters are equipped with the tools they need to stay physically and mentally safe at work.
The government is investing $700,000 for training projects designed for 203 professional and volunteer firefighters around the province fighting fires in hazardous (Mayday) situations for small and rural services, automobile extraction, boating and water safety and elevator rescue.
The new Ontario investment will also contribute to peer support training for suicide awareness and crisis intervention.
Firefighters have a 1.21 greater times risk of getting colon cancer than the general public, according to the Firefighter Cancer Support Network.
"Our firefighters are true heroes who face danger head-on and without hesitation to protect our communities and our people," says Premier Doug Ford. "These new investments will help to ensure they have the training and resources they need to do their jobs safely and effectively."
Professional training and development at work plays a crucial part in addressing workers' mental health troubles, one expert previously claimed.
Specifically, the Ontario funding will go to the following:
Ontario Professional Fire Fighters Association is receiving $367,105 for the Fire Ground Survival Program and $65,995 for the Peer Support Program.
The City of Mississauga is receiving $101,099 for the International Association of Fire Fighters (IAFF) Fire Ground Survival program.
The Town of Georgina is receiving $176,000 for the Professional Development Georgina Fire & Rescue Services project.
In March, Ontario announced that its Workplace Safety and Insurance Board (WSIB) will presume that firefighters who suffer pancreatic and thyroid cancer got the disease in their line of work.
Also, Nova Scotia and Alberta also expanded its cancer coverage for firefighters.
There are about 30,000 firefighters in Ontario, including about 12,000 full-time firefighters, nearly 19,000 volunteer firefighters and more than 400 part-time firefighters.
Safety investment welcomed
Numerous stakeholders welcomed the latest announcement from Ontario.
"The Fire Fighters Association of Ontario welcomes this important announcement," says Randy Narine, Section 21 committee representative, The Fire Fighters Association of Ontario. "The fire service has been faced with unique financial challenges post-covid that a lot of municipalities across Ontario are struggling to overcome. These investments will help alleviate this financial burden and allow fire departments to not only provide a better service to their citizens but keep their members safe while doing so."
The Ontario Association of Fire Chiefs is also excited about the investment, says Rob Grimwood, the group's president.
"These initiatives will help ensure our frontline heroes have the necessary skills and resources to protect our communities and keep Ontarians safe. We extend our thanks to Premier Doug Ford, the Hon. Monte McNaughton, and the Ministry of Labour, Immigration, Training and Skills Development for their dedication to Ontario's firefighters," he says.
Meanwhile, Ron Jenkins, fire chief for the Town of Georgina, gave thanks to the provincial government.
"Thanks to the Province of Ontario's Skills Development Fund, Georgina Fire & Rescue Services will be able to continue to improve and maintain high-level training for our firefighters so we can respond to specialized rescue situations. This funding will be utilized to support our annual training plan and associated programs, help to ensure the safety of our firefighters, and meet the growing needs of our community."
Through its first three funding rounds, the Skills Development Fund helped launch 595 projects to help nearly 522,000 people around the province take the next step in their careers. Ontario's Skills Development Fund is supported through labour market transfer agreements between the federal and provincial Ontario governments.