HRD spoke to a senior advisor on how to protect employee wellbeing post-election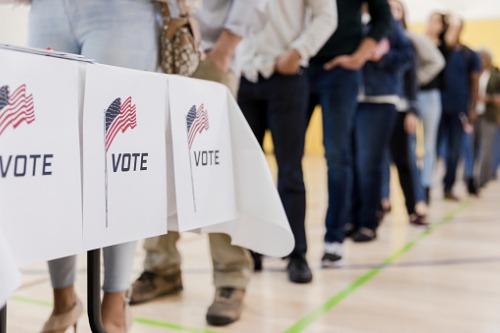 After days of counting and uncertainty, Joe Biden has been named President-Elect of the United States – bringing with him Kamala Harris as the country's first black, female Vice President.
Prime Minister Justin Trudeau was quick of the mark to congratulate the pair, writing on Twitter that he was "really looking forward to working together and building on that with you both".
Fellow Canadian leaders followed suit, with social media aflame with praise and promises for 2021.
And a very personal congratulations to @KamalaHarris! Your victory is an inspiration to women & girls and to people of colour across our continent. I look forward to working w/ you to help both our countries crush this global pandemic & to crack more glass ceilings along the way.

— Chrystia Freeland (@cafreeland) November 7, 2020
Congratulations, @JoeBiden and @KamalaHarris. Our two countries are close friends, partners, and allies. We share a relationship that's unique on the world stage. I'm really looking forward to working together and building on that with you both.

— Justin Trudeau (@JustinTrudeau) November 7, 2020
So so important https://t.co/83Ie5SDFHx

— Carolyn Bennett (@Carolyn_Bennett) November 8, 2020
Read more: CEO email-blasts 10M customers to endorse Joe Biden
On behalf of @CanadianGreens, I want to congratulate President-Elect @JoeBiden and Vice President-Elect @KamalaHarris on their historic win. In particular, I want to pay tribute to Kamala as she becomes the highest-ranking woman in the history of the United States. #cdnpoli

— Annamie Paul (@AnnamiePaul) November 7, 2020
Read more: Talking politics: How to deal with employee conflict
Congratulations to @JoeBiden and @KamalaHarris. Canada and the U.S. have a historic alliance. Canada's Conservatives will always work with the U.S. to advance our common values and close economic ties. 🇨🇦 🇺🇸

— Erin O'Toole (@erinotoole) November 7, 2020
It's easy to get caught up in election season – with politics sometime inadvertently spilling into the workplace. And while it's important that people have a right to their own opinions, it's essential that HR leaders preach tolerance and respect in the face of opposing views.
HRD spoke to Lindsay Lagreid, senior advisor at the Limeade Institute, who explained how employers can safeguard employee mentality in the post-election haze.
"Above all, companies need to show that they care about the well-being of each employee," she told HRD.
"This year has created even more need (and opportunity) to support workforces and this election season represents a culmination of many of those moments. It might be tempting to avoid the topic altogether, but it's totally possible to deliver that support without asserting a political agenda."
Lagreid recommends employers take the following five steps.
Ask your CEO to post a video telling employees that you're in this together and encouraging them to take care of themselves during a stressful week
Coach managers to take extra time in one-on-one meetings to ask how employees are doing, how they're sleeping and how the company can help them balance work and life
Remind ERG leaders to address about the emotional impact of the election in their meetings
If possible, hold any big company changes or announcements until later this month, so employees don't feel even more overwhelmed
Deliver broad communications on the importance of prioritizing well-being – and connect them to existing emotional well-being resources, like EAPs, stress management activities and mindfulness trainings