'We feel comments were made from a place of poor information'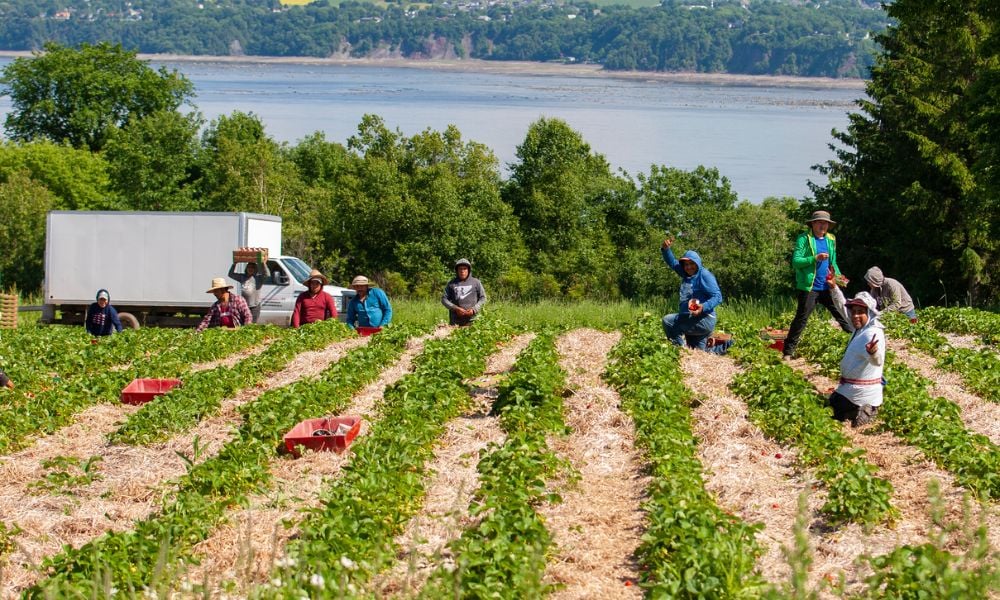 One expert is voicing concerns about comments made by an expert from the United Nations concerning Canada's Temporary Foreign Worker (TFW) Program.
"We're very concerned about that kind of use of language. It's very strong language. It invokes a lot of strong feelings by people," said Stefan Larrass, senior policy advisor, Ontario Fruit and Vegetable Growers' Association, in talking with HRD Canada.
Earlier this month, Tomoya Obokata, UN Special Rapporteur on contemporary forms of slavery, said that "employer-specific work permit regimes", including the TFW Program, make migrant workers "vulnerable to contemporary forms of slavery".
Larrass felt it was "completely inappropriate" to describe the program as such because it is "highly regulated".
"There's a lot of people involved to make the program suitable and safe for the workers involved. And to describe that collective process, the program and the effort by everyone, as slavery, we think it's very unfortunate and very inappropriate.
"It also belies all the efforts by the source countries, governments that prepare these workers for successful employment in Canada, the federal government that oversees it, the provincial governments that oversee the workers, the community groups that are involved both in terms of social life support and legal clinics that are available, and health clinics that are available at the local level. It belies all those efforts being made by all these people that care."
Just in August, the federal government launched the Recognized Employer Pilot (REP) under the TFW program. Under this, Ottawa is investing $29.3 million over three years to address labour shortages and reduce the administrative burden for repeat employers participating in the program that have a history of complying with program requirements.
Regulations under TFW Program
Larrass also noted that employers under the TFW Program are under a lot of regulations from both the federal and the provincial governments.
"A person on a farm gets injured. If [that person] is an Ontario worker, the [employer] will generally only get a penalty from the provincial government. But if that worker is a temporary foreign worker, the employer would actually face consequences from the provincial government and the federal government.
"So if you connect those dots, you can argue that an employer of a temporary foreign worker has even greater incentives to keep that worker safe, because you have an extra level of oversight."
These employers have to satisfy two different checklists from both the provincial and federal governments. If they fail in the requirements, they could face jail time or monetary penalties from either or both governments.
Violators will also be banned from the TFW Program, he said.
"Regardless of how bad the penalty is or financial penalty, that employer will end up on the publicly available registry of employers that have failed to meet the rules of the program."
Last year, Syed Hussan, executive director at Migrant Workers Alliance for Change, called for a revamp of the system that governs migrant worker's employment in Canada.
Ongoing efforts to improve TFW Program
Despite the positive words he has for the TFW Program, Larrass admitted that it's not perfect, but the federal government has been making an effort to improve the program.
Larrass noted that, in the past couple of years, Ottawa created a program that allows workers to raise their concerns to the government, and the government would instruct Immigration, Refugees and Citizenship Canada (IRCC) to issue a work permit to the workers that's "open" and "completely unrestricted" if the IRCC "deem that worker to be in a hostile situation with their employer".
"That's a huge release valve. But a lot of activists will not acknowledge that there is that escape for workers that are in a trapped situation," said Larrass.
The farm sector, he said, has also put in a lot of effort in recent years to "raise the bar", and a lot of these efforts are on a "voluntary basis," he said.
"There are farmers that have created new housing for workers… The housing is free of cost to the workers in the TFW Program.
"We know how expensive student housing is. You're talking about at least $700, all utilities included. So who's getting rent at this point for less than $700, maybe even less than $1,000 a month? And that's currently included in the benefits package [for temporary foreign workers]."
One expert previously claimed that the Seasonal Agricultural Workers Program (SAWP) continues to be a pivotal program since its launch decades ago.
Larrass also noted that they've heard people complain about "lousy conditions" in the workers' living situations, and about how these workers get paid below the minimum wage.
"First of all, they get paid above minimum wage. And secondly, things like housing are included. And that's huge. Just the monetary value, but also the peace of mind that you're coming to Canada, and your housing is taken care of, and that it's inspected by the government.
"A lot of things are not known and we just have to keep reminding people that there's a lot of people involved that are trying to make the program the best it can be."