Government workers put on leave for non-compliance can return to workplace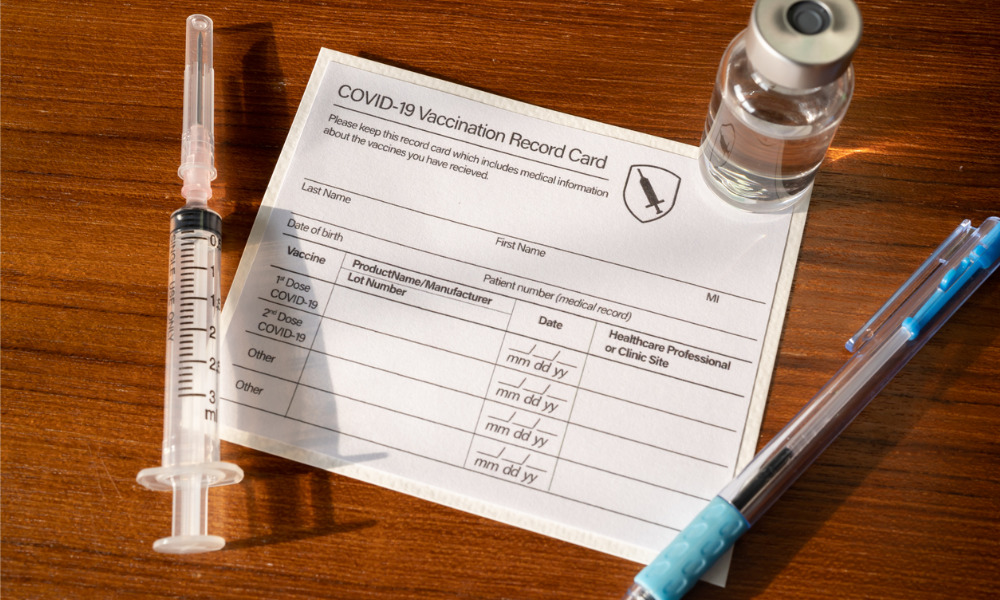 British Columbia is putting an end to its COVID-19 vaccination policy for government workers that has been in place since November 2021.
B.C. Public Service employees will no longer be required to provide proof of vaccination against the virus starting April 3, the province's Ministry of Finance said in a statement on Friday.
"The decision to rescind the policy was made based on the high level of vaccination among public-service employees and the current state of the pandemic," said the ministry.
More than 98% of employees met the requirement, it said.
The vaccine mandate "was always intended as a temporary measure to help protect employees and the people they serve," it added.
The change will also mean contractors and other non-employees do not need to be vaccinated to enter BC Public Service workplaces.
B.C.'s announcement came about nine months after Ottawa lifted the same policy implemented on federally regulated transportation workers in June 2022.
Numerous government bodies and private employers have also previously stopped requiring proof of vaccination from their workers.
Continued requirements
However, B.C. workers are still required to be vaccinated if they work in settings with provincial health officer orders or other vaccination requirements. Vaccine mandates remain in highest-risk settings where the most vulnerable live and are cared for, including facilities in the health-care system.
The BC General Employees' Union had requested a meeting with the BC Public Service Agency to discuss the rule change and ensure all members received "equitable treatment" under the now-rescinded policy, said Stephanie Smith, president of the union, according to a report from The Canadian Press.
"From the beginning of the pandemic, BCGEU members have demanded clarity on how employers' decisions affect us and our working lives," she said in a statement. "Our union has a number of questions about how this change will impact our members."
Reinstatement after mandate
With B.C. dropping the vaccination requirement, workers who have been forced to leave their employment will have a chance to come back, according to the ministry.
"Rescinding the vaccination policy means a small number of employees on administrative leave due to non-compliance will be provided the opportunity to return to the workplace. The Public Service Agency has provided direction to ministries and will work with supervisors to support a smooth transition."
Recently, one worker in Ontario found out that going against his former employer's COVID-19 vaccination mandate did not only hurt his employment; it also lost him his employment insurance (EI).
However, B.C. reminded everyone that the COVID-19 virus is still around.
"While it is now possible to remove this policy, the pandemic is not over and the Public Service Agency continues to encourage all BC Public Service employees to remain up to date on their COVID-19 vaccinations, including booster doses," it said.
"Vaccination continues to be the best protection against severe illness with COVID-19 for individuals, including children and youth, and has helped protect B.C.'s health-care system and the economy."