It's a step towards mass vaccination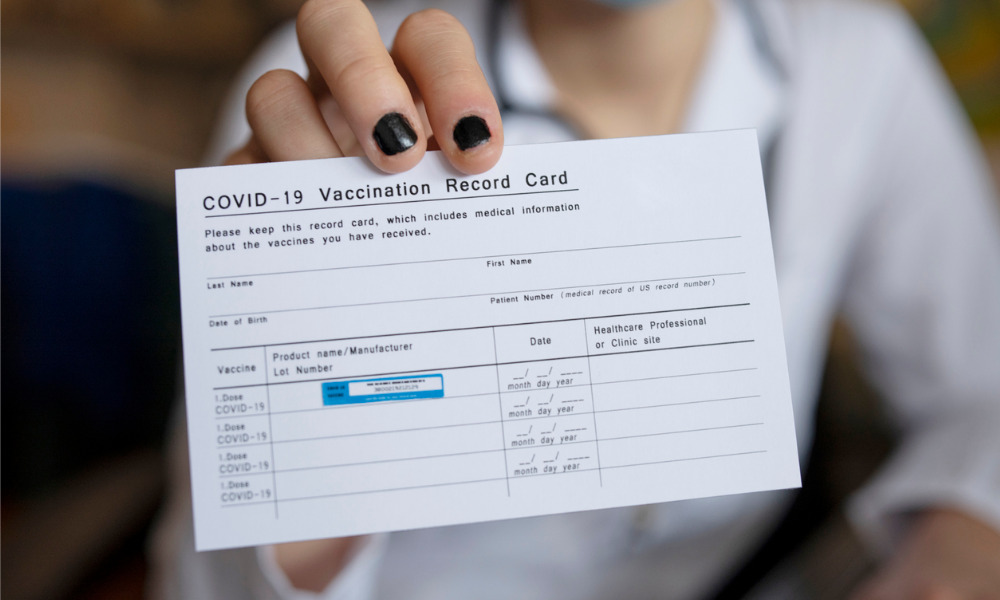 Around 25,500 public service employees in Alberta have been mandated to be vaccinated against COVID-19 by November 30, according to Premier Jason Kenney, in a bid to further expand the vaccination coverage in the province. Those who will fail to comply will not be put on unpaid leave, instead they will need to obtain an accommodation based on the Alberta Human Rights Act. If not, they will be asked to present a negative PCR or rapid test within 72 hours of every scheduled workday or shift, which employees will be shouldering starting December 14.
"The message is clear: we value our public servants and important work that they do," said Kenney. "That's why we want to ensure that they are operating in safe workplaces and that we're doing everything we can to protect millions of Albertans to whom they provide services."
A secured system will be used to facilitate vaccination reporting and ensure that any personal information of public service employees remain confidential and secure. Meanwhile, all eligible Alberta government facilities will also be implementing the Restriction Exemptions Programme, where operators will require visitors aged 12 and over to present a valid proof of vaccination, proof of negative test result within 72 hours, or medical exemption paperwork.
Read more: Alberta plans to lay off 11K health service workers
Private employers stepped up
Kenney also extended his gratitude to private employers who stepped up amid the pandemic and began implementing their own vaccine schemes. The premier said their policies helped the vaccination rate in Alberta spike over the past three weeks. It followed a negotiation between Kenney and large private businesses about the importance of ensuring that their employees are vaccinated.
"I want to thank those employers for stepping up to the plate with safe workplace policies," said Kenney. "Thanks in part to their efforts, together with Alberta's $100 vaccine incentive and the new Restriction Exemption Programme, we have seen a very significant increase in vaccine uptake over the past three weeks, going from 78% of first dose coverage of eligible people on September 3rd to nearly 84% by the end of today. That means over 200,000 more Albertans now have protection from due to COVID vaccine over the past three and a half weeks."
However, as the government and businesses continue to accpet negative COVID results in place of proof of vaccines, the demand for self-administered testing kits is starting to pick up.
"A growing number of Alberta businesses are introducing mandates for their staff to show proof of vaccination ore regular negative test results. This is leading to a supply shortage of rapid test kits which can be a useful additional tool in limiting the spread of covid and keeping workplaces safe," Kenney explained.
He urged the federal government to "accelerate the approval of more self-administered and rapid testing kits" to meet growing demands from the public.
Read more: Alberta mandates WFH under new COVID-19 restrictions
Appeal to the unvaccinated
Kenney further appealed to individuals who remain unvaccinated against COVID-19, telling them that this can be their way to take care of health workers in return.
"And to the 16% of Albertans who have not yet the life-saving protection offered by vaccines, let me say this: those healthcare workers want to give you the best care possible if and when you need it," he said. "So please if you're unvaccinated please be there for them - for those healthcare workers by getting vaccinated as quickly as possible."
Federal government asked to intervene
As Kenney calls on the public to get vaccinated, New Democratic Party (NDP) of Canada Leader Jagmeet Singh is urging the federal government to intercede in the situation in Alberta. The official, in a letter addressed to Prime Minister Justin Trudeau, requested emergency support for the people of Alberta as the province suffers from the fourth wave of COVID-19.
"The number of COVID cases has exceeded all previous waves by exponential amounts," said Singh in the message, adding that while the situation was "as dire as it was preventable."
"In the absence of any leadership at the provincial level, we urge the government to intercede to protect the lives of countless Albertans," said Singh. "We implore the federal government to use the tools at its disposal to protect Albertans."
The NDP leader accused Kenney of refusing to accept staffing support from other provinces, neglecting the pleas for a circuit breaker shut down, and for not maintaining adequate testing, contact tracing, or vaccination verification passport systems. Singh said health workers in Alberta are exhausted and at their limit, while workers at the education sector are terrified and at the dark due to a lack of adequate statistics to base their decisions on.
Read more: Trudeau follows Singh, promising 'consequences' for unvaccinated federal workers
"The federal government could step in and protect Albertans by providing additional support for contact tracing, testing, and reporting infection rates in schools across Atlanta," Singh suggested.
"This is an urgent emergency and we cannot wait for the House of Commons to resume. We must take action now."
Alberta's total number of active COVID-19 cases is at 20,255 as of September 30. The government reported that 83.6% of eligible population received their first dose, while 74.3% are fully vaccinated.