While most Canadians like the idea of a shorter week, 8 in 10 also have concerns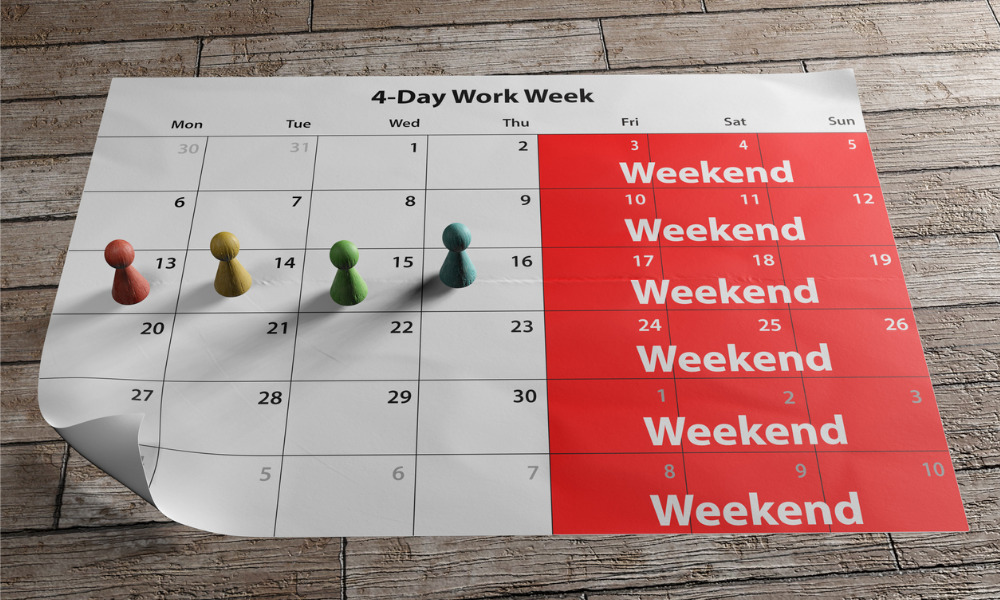 The shorter work week setup is popular among Canadians.
Right now, over nine in 10 (93 per cent) are interested in a four-day work week, according to a report from Talent.com.
In fact, Canadians cite this as the top (57 per cent) professional benefit that employers can offer, ahead of insurance (52 per cent) and flexibility to choose their working hours (47 per cent).
"Successful pilot programs for a four-day work week have been implemented in markets around the world, resulting in improved productivity," says Robert Boersma, head of sales strategy at Talent.com.
More than half (51 per cent) of HR leaders globally have already implemented a four-day work week (nine per cent) or are considering it (42 per cent), according to a previous report.
And 91 per cent of senior managers say they would support having fewer working days in the week for their teams, according to Robert Half.
Workers believe that the four-day work week will help them have better work-life balance (47 per cent), improve mental health and avoid burnout (20 per cent) and reduce stress levels from overwhelming work conditions (10 per cent), according to Talent.com's study.
Workers plan to spend the longer weekend attending to the following: leisure & recreational activities (71 per cent), personal appointments (65 per cent) and household chores (59 per cent).
Concerns
Overall, 43 per cent of Canadians believe that a four-day work week is the eventual next step to hybrid working, according to Talent.com's study.
However, eight in 10 have at least one concern with the concept. These include worries about:
being paid less (48 per cent)
working longer days (36 per cent)
working overtime without extra pay (29 per cent)
When it comes to taking a pay cut in exchange for a shorter work week, only close to three in 10 are willing to take a cut of less than 10 per cent, according to the survey of over 1,000 working Canadians conducted between March 30 and April 6, 2023.
A majority of employers and recruiters believe that a four-day working week will become the norm in the U.K. before 2030, according to a previous report.