'Receiving a pointed, hair-on-fire email while having dinner with your family can be very unsettling'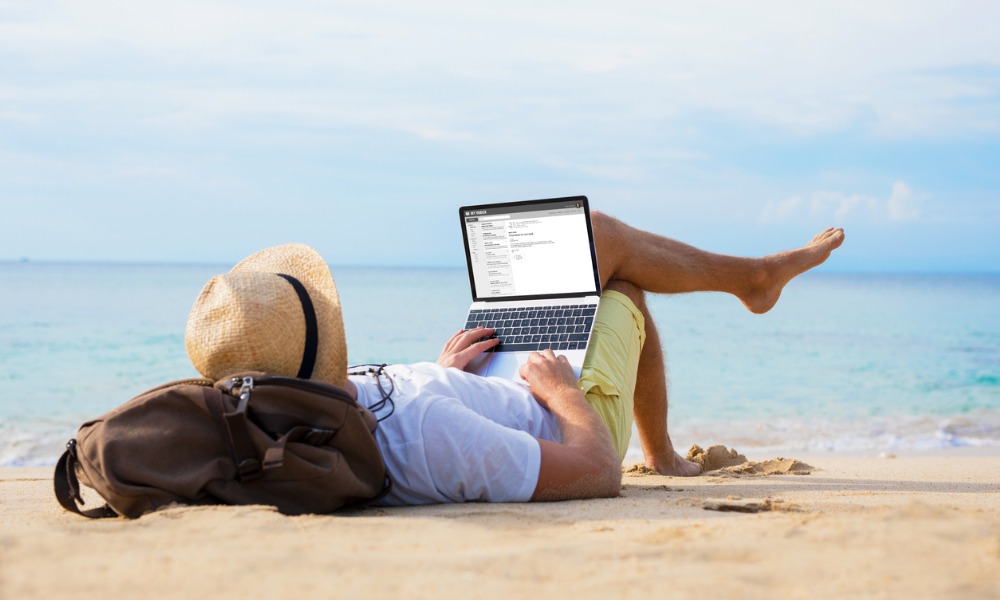 The pandemic may be on the backburner but that doesn't mean that employees are any less overworked. A recent survey found that a staggering 35% of employees feel an expectation to work while on their vacation, with burnout and anxiety rife. So much so that a report from Deloitte found that 77% of employees say they're experiencing burnout at their current job.
The data, compiled by online education platform ELVTR, found that one in five employees are being asked by their direct manager to work when they're on annual leave – with a further 25% being bombarded by constant work-related messages. By not allowing employees proper time off, leaders run the risk of increasing turnover and diminishing morale.
"The three 'Rs' are so critical here," says Edward J. Beltran, CEO of stress-reducing tool Pulse by Fierce. "Rest, relax, and recharge.
"When employees are truly given the ability to do this and fully disconnect, during for example their vacation, it goes a long way in helping to reduce any work-related stress, even preventing the burnout that has hit a lot of the workforce really hard in recent years. Putting this distance between themselves and their work plays a key role in employees returning from time-off refreshed and energized, which in turn often means they'll be more productive and engaged in their work."
Leading by example in annual leave
It's essential for leaders to respect boundaries and set clear expectations – often leading by example themselves. After all, if an employee sees you answering emails when you're supposed to be off, then they may think that's expected of them too.
"Receiving a pointed, hair-on-fire email while having dinner with your family can be very unsettling and impair one's ability to truly relax, rest and be ready for the next day, focused and at their best," adds Beltran.
"Due to the nature of some work, exceptions may occur and it's important to talk about these exceptions and agree to the levels of escalation versus getting emails every night or on the weekends with the unspoken expectation that you will reply when this might not be the case, or maybe it is! Regardless, it is the company's responsibility to train their people to have these conversations and set agreed upon rules of engagement."
Employees struggle to 'switch off' from work
But it's not enough to simply pay lip service to this — employers need to enforce proper annual leave with an iron fist. According to the data, 57% of employees say they feel anxious or guilty if they ignore any message while on leave, with 46% adding that they have trouble 'switching off' from work in general.
"The list of reasons why companies should be encouraging time off and allowing employees to truly unplug when they are away is long, but there are several key areas that we can focus on that really do make a difference," adds Beltran.
"Think about retention. A company that values true work-life balance and respects employee time off is more likely to retain its employees. When we really mean it when we say 'We believe in a strong work-life balance' employees notice and more of them will want to stay. It boosts morale and engagement, and guess what? Real time away might even help employees gain new perspectives and insights."
Uninterrupted time off can even stimulate creativity and improve problem-solving abilities, as employees have the opportunity to explore new experiences and ideas outside of their normal work routine.
"Respecting employee time off isn't just an act of kindness; it's essential to building a healthy, productive, and successful work culture," says Beltran.
The 'right to disconnect' from work
But it's not just good practice to allow employees uninterrupted time off — by asking people to work when they're technically off you could be on shaky legal ground. Ontario recently enacted the Working for Workers Act, which delineates an employee's 'right to disconnect'. While it isn't actually an inherent employee 'right', it is a requirement that all employers with over 25 workers have some sort of disconnect policy in place.
"Employees are already protected under the Employment Standards Act," Mike MacLellan, partner at CCPartners, previously told HRD. "There's already laws about time free from work, daily and weekly maximum working hours that apply to most workers etc.
"The new rule doesn't give any additional rights to employees to disconnect from work beyond what the Act already provides, however it should encourage employers to set certain expectations around work-life balance."
And if you're not looking at it from a legal standpoint, you need to consider the impact working all the time has on a person's psychological health.
"First off, the notion that constant work leads to higher productivity is highly problematic for today's workplace leaders," explains Beltran. "We know that employee burnout and exhaustion is actually the most serious threat to productivity, a reality that has become increasingly clear in recent years. The harder they work, the fewer breaks they have, the less opportunity they get to disconnect, the hit on their wellbeing and ultimately on productivity just gets bigger and bigger. The more burned out the staff is, efficiency can actually decrease, and we know that not taking time-off just makes this entire situation worse for employees."
And, when employees return from real, uninterrupted time off, when they're actually able to rest and disconnect, they return clear of mind and focus, and this often means increased productivity and even better decision-making.
"The data stipulates clearly that the path to retention and out-sized returns is one where employees feel a deep connection to their work," says Beltran. "Creating a culture of shame for taking vacation or time off negates that important connection and, either directly or indirectly, conveys that you value visible butts in seats more versus actual results."