Daisy Auger-Dominguez on what belonging looks like in 2021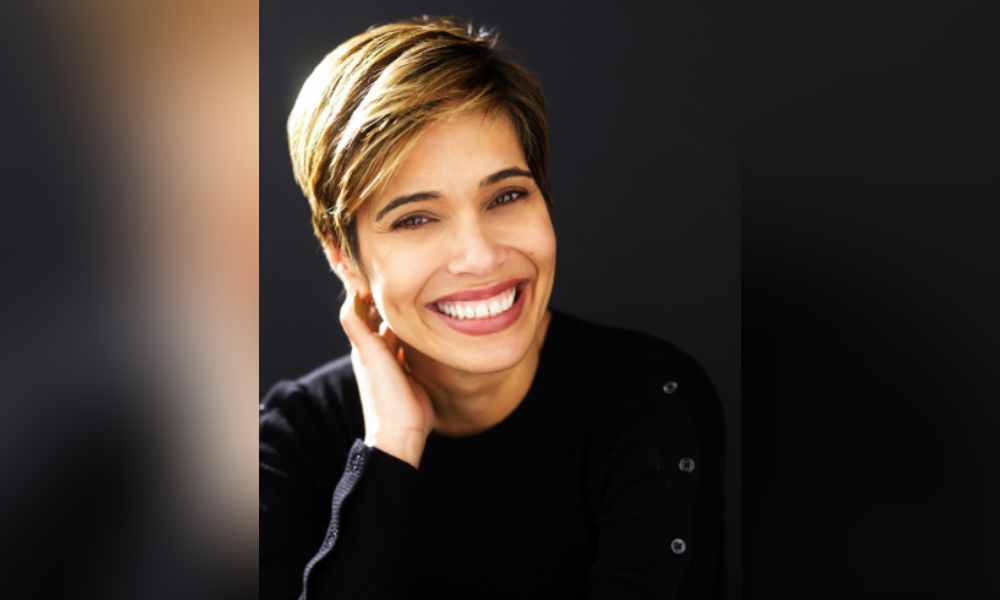 As the CPO for VICE Media Group, Daisy Auger-Dominguez is a big believer in belonging. With an illustrious career history spanning multiple sectors – Daisy has a love of the unique. But this passion for diversity isn't something new – in fact, it's been a part of Daisy for as long as she can remember.
"I was born in New York City to teenage parents," revealed Daisy. "My father's Dominican, my mother's Puerto Rican - but I was raised in the Dominican Republic by my paternal grandparents. I think this love of inclusion has always been with me, right from a very young age. I've always been surrounded by diversity – I just didn't realise it. I went to an international school - and my friends growing up were Danish, Israeli, Chinese, Japanese. From an early age I valued difference and revelled in understanding the complexities of it."
At 16, Daisy moved back to the US to attend university. Having spent her entire life surrounded by a melting pot of diversity, she found the switch to New Jersey life painful.
"I went from being Dominican and Puerto Rican, having a very strong national sense of who I was, to all of a sudden being Hispanic in the American context," she told HRD. "I struggled, quite frankly, with being put in a box. It seemed so monolithic. The perception that people had of Hispanics in America was very limited. For instance, my guidance councillor was surprised that I spoke English fluently. My classmates were surprised when I got accepted into the same university they were applying to – claiming I only got in because of 'affirmative action'. I didn't even know what that was back then! Internally I was thinking – 'no, I got in because I'm actually smarter than you, because I work harder'.
After university, Daisy's career began to fly – beginning with a post at Moody's Investor's Service.
"I ended up having a 12-year career at Moody's," she told HRD. "I joined as a credit risk analyst in the public finance department. I then transitioned over to our corporate finance and infrastructure teams when we were launching in Latin America. I was one of a few native Spanish speakers in the whole company - it was a tremendous opportunity for me. And then, six years after being a credit risk analyst, I was promoted to manage the corporate foundation. This was a dream come true as I'd always had a love and appreciation for philanthropy."
From here, Daisy went on to WarnerMedia (formerly Time Waner) as managing director of their executive search team – then on to Walt Disney as VP of diversity and inclusion & talent acquisition – before being scouted by Google.
"Google created a role especially for me," revealed Daisy. "As global head of diversity staffing – and that was simply too attractive to pass up. Honestly, it was one of the most challenging roles I've ever had. At that point, we were hiring upwards of 300 to 500 people a week. I had a team of 65 that was responsible for ensuring nearly a third of that hiring enhanced our diversity representation – which was itself impossible."
Daisy decentralised the hiring process and moved all the subject matter experts into global teams across the organization – effectively working herself out of a job. She then went on to Viacom, and then took a year out to spend some quality time with her family, traveling across the globe. On her return to work, she launched her very own culture consultancy – before a chance meeting with Vice Media's Group's CEO, Nancy Dubuc, led to her current role.
And, throughout all her posts, Daisy has been a dedicated champion for typically 'marginalized' employees. Whether that be gender-based, race, sexuality, or age – she's always been active in promoting equal opportunities for all.
"If you're going to be an ally, you have to be willing to see the things you've thus far been unwilling to see," Daisy told HRD. "You have to really look at your workplace and think about the experiences you've been giving to your people. Consider the power and privilege you hold. Take me, for example. I'm a woman of colour over the age of 40 – I tick a lot of boxes. But I'm also incredibly privileged – I've had an excellent education that my working-class family worked hard to give me. I have a great career, I'm able bodied, I'm cisgendered, I'm heterosexual. I never have to worry about introducing my husband or speaking about my private life.
"If you want to be a true ally to members of all marginalized communities, it's imperative that you think about how you introduce myself. For instance, I use my pronouns so that others, who may be transgender or non-binary, feel it's a safe space. Additionally, when I'm in meetings, which are now all video meetings, I'm intentional about whose voices get heard, whose voices get muted, whose ideas get validated and whose ideas don't."
As for her plans in Vice Media, Daisy's dreams of inclusivity know no bounds.
"In 2020, we focused on building foundations, processes, policies, programs, and our overall DEI strategy," she explained. "Our structure focuses on our people, our culture and our systems. We look at how we make content, how we engage with our audience and our clients. We also launched our second pay equity study last year. Our pay equity efforts are part of every decision that our compensation team makes in partnership with HR business partners and leaders. It means that our data and our people analytics is inclusive - we're constantly thinking about intersection."