The real impact of COVID-19 on our organizational culture has started to emerge in full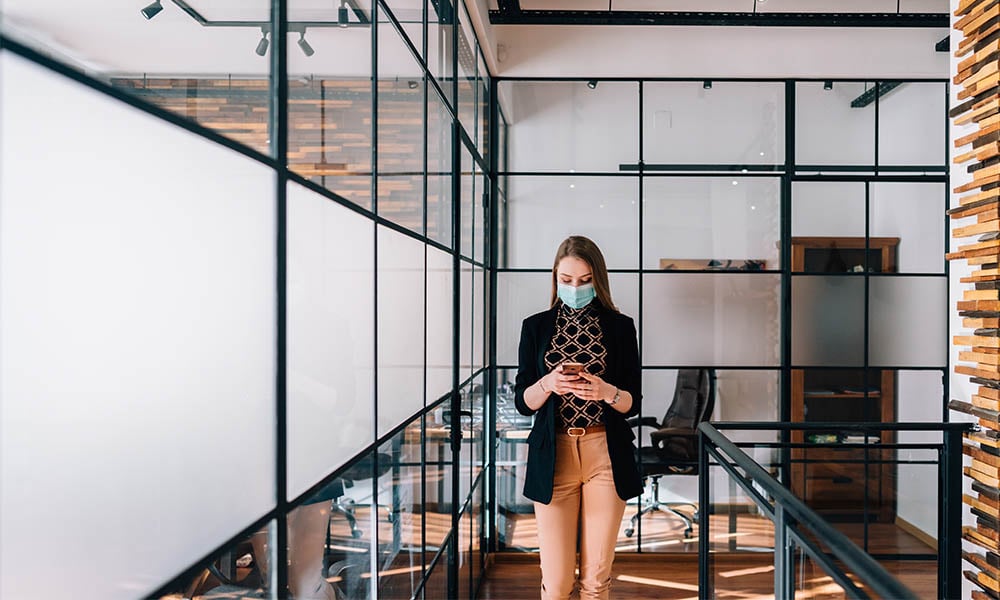 As we move into the last leg of 2020, the real impact of COVID-19 on our organizational culture has started to emerge in full.
While it may take years to fully understand how the pandemic has touched each aspect of our working lives, there's certain areas in which we can already see its effect.
HRD recently spoke to Dr Alex Lovell, director of research and assessment at O.C. Tanner – contributor to Top 5 Workplace Culture Trends for 2021.
We wanted to know what precise areas of company culture have been directly and indirectly changed by COVID-19.
Read more: CEWS: What to expect from Canada's enhanced wage subsidy scheme
"The impact of COVID-19 is an interesting thing to examine," prefaced Dr Lovell. "There are several ways to consider the impact of COVID-19.

"First, we could consider the effect of COVID-19 on aggregate organizational metrics. In this case, we found severe declines in Appreciation (-13 points on our index) and Wellbeing (-15 points on our index), and moderate declines in Opportunity (-11 points on our index), Success (-11 points on our index), and Leadership (-11 points on our index).
"Purpose, however, only declined by one point. We found that many organizations needed to lean into purpose to broadly engage/re-engage employees and rally them toward a common cause."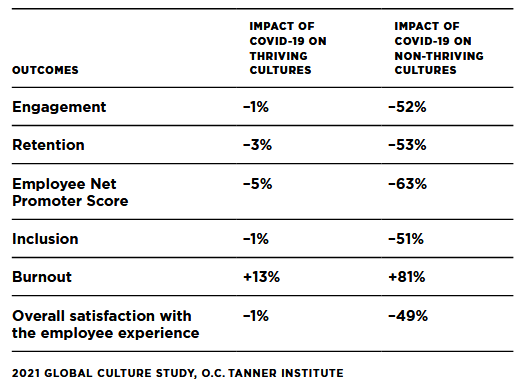 Secondly, Dr Lovell explained the way in which the pandemic has disrupted our 'individual cultures'.
"Cultures that met our "Thrive" threshold were able to best respond to the potentially damaging effects of COVID-19, only suffering mild declines in engagement, retention, eNPS, inclusion, and employee experience satisfaction," continued Dr Lovell.
"There was still a mild increase in burnout, which is to be expected, given the unprecedented emotional demand the cascading crises of 2020 have exacted from individuals. Non-thriving cultures were severely affected – as you can see from the 2021 Global Culture Study graphic above."
Read more: More Canadian employers rehiring workers through wage subsidy

Dr Lovell also highlighted some key trends that have emerged since COVID-19 overtook our lives – some of which have been positive rather than destructive.
According to O.C. Tanner's research, the current pandemic has forced senior leadership to increase their visibility.
Pre-pandemic, the C-Suite was a somewhat silent entity, only descending from the boardroom when totally necessary. Now, with the added onus on constant communication, leaders are hosting townhalls each month – putting a face to the name.
"In the qualitative research we completed, we have seen a dramatic change in how people reference and talk about their senior leadership," added Dr Lovell.
"Prior to COVID-19, the most common way people referred to their senior leadership was 'management,' which was also often associated with negative sentiment. Now, 'our leader' or 'my senior leader' has replaced 'management,' with greater positive sentiment associated with that change."
This change has in turn created a more meaningful, authentic relationship between employer and employee – fostering an atmosphere of trust.
For more in-depth analysis and insight from leading researchers, download O.C. Tanner's free resource - Top 5 Workplace Culture Trends for 2021.