Fostering a diverse and inclusive culture is easier said than done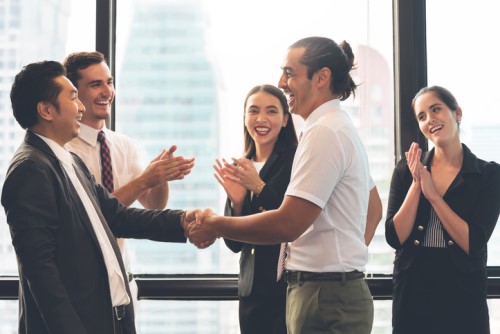 Fostering a diverse and inclusive culture is easier said than done – especially in an age where every mistake is monitored and shared across the web in a matter of moments.
Now, more so than ever before, employers need to ensure their company culture is as engaging and supportive as it possibly can be.
We caught up with Jody Kohner, SVP of employee marketing & engagement at Salesforce, to pick her brains over the organization's internal culture and uncover why diversity plays such a huge role in the day-to-day lives of employees.
"Culture is a company's greatest competitive advantage and differentiator," she told HRD Canada. "That's why we write it down, prioritize it, build our employee programs around it, measure it, and are constantly innovating on it.
"The central theme of our culture is Ohana, which means family in Hawaiian. It represents the idea that families—blood-related, adopted or intentional—are bound together, and that family members are responsible for one another. We are an Ohana of trailblazers – we take care of each other, have fun together and work collaboratively to make the world a better place.
"We're humbled and proud that our highly intentional approach to culture is earning us recognition as a best workplace around the world."
A recent SHRM report found that 41% of managers think they're "too busy" to implement diversity initiatives – a rather shocking statistic considering 57% of employees want their companies to become more inclusive. Luckily, this isn't the case at Salesforce, as Kohner went on to tell us.
"Diversity and inclusion is more than an HR strategy," she explained. "In fact, Equality is one of our core values, along with Trust, Customer Success and Innovation. Our goal is to create workplaces that reflect the diverse communities we serve, and where everyone feels welcomed, valued, heard, and included in our company. We're taking action to drive equality across four key pillars: equal opportunity, equal rights, equal education and equal opportunity."
Kohner told us that in 2016, Tony Prophet joined as Salesforce's first Chief Equality officer – a move which "lead the company's efforts to foster equality".
"Under his leadership, we've developed some amazing programs, including:
• Employee Resource Groups: Salesforce supports 10 employee resource groups, called Ohana Groups, to provide a community for underrepresented groups and their allies, offer professional development and mentoring opportunities, and empower employees to be responsive equality leaders in their community.
• Culture of Allies: We strive to foster an inclusive culture where everyone feels valued, heard, and empowered to perform their best work. At the center of this is creating culture of allies — encouraging our employees to ask, listen, show up, and speak up for one another.
• Inclusive Processes: We've implemented inclusive hiring principles to help remove bias and reach as well as welcome the most diverse and qualified candidates possible. In the same spirit, we've created Inclusive Leaders principles to help managers foster a culture that is inclusive of all.
Finally, we asked Kohner what advice she had for an HRD looking to globalize their workplace culture.
"If you want to get the executive buy-in to execute on a global culture strategy, you need to use data to show that culture is not just a nice to have, it's a business imperative," she revealed.
"For example, we look at attrition numbers, employee referral rates and feedback from employee surveys. It helps demonstrate that there's real ROI if you get it right, and real risk if you don't.
"Just before I started this job, my former boss cautioned me that if I didn't find a way to measure culture, I wouldn't be successful. That advice was a real gift. I'm now metrics-obsessed (just ask my team!), but I have to be. Data is the language of the business and that has to translate to HR."