TouchTunes Unlimited is a new office perk that boosts collaboration and camaraderie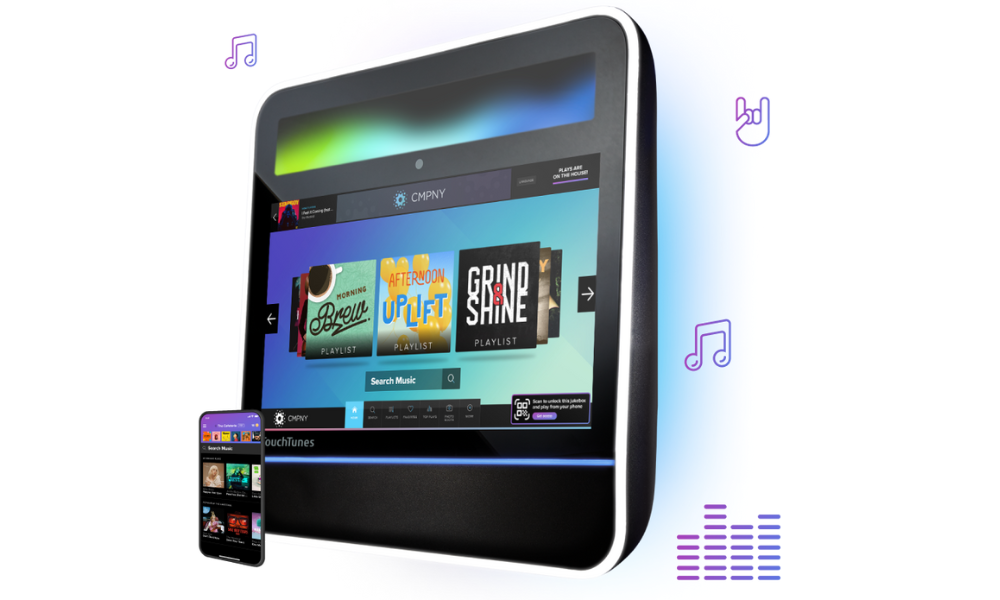 This article was produced in partnership with TouchTunes Unlimited.
HR leaders are fighting an uphill battle trying to lure employees back to the office, even if it's just for a couple days a week.
After two years of working from home, most employees aren't ready to give up their sweatpants to endure a lengthy commute, especially with skyrocketing gas prices. But many business leaders are adamant that with the COVID-19 pandemic in the rearview, it's time for workers to reunite in-person for the betterment of company culture. Naturally, the HR department is tasked with leading this charge, providing benefits and perks to entice the workforce to leave the comfort of their couch and return to the office.
You've probably been in this position since the dawn of 2022, brainstorming activities and amenities that your employees will enjoy. Perhaps it's the traditional ping pong table, catered breakfast or massage chair. Maybe you've even taken a page out of Google's playbook and installed nap pods.
Well, there's a new benefit available that fosters collaboration and camaraderie. It can pump up your team or help them sing the blues.
TouchTunes Unlimited lets employees create their workplace vibe together by choosing the music that plays on the TouchTunes jukebox. A subscription includes the TouchTunes jukebox you've definitely seen at your favorite bar, the TouchTunes app, unlimited employee-selected plays and expertly curated background music channels. Music can be customized using filters to fit each business, and employees can play specific songs either directly from the jukebox or from the app.
"It's something really cool and different to have in your office," Paris Karoutsos, director of sales enablement at TouchTunes, told HRD.
Get started: Say YES to TouchTunes Unlimited!
Headquartered in New York City, TouchTunes is the largest in-venue interactive music and entertainment platform with its connected jukeboxes featured in more than 59,000 bars and restaurants across North America, as well as in more than 6,000 establishments in Europe.
Since launching in October, TouchTunes Unlimited has been a big hit in the breakrooms of manufacturing sites and in high-end offices, such as in the financial or legal field. "It's the idea that everyone in the office can participate in the atmosphere they work in through music," Karoutsos says. "It's so diverse in what music is played and creates conversation and builds relationships between employees."
There's no better time for companies to consider investing in the perk, especially as the return-to-office push continues throughout the United States. California heavyweights like Apple and Google have led the movement, requesting employees head back to their desks. Tesla CEO Elon Musk recently caused a stir by going one step further, ordering his employees back to the office full time.
No surprise, it's not a popular edict. Nearly two thirds (64%) of the workforce would consider looking for a new job if they were required to return to the office full time, according to recent data from ADP Research Institute. In fact, younger employees (18-24) are the most reluctant (71%) to return to the workplace full time.
Of course, companies can't afford to risk losing any more talent during the Great Resignation. More than 4.4 million Americans quit their job in April, following similar amounts in March and February, according to the U.S. Bureau of Labor Statistics. That means nearly 70 million Americans have quit their job over the past year. Prompted by the pandemic to re-evaluate their priorities in life, workers have been leaving their positions for greener pastures, demanding higher salaries, better working conditions, improved work-life balance and more opportunities to advance their career.
As a result of the Great Resignation, the scales have tipped in favor of employees. It's a matter of supply and demand: with so few skilled workers available on the market, employers are having to bend over backwards to accommodate workers' needs and fill positions. To combat the nationwide staffing shortage and compete for talent, employers are forced to increase their compensation and benefits packages beyond the traditional healthcare, dental, vision and 401(k) offers.
That's led to an expansion of perks, with companies offering everything from pet insurance to tuition reimbursement to keep employees happy and more importantly, on the payroll. It's also inspired creative recruiting efforts. For example, Goldman Sachs, JPMorgan and Citi paid nearly $11 billion in combined additional compensation last year to retain staff, the Wall Street Journal reported.
Meanwhile, Amazon, Ollie's Bargain Outlet, Sheetz and other brands offered signing bonuses to recruits. Little Caesars went one step further by giving new hires in the Detroit area a pair of club, suite or lower bowl tickets to any sporting or entertainment event at Little Caesars Arena or Comerica Park.
These incentives would've seemed outlandish pre-pandemic, but the labor market has changed. If you're going to survive in 2022, you have to think outside the box to attract and retain talent.
For more information, visit touchtunes.com.