With a name like Smucker's, it has to be good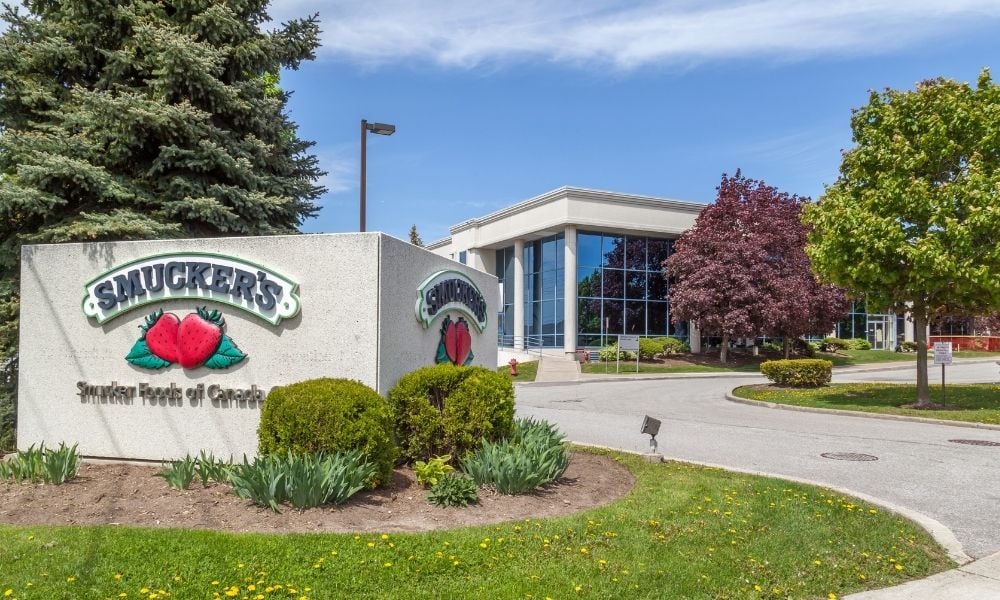 With a name like Smucker's, it has to be good. And it seems the company's slogan applies to more than just their jam. JM Smucker is something of an icon in North America, dating back to 1897 and employing over 7,000 workers. Affiliated with the likes of Dunkin' Donuts, Meow Mix, Folgers, and Shirriff, Smucker's is a leader in both manufacturing and – according to Jill Penrose – employee experience. As chief people officer and administrator, Penrose is at the coal face when it comes to leading her people. The past few months have, as most people would agree, been relatively unprecedented – meaning HR leaders like Penrose had to take charge in navigating the COVID-19 chaos.
"We approached our response to the pandemic with the important role we play in helping maintain a steady supply of food for people and pets and the health and safety of our employees at the forefront," she told HRD.
Read more: Is all-remote the future of work?
"We immediately took steps to ensure a safe work environment for our employees, including enhancing cleaning and sanitization measures, encouraging employees able to work from home to do so and llimiting visits to our facilities for essential business reasons. Along with these initial measures, we took additional steps in our manufacturing facilities as we learned more about COVID prevention practices, including establishing intentional people traffic patterns, slowing production lines to maintain physical distancing and introducing physical barriers (such as plexiglass) when appropriate physical distancing is not possible."
Read more: How to improve inclusion in the workplace
Penrose revealed that Smucker also went the extra mile in helping employees with real, monetary, benefits. "In addition to our efforts to ensure the health and wellness of our employees, we recognized their unique needs during this unprecedented time and worked to address these," she told HRD.
Examples included:
Issuing a one-time $1,500 hardship award to front-line employees at the outset of the pandemic
Offering paid sick leave (14 days) to anyone who tests positive for COVID-19
Offering paid sick leave (14 days) for anyone who must be absent from work to care for dependents or household members who test positive for COVID-19
Paying for 100 percent of COVID-19 testing for employees
Reinforcing availability of mental health resources to employees
Seeding an assistance fund with $100,000 to support employees significantly impacted by COVID-19 or other traumatic life circumstances
The pandemic was chaotic – but it also gave the C-suite a much-needed wake-up call. Finally, HR has been recognized as a strategic, necessary, business partner – not simply a 'nice to have'. Looking to the past few months, Penrose revealed the biggest lesson she learned as a leader.
"Communication during a crisis is essential, but the communication needs during this unprecedented time were truly unique," she explained. "While we increased our communications to ensure our employees were constantly aware of how we were addressing the pandemic as it evolved, we also made a point to share resources and reference to help our employees keep themselves informed.
"Given the uncertainty so many had, and the incredible volume of information being shared, we were heartened to hear from many employees that their trust in the company gave them confidence in the details we provided and that this information was reassuring to them. It was a reminder of the important role that a company can play and that we as employers can provide a sense of comfort and normalcy when both are in short supply."
For HR leaders, it's been a year of continual change. Practitioners have merged into a Jake of All Trades – being a mentor, a strategist, a psychologist, and a business guru all to help shepherd companies out of uncertain times. In the coming months, Penrose believes that HR will need to "be comfortable with uncertainty."
She told HRD: "Over the next six -12 months we will play a critical role in establishing what the future workplace will look like. Navigating this successfully will require continued agility and a commitment to effective change management.
"As we consider the structure of our workplaces moving forward, we will need to be stewards of the needs of the business and our employees. We must determine how we can effectively transition to the new normal and ensure effective collaboration while maintaining an unwavering commitment to the safety of our employees and supporting the flexibility they require. It will certainly not be an easy challenge, but it is critical that we succeed."
As for the future, Penrose firmly believes that 2021 will be centered around "understanding the evolving needs of [her] employees".
"A recent example of how we have delivered on this commitment was the decision to enhance our paid time off and leave benefits," she revealed. "We introduced extended parental leave (extending from two to 12 weeks of leave), expanded paid time off for employees with under five years of tenure to three weeks and introduced pet bereavement leave."