Has your team returned from Christmas feeling refreshed and ready to work? Enjoy it while you can – experts predict 2015 will be the year we're all worrying about employee burnout.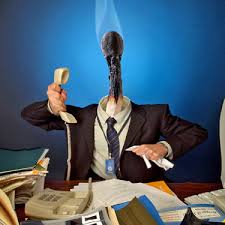 If your team was returned from the Christmas break feeling refreshed and ready to work then enjoy it while you can – experts are predicting 2015 will be the year managers are all worrying about employee burnout.
"Developing policies and procedures that relieve employees' sense of being overwhelmed at work and promote sustainable work habits will be one of the top organizational change management initiatives of 2015," says leadership development firm ClearRock.
HR technology provider Cornerstone OnDemand revealed that two-thirds of workers have experienced "too much work" in 2014 and the majority said it was only getting worse.
While burnout isn't the only trigger for disengagement, it's a definitely a key cause and the more employees are overworked, the less productive they become.
Not only that, but engagement has a huge impact on loyalty and when replacing workers is more costly and time consuming than ever before, holding on to your productive employees is a must.
Research by the Society for Human Resource Management suggests that "direct replacement costs can reach as high as 50-60 percent of an employee's annual salary, with total costs associated with turnover ranging from 90 percent to 200 percent of annual salary."
On average, it takes 24.5 working days to fill a job, says employment expert John Zappe, with the time and cost rising with the skill level of the position. "Some fields have average fill times that are much longer - health care jobs average 38.1 days to fill; financial services' average fill time is 39.9 business days," writes Zappe.
How to prevent employee burnout
"Pay improvement will help with retention", says Zappe, "but companies will need to do more to keep their most valued employees from looking for greener — and calmer — workplaces."
According to ClearRock, there are a number of key initiatives employers should be taking to help employees manage stress. Among them are:
Strengthening the delegation and communication skills of managers so direct reports can take on more responsibility.
Ensuring the "right fit" between employees and work, so approximately 80 per cent of work corresponds with the employee's strengths.
Specific training to help employees deal with information overload from emails, texts, calls, and meetings.
Training employees how to prioritize their work and more effectively manage their time.
Setting aside some time each day for workers to think and focus free of distractions.
More like this:
Is it time to ban after hours work?
Banking on a health work-life balance
Pedal to the metal: what to do when employees work too hard