Experts share tips on how to fix up your space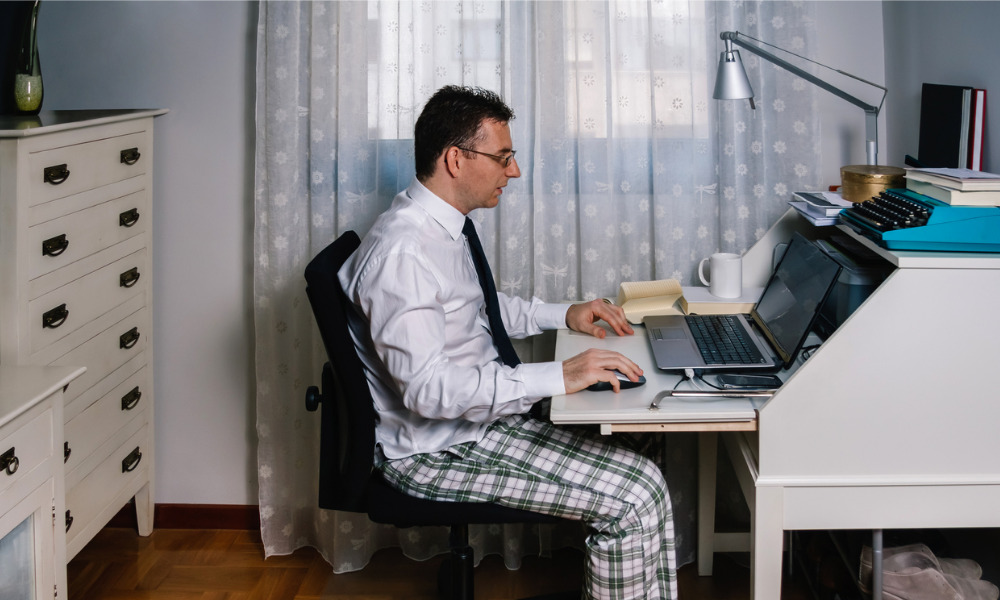 For many people, working from home is here to stay – so how do you create an office space that works for you? Whether you've become permanently remote or you're now enjoying a hybrid blend of home and the office, it's important to get your set up right.
Many physiotherapists and chiropractors have reported a rise in WFH-induced injuries, like back and neck pain, since the global pandemic began. If left untreated, these problems can become chronic, causing long-term effects on our mental health, wellbeing and ability to be productive.
Ergonomic equipment is a staple in workplaces and it plays an equally important role in your home office – even if you're only there two days a week. Designing and planning your space properly is also key to avoiding distractions while working from home.
Why is setting up home office important?
Jordan McCreary, a physiotherapist and ergonomics expert, told HRD that finding a designated space to work is the first step in creating an ideal home office.
"It's not a short-term thing that people are doing for a couple of hours a week anymore," he said. "For the majority of people, they're doing it for half or more of their working week now.
"The biggest thing I've seen for my clients in preventing pain and discomfort is dedicating a space to work. Then it's about getting the best set up for you and that doesn't necessarily mean spending a lot of money."
McCreary said the basics, like a desk with enough space and an adjustable chair, are a good place to start. Being able to adjust the chair height means you can ensure your eyeline is at the right level and you can place your feet flat on the floor. Standing desks or laptop risers are also popular tools and experts advise 15-30 minutes of standing per hour to alleviate the health effects of sitting all day.
Read more: Google offers staff USD1,000 to buy furniture for home offices
Tips on how to make your home office conducive for remote work
Aside from ergonomics, design also plays into creating a distraction-free workspace. HRD spoke to Janelle Miles, World of Style lead interior designer at Porter Davis Homes, about areas to consider when designing a home office.
Lighting & electrical
It's easy to overlook the impact of lighting but it can have a significant impact on your mood throughout the day. Miles said consider where the natural light source is and try to place your desk in the right spot to avoid glare.
"There are various types of lighting to consider, including fixed general lighting like downlights, adjustable lighting, whether above or with a desk lamp, or task lighting so you can move throughout the day to avoid computer glare," she said.
Getting the lighting right is beneficial for video calls or meetings too, helping you feel your best for any important virtual moments. Also consider what type of electrical requirements you will need, whether it's USB ports, higher plug sockets or printers.
Read more: How to work from home: Tips on staying healthy and productive
Colour schemes
For an optimum work space, choose your colour scheme wisely. Avoid any harsh tones, distracting patterns or dark, heavy colours.
"According to colour phycology yellow and orange are great colours for a study space," Miles said. "Yellow is a stimulating colour so it's great for challenging the mind and thinking outside the box. We have seen the use of mustards and muted lemon yellow used through furniture and decor.
"Orange is a colour that promotes creativity so if you work in a creative environment and are wanting to channel new ideas and ways of thinking try using orange. Think burnt oranges, terracotta and warmer palettes for wall coverings and décor."
Functionality
When mapping out your home office design, think about what you want to get from the space. Do you need a lot of space for storage? Do you need a lot of tech close by or would you prefer more space to be creative? Do you benefit from using whiteboards to brainstorm? Do you want a space to relax and take phone calls away from your desk? These types of questions should all play into what your office space ultimately looks like.
Miles also recommends using plants to bring the space to life and consider ventilation to make sure it remains comfortable all year round.
Avoid these distractions while working from home
If possible, separate the study from the main living area to avoid distractions and so you can have a quiet, private space
Network cupboard are great to hide away the modum or a printer. Hide flashing lights to avoid distraction
Think about acoustics. Extra Insultation in the walls if you – or someone else in the house - make a lot of phone calls or meetings. Carpet can help soften the noise, while double glazing is great for quieting distractions from outside
Switch off any notifications not necessary for work, whether that's silencing the Skype chat or putting your personal phone on silent