CCOHS offers resources for employers to keep teams safe from repetitive strain injuries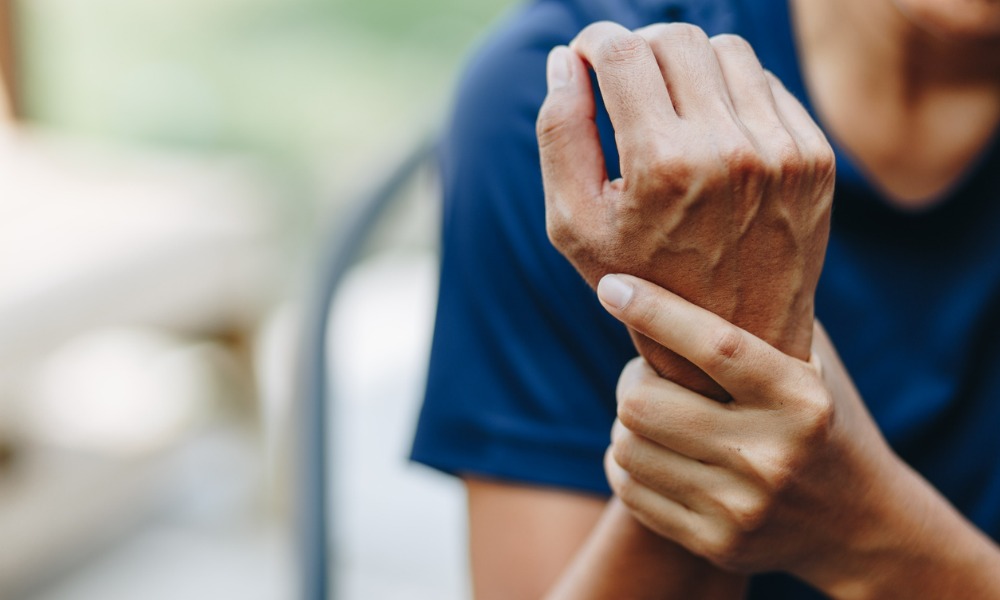 With the passing of Repetitive Strain Injury (RSI) Awareness Day, it's a good opportunity for employers to look further into the challenges of the underlying condition.
"The severity of these injuries can vary and can have a significant impact on workers' quality of life," says Mathew MacLeod, senior occupational health and safety specialist, Canadian Centre for Occupational Health and Safety (CCOHS).
"And those impacted by these injuries may find that simple, everyday tasks they had previously performed daily are now extremely challenging. And this emphasizes the importance of preventing these injuries and protecting workers."
Amazon's overall injury rate has increased by 20% in 2021, according to a previous report, while its serious injury rate was double compared to non-Amazon warehouse figures.
RSIs can happen to a variety of workers in all types of industries, according to CCOHS. This is because workers sustain these injuries by gripping, holding, bending, twisting, clenching, typing, lifting, pushing, pulling and reaching. While these ordinary movements are not particularly harmful in someone's everyday life, what does make them hazardous in work situations is the continual repetition of the movements.
Addressing the issue
CCOHS shared the following tips to help employers ensure their workers do not get RSI;
Eliminate hazards at the source: "Identifying hazards associated with tasks and activities that may lead to repetitive strain injury is the first step," said MacLeod. "Supervisors, health and safety committees and workers need to work collaboratively to identify and assess these hazards and risks."
Factors to look out for include:
repetitive movements
awkward postures
overexertion
excessive force
compression
vibration which all lead to increased wear and tear on the body's tissues.
frequency, intensity and duration of activities
stress
fatigue
"And once the hazards and risks have been identified, control measures can be implemented to protect workers from these injuries," said MacLeod.
Some control measures include eliminating high tasks or movements by changing how the work is done or through automation with technology and mechanical devices, he said.
Create a well-designed workstation: The design of workers' workstation is also critical in preventing RIS, said MacLeod.
"Provide tools and equipment that are well maintained, including mechanical lifting aids. These can reduce the force needed to complete tasks and prevent muscle strain or awkward postures. And make changes to how the work is done to minimize risks to workers. This may include job rotation.
"Another example is distributing work evenly among the team members to ensure workers have enough time for rest and recovery."
Preventing the overuse and continuous strain on the same muscles is also critical, he said.
Educate and train: "Because these injuries do develop slowly and over time. Workers need to be trained to understand what causes these injuries, how to best prevent them, and how to recognize early signs and symptoms," said MacLeod. "And workers should always be strongly encouraged to report any concerns immediately so they can be addressed."
In 2022, medical diagnostic provider Emerge Diagnostics announced its Emerge Diagnostics Wellness Platform, a telemedicine offering that gives a variety of healthcare services focused on musculoskeletal and preventive health.
By the numbers
RSIs and MSDs account for more than 40% of all lost-time injuries allowed by Ontario's Workplace Safety and Insurance Board (WSIB), according to the Ontario Nurses' Association.
Last year, the federal government claimed that over 10,000 accepted lost-time injuries due to musculoskeletal and connective tissue injuries were reported in 2019, citing data from the Association of Workers' Compensation Boards of Canada (AWCBC).
"It continues to be a significant cause of injuries to the workforce in Canada," said MacLeod.
Now, CCOHS is encouraging employers to share resources to raise awareness about RSI. The corporation has a number of resources, posters that employers can share on their social media pages, and badges and links that they can put on their website.
Seven in 10 workers who were injured on the job in Ontario still experience pain 18 months after the incident, according to a previous report from the Institute for Work and Health (IWH).