Milliken & Company CHRO explains why greenwashing backfires and how award-winning ESG policies are built into everything it does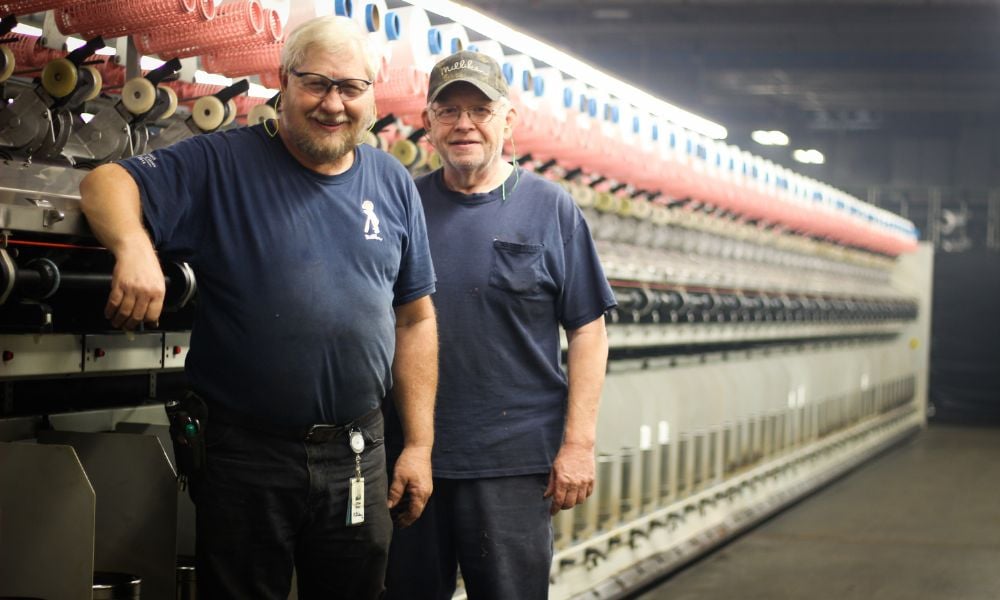 Global industrial manufacturer Milliken & Company has been recognized as one of the World's Most Ethical Companies for 17 consecutive years, a remarkable run of recognition. Craig Haydamack, the company's CHRO, told HRD these accolades not only help elevate its culture but also help attract the next generation of prospective employees.
"Over the past 10 years, it's really interesting how candidate expectations around ethics have changed – especially from a recruitment standpoint," he says. "Candidates are joining companies that they're proud to work for – that have shared values."
Recently, Haydamack met with a top student at a university they often recruit from. Previous to their meeting, the student had actually turned down several job offers from other companies. Why? Because she didn't trust, or even believe, what they were telling her about their sustainability policies.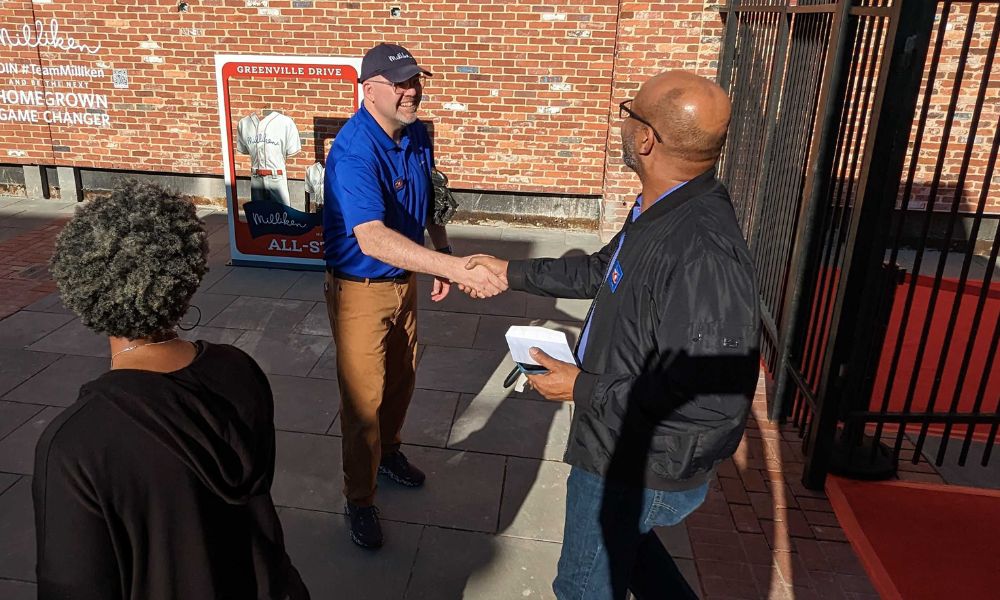 Craig Haydamack, Milliken & Company CHRO, greets an employee
And this experience is not unique; candidates increasingly scrutinize companies' actions and want to be sure that they align with their own values before accepting a job offer. According to data from recruitment firm Robert Walters, over one third of professionals would turn down a job offer from a company with a poor ESG record – caring more about sustainability than their political (29%) and charitable (27%) perspective.
Haydamack says Milliken, which produces chemicals, textiles and flooring, embeds its ESG commitment into everything it does – with no time for greenwashing or paying false lip service to the cause. As a manufacturing company, sustainability is paramount – being environmentally friendly is not a "nice to have" benefit but an absolute necessity and a pillar of its organizational success.
Milliken & Company quick facts
158-year-old company
8,000 employees
40+ manufacturing locations
Operate in 15 countries
Over 11,000 products in textiles, floor covering, healthcare and chemicals
Average 20,000 hours of community volunteer time per year
Won Ethisphere Award for the 17th year in a row

The rising number of employers looking into ESG as part of their HR strategy is a reflection of the growing importance of greener issues – particularly amongst the younger generations. In today's competitive talent market, employers can't afford to miss out on candidates over misaligned values and commitments. For companies looking to emulate Milliken's success, Haydamack advises being clear and consistent in your ESG approach and planning – it should be a part of everything you do and not just an afterthought.
"When we do our strategic planning work with our leadership community, when we connect with our board and our shareholders, when we have our we have our annual leadership conference - all the way through to our recognition system when we give our awards at the end of each year to our associates - ESG is a key part of all of those elements," he says.
As with all components of HR, practitioners must be able to present the ROI and impact to the C-suite. Investing in ESG is one thing – but how do you measure it? At Milliken, Haydamack says that it's critical for them to conduct in-depth analysis and reviews every year, to glean detailed assessments of where they're at. The manufacturing giant has planet, product, and people goals that are measured on a quarterly, monthly, and weekly basis.
"From there, we publish our annual sustainability report that provides the details, the examples, the calculations," says Haydamack. "We really set a high bar around that in terms of the measurements and the visibility of these assessments to hold ourselves accountable to them. For us, that's been really, really important."
Looking to what the future holds for HR, it's clear that ESG will be a partner, if not an arm, of the green function. More HR professionals taking the reins in leading ethics in their organization - so it's important to have a clear, consistent, and repeatable story that can be shared by everyone in the organization. This involves partnering with other departments, such as marketing, to ensure that the message is communicated effectively.
"My partnership with our chief marketing officer has just been hugely valuable," says Haydamack. "You don't always think about marketing and HR as partners. However, a very clear, consistent, repeatable story that can come from not just the CHRO but the different levels of HR participants, is effective. And if they can't tell the story in a clean, meaningful, pretty quick way, they're not going to be successful.
"Developing your ESG story - training your team and ensuring they're up to speed is essential."
Interview by Chris Davis.
Main picture: Two Milliken & Company employees on site