It's no surprise that 53% of people handle difficult situations by simply ignoring them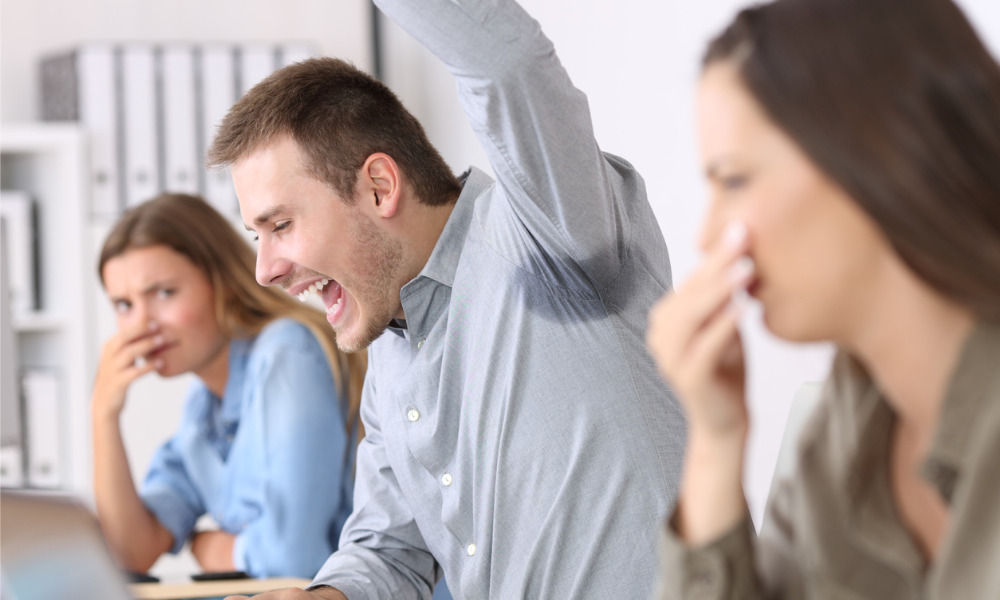 Is there anything worse than an awkward conversation with a colleague?
A recent report from Harris found that 69% of managers are often uncomfortable when speaking with their staff – with a third dreading having to raise awkward issues around performance.
It's no surprise then that 53% of people handle difficult or 'toxic' situations by simply ignoring them.
While it might be easier to ignore uncomfortable issues at work – it's not very constructive. What begins as a relatively small problem, when left to fester, will only grow and evolve into something much worse.
Read more: Back to the office? The HR checklist for returning to work
HRD has complied a step-by-step guide on how to broach these awkward conversations with employees – to help take the sting out of the situation.
Poor hygiene and body odor
Perhaps the most nerve-wracking and uncomfortable conversation you'll ever have to have – how to tell an employee they smell.
Honestly, there's no real way to minimize the awkwardness here – but you can minimize hurt feelings by controlling the situation.
First and foremost, do some research.
In cases such as these, sometimes there's an underlying medical condition at play. As such, HR professionals need to do due diligence and enquire around employee medical issues.
Each region will have specific rules and guidance on asking employees medical questions, so be sure to consult the guidebook or speak to a lawyer before scheduling the meeting.
Importantly, HR professionals need to tread with caution. Sit down with the employee in private – before any colleagues broach the problem first. Colleague confrontation can quickly turn into bullying, which then spirals into a lawsuit.
Once you've spoken to the employee, look to the next steps. Offer some possible guidance, perhaps counselling or coaching, to help put an end to the issue. If the problem persists, have another meeting and document all correspondence.
Speaking to HRD, Shana French, lawyer at Sherrard Kuzz reminded us of the potential ramifications of employee productivity, if the issue is not delt this quickly.
"From the employer's perspective, personal hygiene is potentially a workplace health and safety risk," she explained. "If an employee has bad personal hygiene, it can also end up taking a toll on the company culture and morale.
"Say, for example, there is an employee with poor personal hygiene working in a food processing facility. Then, it's not only a risk to employee morale, but it's also public health hazard, and could go some way in damaging the employer's reputation."
Dressed inappropriately for the workplace
2020 has seen a dramatic rise in remote work. And though it may be tempting for employees to work from their bedrooms, still in their PJs, it's not a good look on Zoom calls.
Broaching inappropriate workplace attire is a tricky one – especially when your employees are working from home. However, it's important that HR professionals help workers maintain some sort of standard.
Firstly, look to your employee contracts – most should include a reference to office attire. Obviously, this shouldn't be as strictly enforced when employees are working remotely, however for client calls or important meetings it's expected that employees dress well.
A recent report from QS Supplies found that 70% of employees working from home admit to putting less effort into their appearance, with 29% only dressing professionally from the waist up. In fact, 15% have actually declined a video call because they were undressed.
The report also found that employees who maintained their hygiene habits enjoyed three extra hours of productivity per week.
It's understandable that employees won't be suited and booted all the time they're working at home- but HR leaders need to remind workers of the importance of self-care.
If you think one or more of your employees need a reminder on how to dress appropriately, send a company-wide email first. If this doesn't resolve the problem, then schedule a one-on-one meeting to get to the root of the issue.
Read more: Return to work: What employees expect from HR
"Think about why you're having the conversation too – how have you reached this point?" French advised HRD.
"If the employee in question specifically asks what's unprofessional about their attire, then you can mention specifics – but when approaching the conversation keep it gender neutral.

"Be sure to document the conversation in the employee's file, for future reference. Overall, just be sensible about having a fresh policy, that both reflects the brand of your business and doesn't gender stereotype."
Inappropriate touching
The advent of #MeToo placed women's rights firmly in HR's remit. What began with Hollywood actors speaking out against systematic, sexual harassment soon found its way into company cultures – resulting in the terminations of several high-profile executives.
As such, it's important that HR professionals act quickly and decidedly when it comes to complaints – including inappropriate touching.
The main issue of contention for some people here is what exactly constitutes 'inappropriate touching'. The answer is pretty simple – anything which makes an employee feel uncomfortable or threatened.
Employers have a duty to provide a workplace in which employees feel safe and protected – any behaviour which goes against this must be addressed immediately.
If a worker comes to you with a complaint about a colleague, the first step is to call a meeting. Sit down with the employee in question and raise the concerns. Be clear and specific in what you're saying – leave out all personal opinions and conjecture.
It's also important that you listen to the employee being accused – hear them out and listen to their side of the story with an open mind.