Staff think they're working hard but HR leaders seem to disagree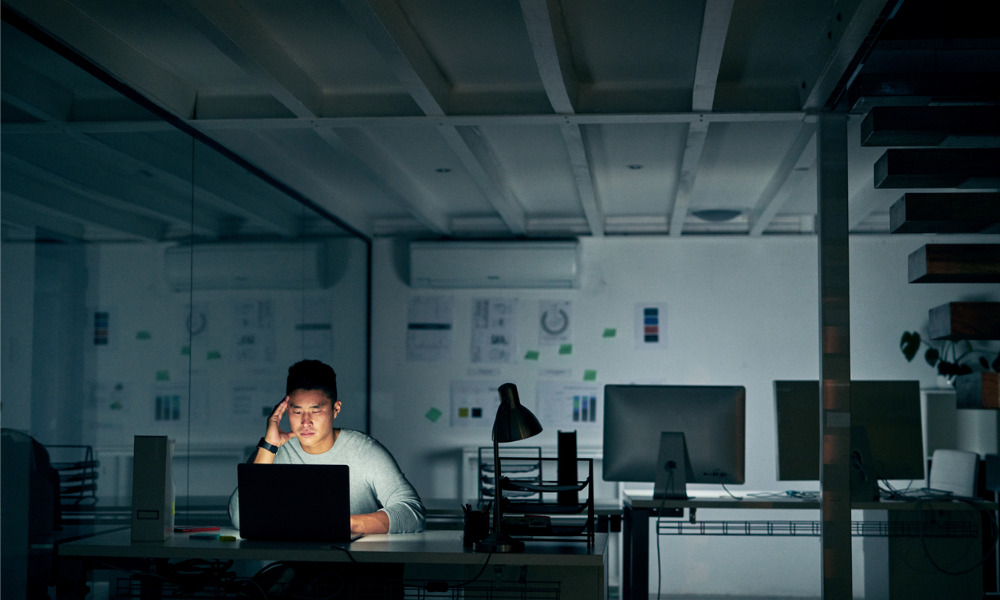 Canadian employers and employees aren't seeing eye-to-eye when it comes to how productive they were over the past year, when remote or hybrid work arrangements were in place.
The latest Work Trend Index from Microsoft revealed that 80% of workers believe that they were as productive or even more productive compared to the previous year. On the other hand, 46% of employers remain in fear that productivity has been negatively affected since a shift to remote or hybrid work.
The disconnect among Canadian employers and employees is similar to an emerging trend across the world, where 81% of employees felt they were productive but 54% of business leaders are concerned that their productivity has taken a hit since remote or hybrid arrangements.
In what appears to be an effect employers' concerns, 44% of Canadian business leaders said their company plans to require employees to return in-person full time within the next year, while 50% of employers across the world want to implement this policy.
These findings reflect one of the trends identified by Microsoft in its Work Trend Index, where it said: "Managers feel wedged between leadership and employee expectations."
The emerging trend states that managers feel "stuck between leadership and new employee expectations" and that 67% percent of Canadian employers don't feel that they have the influence or resources they need to implement change for their team.
Microsoft said that managers "embody and instantiate the culture for every organisation, where they play a critical bridge between employee expectations and leadership.
"If empowered, they hold the key to unlock the potential of hybrid work," the report said. "Equip them with the resources and training they need to manage the transition."
"While policy is set at the top, leaders need to decentralise decision-making and empower managers to make change on behalf of their employees' individual needs," the company said.
Read more: Productivity paradox: Can a recognition program motivate staff?
Other reported trends
The other identified trends from Microsoft's work are the following:
Employees have a new "worth it" equation
Canadian employees have made wellbeing and flexibility their new non-negotiables, and Microsoft said leaders should create a culture embracing these to have a thriving organisation and drive long-term growth.
Leaders need to make the office worth the commute
Thirty-one per cent of Canadian hybrid workers reveal that their biggest challenge is knowing when to work remotely and when to work in-person. With this result, Microsoft said leaders should be able to establish the why, when, and how of the office, defining the purpose of in-person collaboration.
"Organisations that fail to grasp the new intentionality required to define the role of the office risk missing out on the true benefits of hybrid work," Microsoft said.
Flexible work doesn't mean "always on"
Another emerging trend identified by Microsoft is how after-hours and weekend work are still on the rise, while the time spent for meetings has plateaued after increasing over 250% since March 2020.
Microsoft said that teams need to "create new norms around flexible work" to reduce the time spend in meeting and to encourage employees to take a break.
"This should not be a solo effort, but a team-led movement to establish more sustainable hybrid work practices," the report said.
Rebuilding social capital looks different in a hybrid world
More than half of hybrid workers also reported feeling lonelier (57%) and having fewer work friendships since shifting to hybrid work arrangements, according to the report. Half of remote workers said they feel lonelier since shifting to remote work, while 55% said they have fewer friendships since going remote.
According to Microsoft, leaders should not see return-to-office schemes as the only solution for rebuilding social capital.
"They should prioritise time for relationship-building to happen, knowing remote and newly onboarded employees will need extra support," said the report. "In a hybrid world, it's up to leaders to help all employees prioritise time to build relationships, with additional support to remote and newly onboarded employees, who our research shows are most at risk of being left behind," it added.
Moving forward, the report said leaders need to empower their managers to be the "culture keepers," rethink the role of the office, rebuild social capital for a digital-first workforce, and create new practices for sustainable flexible work.
"Technology plays a key role, but this moment calls for a new mindset. As the world continues to evolve, organisations that take a culture-first, learn-it-all approach will come out ahead."