There's no law against being a jerk – but when arrogance bleeds into harassment, HR has a duty to step up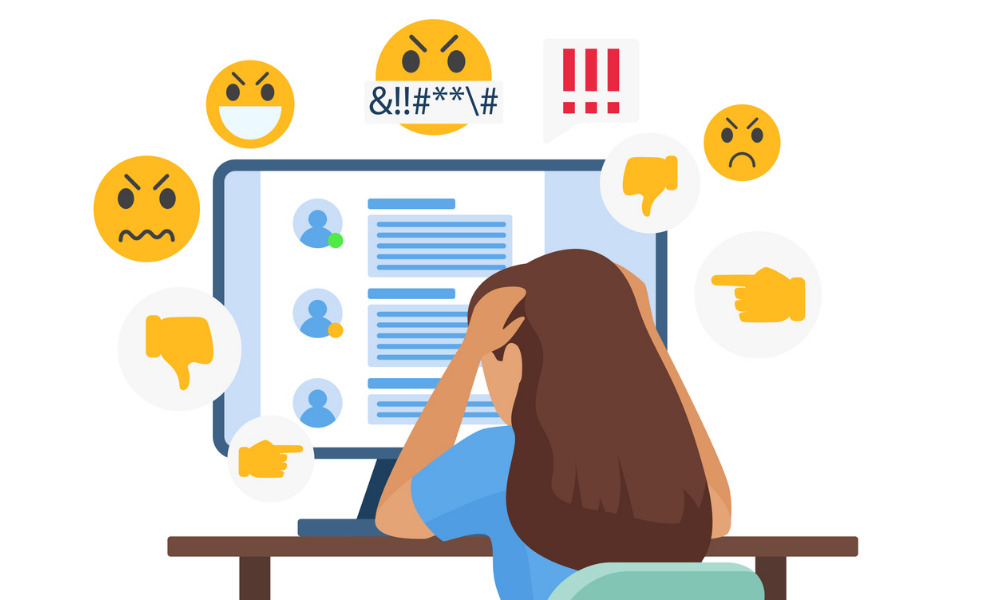 There's no law against being a jerk – but when arrogance bleeds into harassment, HR has a duty to step up. In the current working climate, a lot of employees have become accustomed to remote and hybrid set-ups. And while you may assume this would preclude workplace harassment, in reality it's just shifted it online.
"Just as in person, diligently taking active steps to address online harassment is important," added Mike MacLellan, partner at Crawford, Chondon and Partners and speaker at our upcoming Employment Law Masterclass. "This may be more difficult when work is done remotely, and employers will be held to a reasonable standard – however, organizations should know what to look for and how to act if harassment is either noticed or reported.
In most cases, an employee will report a complaint to management. As such, HR leaders should properly gather information and investigate the complaint as appropriate in the circumstances. The potential 'bully' ought to be made aware of the substance of the complaint and given an opportunity to respond.
Read more: Can HR spot signs that an employee is about to quit?
"The conduct complained of may have a reasonable explanation – such as if technical issues made it that the worker did not know who they were addressing and so they used the wrong titles or pronouns," explained MacLellan. "Or they may have been unintentionally microaggressive toward a colleague, and with some notice, are able to satisfactorily correct their conduct. Whether in person or online, the same basic principles of diligence apply."
Where many HR leaders seem to flounder is conducting the actual harassment investigation. How to plan, how to research, what to say and what to avoid can be daunting for even the most experienced employer. As MacLellan told HRD, it's of the up most importance that management understand the nuances of each individual case before proceeding.
Read more: The real reason your employees quit
"The law requires that a workplace investigation be conducted in a manner reasonable in the circumstances," he explained. "Sometimes a phone conversation with both parties to a complaint will be sufficient to satisfy this onus. In other situations, a full and formal investigation through an independent third party is required. Hybrid workplaces requires a flexible and considered approach to workplace investigations.
"Personally, I prefer conducting workplace investigations through in-person interviews. In-person communication tends to be clearest. Sometimes an interviewee's body language that is most noticeable in person helps guide the discussion. However, in-person meetings are not always possible. An investigation can be conducted through phone calls or zoom meetings, or a combination of methods where appropriate. An investigator will likely be gathering documents to assist their analysis. Witnesses can provide photos, text messages, emails, even videos and audio recordings, electronically. Their narrative may simply assist in the review of tangible evidence."
As MacLellan revealed, any interviews being conducted remotely requires an investigator to take extra care and ensure they're properly recording the substance of the interviewee's information. Take your time, ask clarifying questions, have the interviewee repeat themselves.
"I have also, on occasion, recorded the video or audio of an interview, with the interviewee's knowledge, for the purpose of reviewing their information while I draft the report," revealed MacLellan. "If you're going to make a recording, be clear what purposes the recording is for, how it will be used, and when it will be deleted. It is also useful to have the interview participant acknowledge in writing, via email, that they attended an interview at a particular time and date, and provided truthful information to the best of their ability."
Reliability and procedural fairness are always key to any workplace harassment investigation, no matter whether it is conducted remotely or in person.
To hear more from MacLellan and other leading employment law experts, register for HRD's upcoming Employment Law Masterclass here.