58% of employees have engaged in a workplace relationship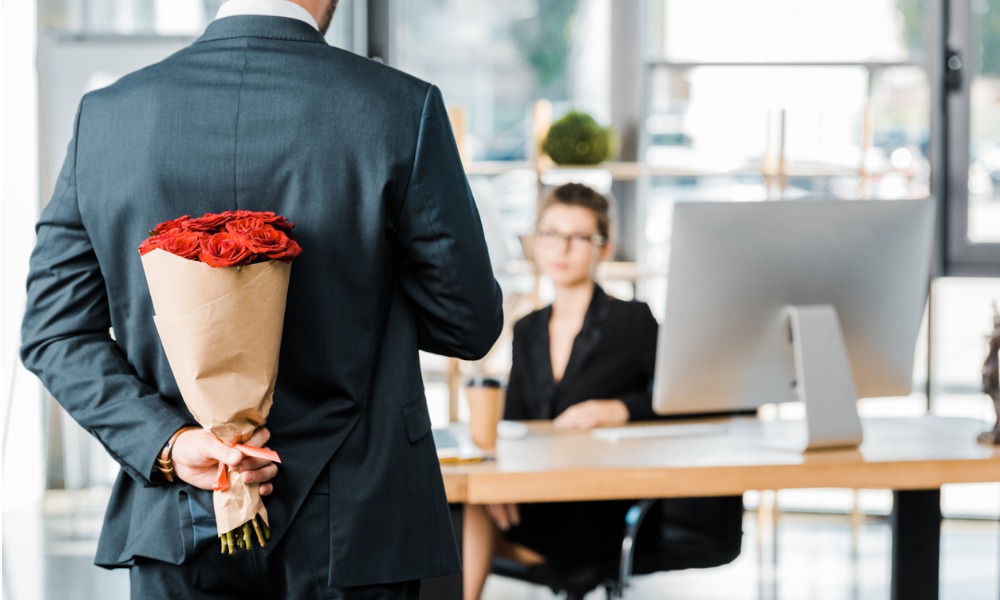 COVID-19 has impacted all areas of our lives, spinning our past normality into a sort of dream-like state. Simple pleasures we took for granted have been restricted, sanctioned, and banned – leaving employers and employees alike struggling to find their feet in this new reality.
And so, sitting alone in our newly-fashioned home workspaces, we reminisce on the good old days when mornings involved rushed showers, Starbucks lattes and chatting with our colleagues.
Offices are, as of yet, still somewhat deserted. One or two employees may have trudged back to their cubicles, desperate for some human interaction, but for the majority of us we're still committed to remote living.
If there's one thing COVID-19 has put an end to, it's the office romance.
While it may sound like the plot of a cheesy Hollywood movie, office trysts are more common that you might imagine.
A report from Vault found that 58% of employees have engaged in an office romance, with 19% of employees admitting to having had an affair with a colleague behind their partner's back.
But what are the legal ramifications when it comes to these workplace liaisons?
HRD spoke to Michelle McKinnon, associate at law firm Harris & Company, who shed light on the taboo topic.
"As a general rule, an employer has no interest in the romantic relationships of its employees," she told HRD.
"This includes romantic relationships between employees in the office. An employer therefore cannot generally prohibited office romances, or otherwise direct employees in relation to their personal or romantic relationships.
"There are however exceptions to this general rule. Legal issues or concerns may arise from an employer's perspective when romantic relationships in the office detrimentally affect the workplace or the employer's legitimate interests, most often in the form of conflicts of interest or sexual harassment complaints."
The Canadian Government's Harassment and Sexual Violence in the Workplace study found that 30% of employees have experienced sexual harassment at work, with most respondents having suffered abuse more than once in the past two years.
Considering that half of these employees claim to have suffered sexual harassment at the hands of an authority figure, it's clear that more needs to be done to protect vulnerable workers.
So, when does flirtation cross the line to abuse? How should employees respond to unwanted advancements? Well, according to McKinnon, it comes down to understanding the duty of care employers have towards their workers.
"If an employer fails in its legal duty, the employer may be held liable for damages in addition to the employee alleged to have engaged in the sexual harassment," added McKinnon.
READ MORE: 'Cult or culture?': What is workplace spiritualty?
"The British Columbia Human Rights Tribunal has awarded complainants up to $50,000 in damages for injury to dignity and self-respect for sexual harassment.
"It is important to emphasize that sexual harassment can include any conduct (physical or verbal) of a sexual nature that is unwelcome, and that detrimentally affects the work environment or leads to adverse job-related consequences. This is very broad and captures a wide range of unwelcome sexual conduct.
"Sexual harassment complaints often arise from allegations that a manager/supervisor used his or her authority over a subordinate to coerce the subordinate into engaging in sexual favours. The subordinate then agrees to engage in the sexual favours out of fear for his or her job.
"However, sexual harassment complaints can also arise from consensual sexual relationships. This is particularly so in respect of sexual relationships between managers/supervisors and subordinates because of the power imbalance that exists. In other words, a subordinate may engage in the sexual relationship and may appear to consent to it, but in fact may feel trapped and coerced into staying in the relationship to keep his or her job. Complaints could also arise from an employee that feels aggrieved by a sexual relationship that has come to an end, even though the relationship was always consensual."
Employers can't specifically prohibit office romances, however it's incumbent that leaders keep an eye on potential legal ramifications. McKinnon also cited 'favouritism' as a possible unwanted outcome of an office relationship – especially if that relationship is between two employees of differing seniority.
READ MORE: Federal government allots $2.5M to workplace safety
As a preventive measure, employers should implement a workplace policy regarding relationships – setting out expectations from both the employer and the employee.
"These policies should clearly outline the conduct that is prohibited, provide for confidential reporting procedures, stipulate how disclosures or complaints will be investigated, clearly communicate that retaliation will not be tolerated, and state the consequences for a breach of the policy," McKinnon told HRD.
As always, sexual harassment allegations should be treated seriously and confidentially. By investigating claims in a fair manner, employers mitigate the chance of being liable for any potential damages down the line.
"Finally, employees should be provided with training on these workplace policies, to ensure they are aware of them and know what is required of them," added McKinnon.
"As a practical matter, employers should keep an attendance record of employees who attend the training, as this may become an important piece of evidence later."