Start saying goodbye to masks, vaccine proofs, and limits to gatherings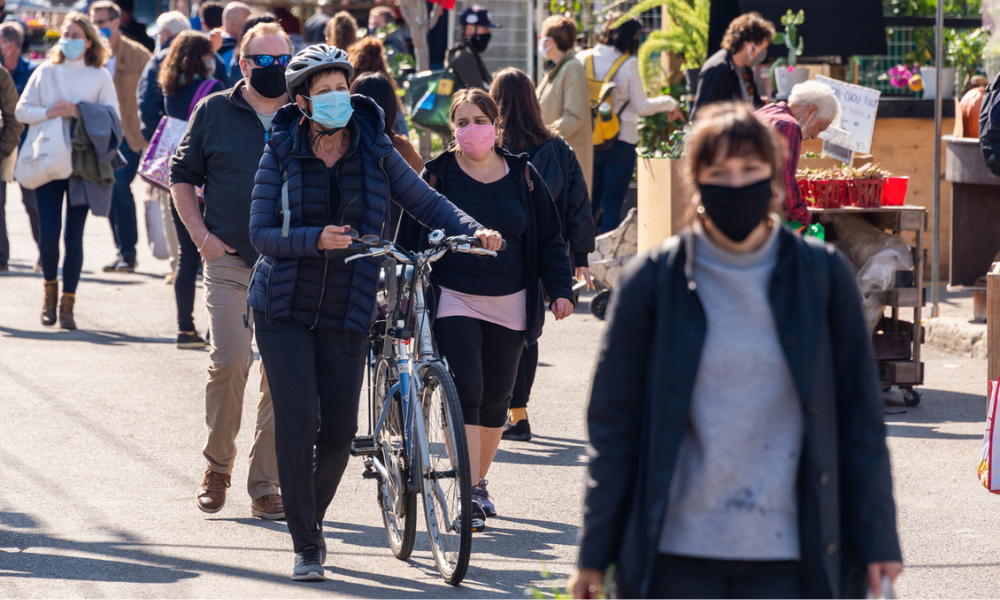 More provinces in Canada have started lifting public health restrictions related to COVID-19 as cases continue to decline. COVID-related restrictions include indoor capacity, mask wearing, and proof of vaccination requirements, which are starting to be removed gradually depending on the province.
Manitoba
In Manitoba, the provincial government said that it will no longer require proof of vaccination for public places.
"Proof of vaccination and testing requirements for designated public sector employees, including education, child-care and health-care workers, have also ended," it said in an announcement.
Mask wearing, however, remains a requirement in indoor public spaces until March 15.
New Brunswick
In New Brunswick, the province since the beginning of this month stopped requiring proof of vaccination from customers and employees before granting them entry in their establishments. Starting March 14, all remaining COVID-19 mandatory measures will be removed. This includes mask-wearing in public spaces and limits in different gatherings. Businesses and organisations may also operate at full capacity starting that date, even without physical distancing requirements in place.
Masks and five-day isolation will only be recommended for employees working in facilities with patients or residents vulnerable to COVID-19, according to the government announcement.
"I am glad to be able to say that, because the majority of New Brunswickers have done the right things over the past two years, we are now in a position where we are able to lift restrictions in the near future." said Premier Blaine Higgs in a statement.
Newfoundland and Labrador
Starting March 14, all restrictions in the province of Newfoundland and Labrador will be lifted, including capacity limits, masking, and proof of vaccination requirements. The government said that this plan will only take place should COVID-19 data remains favourable to the public. The province recorded over 300 new confirmed cases of COVID-19 on March 2.
Currently, proof of vaccination in the province remains in place, but businesses such as bars, lounges, and restaurants are already allowed to open at 75% capacity.
Read more: Can HR fire an employee for refusing to wear a mask?
Northwest Territories
Northwest Territories also lifted its Proof of Vaccine (PVC) Programme for businesses this month, in addition to gathering restrictions, as the province shifts its focus from stamping out COVID-19 to protecting those who are at greater risk against the disease.
According to the province's revised Employee Vaccination Policy, proof of vaccination, testing, and enhanced personal protective equipment will only be required for employees and contractors who work directly with vulnerable sectors, federally regulated policies, and other workplaces where there are other vaccination policies or requirements.
"All other employees will no longer be required to provide proof of vaccination," it said.
However, the province clarified that businesses, organisations, employers, and communities may still "choose to implement their own PVC requirements if they feel it is necessary."
The Public Health Emergency is expected to expire on March 31, as long as there are no significant or unanticipated changes to the COVID-19 situation in the province.
"As we begin to ease pandemic restrictions it's important to know that this does not mean the end of COVID-19," reminded Premier Caroline Cochrane, adding that they will remain prepared to manage community outbreaks in the future.
Yukon
The province of Yukon will also begin lifting COVID-related restrictions this month, starting by removing limits on gatherings, events, or capacity at venues on March 4. Bars and restaurants will also be allowed to return to normal operations.
Mask-wearing mandates and requiring proof of vaccinations at select sites will only be lifted on March 18, according to a government announcement.
"Wearing masks will still be strongly recommended where it is difficult to physically distance. Businesses and organisations can continue to require masks and proof of vaccination if they choose, but they will no longer be required after March 18, 2022," the announcement read.
Vaccination requirement for employment will be lifted on April 4, it added, with 95% of government employees already fully vaccinated against COVID-19. There are currently 92 full-time workers and 201 casual, on-call, and seasonal employees who are placed on Leave Without Pay after not complying to the vaccine requirement.
"Lifting the vaccine requirement will allow most of these employees to return to work," said the government.
These provinces join Alberta and Saskawatchewan that also announced that it will lift restrictions this month, amid dwindling COVID-19 cases.
Despite this, provincial governments are still urging the public to get vaccinated if they have not taken the jabs, stressing that remains the best protection against COVID-19.