Canadian researchers highlight 4 ways women feel unheard, unseen, homogenized – and how employers can help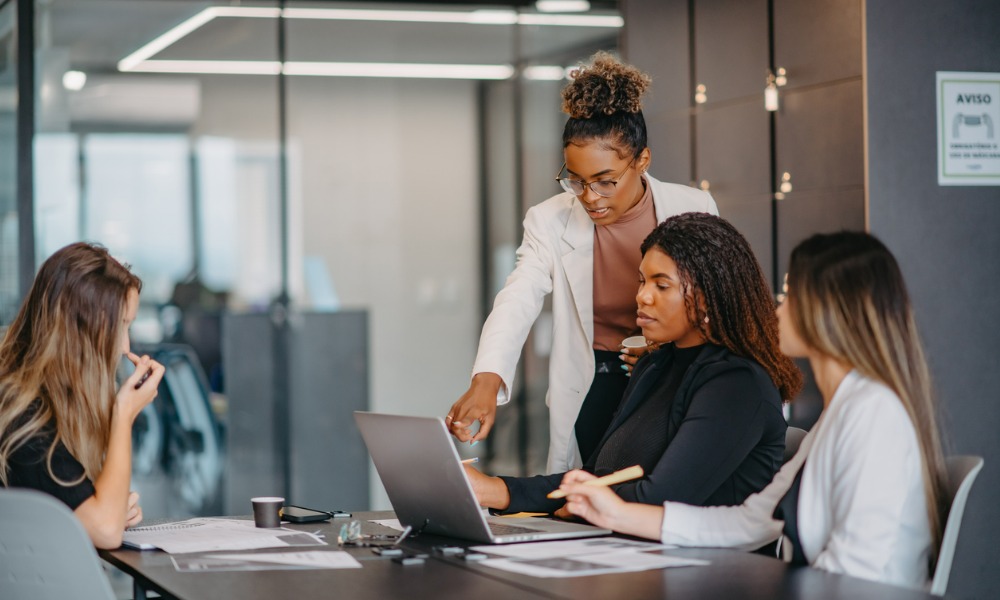 Do we really see women of colour in the workplace for who they are? Apparently not, based on a new study.
A majority of women of colour feel invisible in their place of employment, reported Canadian university researchers after extensive interviews.
"Being recognized for ourselves is one of the most basic psychological needs we have as human beings," said Jennifer Berdahl, professor at the Department of Sociology at the University of British Columbia, in talking with HRD.
"To the extent that you are feeling invisible in your social environment, you are feeling incredibly alienated and disregarded and dehumanized in that environment – that's incredibly painful."
Invisible in many ways
Invisibility happens in four ways, according to the researchers:
Erasure: All but three of the 65 (95%) women in Canada and the U.S. interviewed for the study experience erasure at work. This is when women of colour experience invisibility in its most literal sense: being unheard or unseen. When describing erasure, women of colour recounted feeling like they did not exist to others in their work environments. Nearly all of the participants experienced erasure in some form or another, from not being seen or heard to being left out of social interactions to being repeatedly ignored.
Nearly half (51%) of employees in Canada say that underrepresented voices remain undervalued by employers, according to a previous report The Workplace Institute at UKG.
Homogenization: Fifty-six out of the 65 women (86%) experience homogenization, or being treated like a homogenous and interchangeable member of an unrelatable out-group. Women of colour described being treated as virtually indistinguishable from other women of colour, frequently being confused with other women of colour, and having their names mistaken.
Hair discrimination is rampant for Black women, according to a previous report from Dove.
Exoticization: Fifty-one of the 65 women (78%) described experiencing unique race- and gender-based sexualization that made them feel reduced to foreign objects of fascination and fetishization. Women of colour reported feeling unseen and objectified through this form of invisibility.
Whitening: About half (33 of 65) of the women reported experiencing "whitening," which consisted of having their similarities to white people complimented and having their non-white racial/ethnic identities and cultural backgrounds discounted or ignored.
"Whitening was confusing for participants because it was framed by the perpetrators as inclusion and praise, but it undermined the women's racial and cultural identities, making them feel invisible and unseen," the researchers said in their study titled "Do you see me? An Inductive Examination of Differences Between Women of Colour's Experiences of and Responses to Invisibility at Work."
For many people, bringing their authentic self to work simply isn't an option, according to a previous report.
Negative effects on workers
All these have negative effects on the workers who feel invisible.
"Because people are feeling dehumanized [and] it's deeply painful and they're shutting down, it can really affect their well being," said Barnini Bhattacharyya, assistant professor for organizational behaviour at Ivey Business School at Western University. "It can affect how they're able to navigate the world."
From an employer's standpoint, "if you're making an entire group of people invisible, I'm certain that you're not paying attention," she said.
While people who feel invisible in the workplace have a negative experience, some of them find a way to make their situation better.
"When women of colour experienced invisibility over and over again… over a long period of time, their understanding of what was going on shifted," said Bhattacharyya. "Earlier, they would think maybe they were doing something wrong, and there was one racist out there [who] was doing something wrong.
"But they started seeing this as a systemic problem, which then allowed them to be much more strategic in how they would respond to these experiences, giving them control over how they were responding."
How employers can help
However, it's up to the employers and everyone in the workplace to put an end to making coloured women feel invisible in the workplace, say the researchers.
For employer's it starts with recording, recognizing and acknowledging that this is a problem, said Bhattacharyya.
"This is something that's pervasive. This is something that's happening across the board, and it needs to be paid attention to."
Employers must also understand that "blanket diversity initiatives do not work the same way [for everyone, as] different people have different experiences and different needs," she said.
"Recognizing that you need to develop different solutions for all the groups that you want to include and have equity for is really important."
And employers must learn from the experiences of others and their own.
"Listen to women of colour's experiences. If you have knowledge from before… use that information as evidence to solidify what your actions are going to be," said Bhattacharyya.
"If you're aware that women of colour experience homogenization, maybe it's a really good idea to really cognitively focus on getting to know new hires, especially racialized folks – making sure you… focus on learning their names, and focus on making sure you're spending one-on-one time with them."
DEI initiatives are 'a marathon, not a sprint', one expert previously told HRD.
Employers can't put an end to the problem quickly, but if individuals themselves will only oversee their own actions, things can be easier, said Berdahl.
"The fastest track solution would be each of us, as individuals, becoming aware that we're prone to this, and becoming hyper vigilant, in some sense, of our tendency to do this," she said.
"Since this research, I've become very aware of my own, and I still make mistakes. But I do, I try to make it right. It takes effort on each person's part to prevent themselves from 'invisibilizing' and dehumanizing others who are seen as marginalized in our society."