Diversity experts reveal their personal experiences of bias at work – and how HR can end the hatred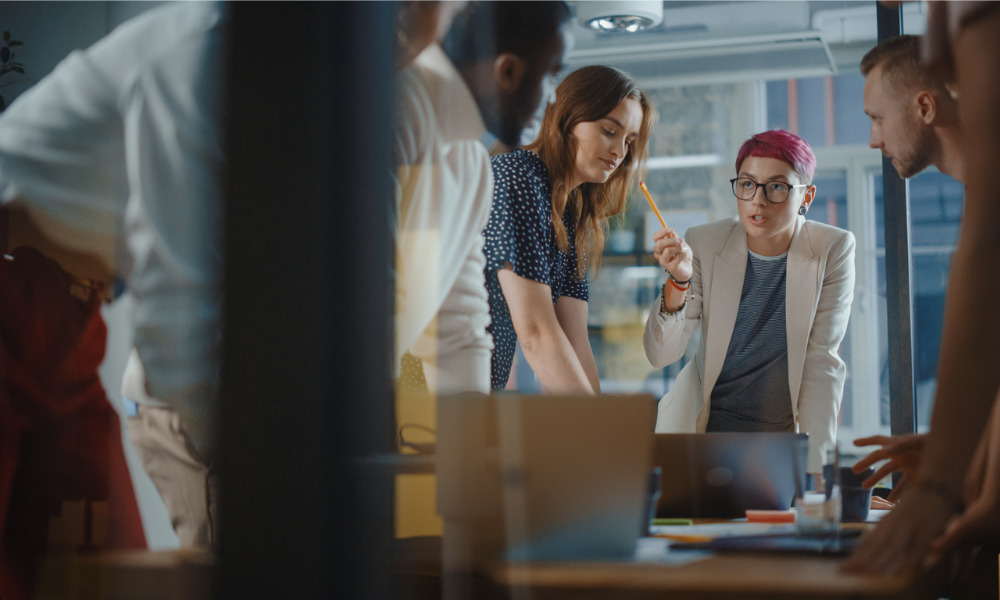 Pride Month may be over, but that's no excuse to start neglecting your DEI initiatives. All too often, employers make the mistake of only championing their LGBTQ2S+ staff in June, and ignoring subtle microaggressions the rest of the year. For Joseph Levesque, he was sick of being asked questions about his 'wife' – something that he believes forces people to come out at work, even if they don't want to.
Remote work: Homework, bingo, and movies: Employees reveal bad 'remote work' habits
"While the question may seem innocuous, it can be loaded for those in the LGBTQ2S+ community and can lead to a forced coming out at work," he told HRD. "I've also been bullied in the workplace because of my sexuality. With the 'girlfriend' questions, I would have to take into account the audience or the situation at hand. Did I feel safe answering honestly? Depending on the answer, I would have to make the uncomfortable decision of either lying or correcting them (i.e. 'I've been married to my husband for 11 years now.'). Many factors would come into play with this, such as personal fortitude, potential safety risks, or even potential job loss. Eventually, as society and norms began to change, this issue sprang up less and less."
Read more: Politics and respect at work in election season
As senior marketing and communications manager at the Canadian Centre for Diversity and Inclusion (CCDI), Levesque knows what it is to champion authentic DEI – something that CCDI's core mission is built on. Leaders at the CCDI have come together from the corporate and public sector to help employers celebrate diversity and difference. Their unique model blends social impact and business tactics to build truly inclusive workplaces. But just how far have employers still got to go?
A recent report from the Williams Institute at UCLA found that 67% of LGBTQ2S+ have heard negative comments or slurs at work – with 29% having personally experienced direct discrimination. As HR leaders, its incumbent on you to not only support your LGBTQ2S+ people, but also to root out any underlying hatred from colleagues. For Schuyler H Smith, manager of partner relations at CCDI, the biggest mistake employers make when it comes supporting LGBTQ2S+ is focusing too much on one identity and neglecting the others.
"The LGBTQ2S+ initialism covers a collection of communities, not one identity or experience," Smith told HRD. "We all navigate workplaces with different challenges, opportunities and differing strategies and coping mechanisms to get us through each day. Focusing on one identity or ignoring others in favour of ones we know is one of the biggest mistakes an employer can make. You require different resources that cover the variety of communities that fall within the gender and sexually diverse umbrella. We also need to be mindful that a LGBTQ2S+ identity or identities are additive to other dimensions of difference, from age, culture, or visible appearance. This intersectionality adds additional requirements and support on the part of employers."
So how can employers actually make a difference to their LGBTQ2S+ people? Well it begins with instigating a conversation. With DEI, HR can fall prey to believing that a one-size-fits-all approach will solve all their problems, when in reality it's making them much, much worse. Instead, ask your employees what changes they'd like to see – ask how you can help them be their authentic self at work – that's the only way to evolve as an organization.
"Ask them what is working and what could be done to improve their experience," Levesque added. "It could be that an employer is already doing important work in this field and may only need to adjust their strategies based on the needs of under-represented employees. Buy-in from leadership is also of paramount importance. There's no point in trying to initiate strategies if they aren't supported at all levels of the organization. Lastly, LGBTQ2S+ representation in leadership is a definite asset. If I can see myself in leadership, I feel represented and that my voice will be heard."