How to build equitable processes and 'a workplace where people treat each other with respect'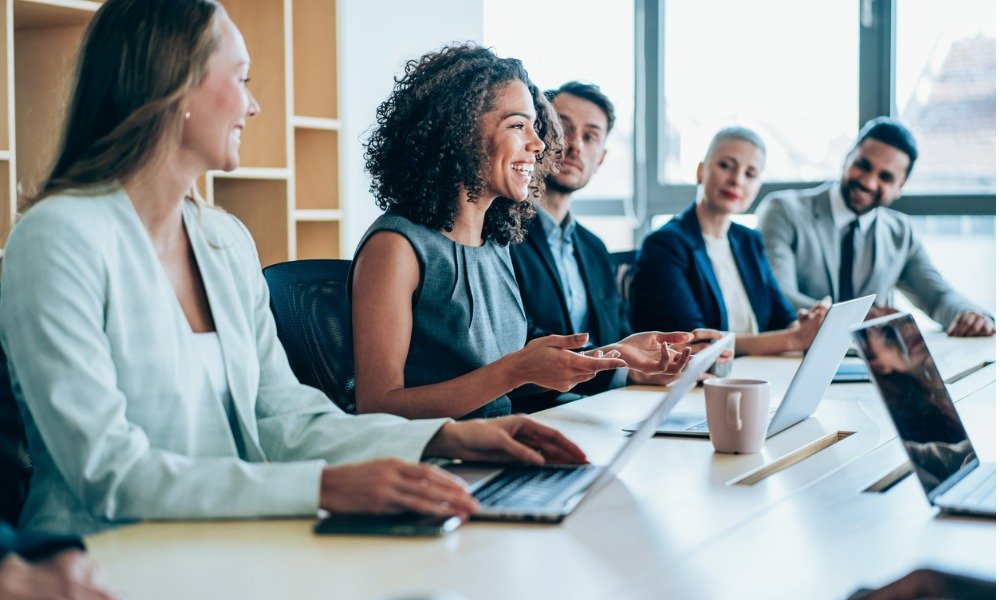 More than seven in 10 (72%) of Black employees still experience some form of racism at work, according to a new KPMG Canada report.
Among them, 20% experienced the same amount of racism while 19% claimed they experienced more racism. A third (33%) experienced less racism while just over a quarter (28%) experienced no racism – according to the survey of 1,001 Canadians who self-identified as Black.
While nine in 10 respondents said their employers have made progress in their efforts to be more equitable and inclusive for Black employees in 2022, there's still work to be done.
"Despite institutional efforts to address anti-Black racism, we still see individuals within organizations who do not recognize that some of their remarks or behaviours are racist and unacceptable," says Silvia Gonzalez-Zamora, a partner in the People and Change practice and head of the Inclusion and Diversity service offering at KPMG in Canada.
"While it's virtually impossible to address every individual comment or action, there is a lot that organizations can do to build equitable processes and a workplace where people treat each other with respect and feel a sense of belonging: build trust, foster allyship and listen to employees."
Overall, Black women's hair is 2.5x more likely than their White and Hispanic counterparts to be perceived as unprofessional, and many have had to change it up to feel they belong, according to a recent Dove report.
Progress
It seems employers have done a lot of positive things to address anti-Black racism, according to the KPMG Canada report. Specifically:
59% of respondents said their employer's efforts to hire more Black people improved in 2022
54% said their employer's efforts to promote more Black people into leadership roles also improved
62% said their co-workers' understanding of the societal and workplace barriers Black Canadians face improved over the past year
61% said their manager's/supervisor's understanding of the societal and workplace barriers Black Canadians face improved
58% said top management's understanding of the societal and workplace barriers Black Canadians face improved
78% said they feel they're valued and respected in the same way as their non-Black colleagues
80% feel they can speak up about racism at work without being stigmatized
80% said they have allies at work who will speak up for them and other Black colleagues when they witness instances of racism, bias or injustice
57% said their company has an allyship training program, which prepares employees to better support, collaborate with, and advocate for people from underrepresented and marginalized groups in and outside the workplace
74% said their employer has employee resource groups (ERGs) committed to advancing racial equity
In a previous statement, KPMG in Canada said its FY25 goals include increasing representation of People of Colour (POC) partners in the firm to 26%, and increasing representation of Black employees to five per cent firm-wide.
Worries, hopes
Amid the current economic climate, some Black workers worry that anti-Black racism efforts will also take a hit, finds KPMG Canada's report. Three-quarters (75%) worry a potential recession could hurt their career and promotion prospects and 77% are concerned it may hurt the career and promotion prospects of their Black and racialized colleagues more than others.
Nearly seven in 10 (69%) think Black and racialized employees will be among the first to lose their jobs in a recession, and 73% said anti-Black racism efforts and broader diversity, equity and inclusion initiatives will be "put on the back burner" by their employer during an economic downturn.
Only 36% of Black respondents received a promotion in 2021, while only 23% reported a raise in salary, according to a previous report from DEI consulting firm Grads of Life. These figures are below the 40% average for promotions, and 26% average in wage hikes.
Still, Black workers are expressing optimism, said Gonzalez-Zamora.
"The majority of Black Canadians are optimistic about corporate Canada's ability to continue to reduce systemic barriers in the workplace over the next five years, but there is still a lot of work to be done," she said. "Allowing anti-Black racism to persist could cost organizations their most valuable resource – their people. Anti-Black racism is a societal problem that everyone, including organizations must work to resolve."
Black workers believe the following solutions to help companies become more equitable and reduce racism in the workplace:
89% want their company to establish employee resource groups committed to advancing racial equity
88% feel that stronger commitments and targets for hiring and promoting more Black people are needed, with clear and measurable outcomes and accountability
86% said more Black people should be appointed to the board of directors and/or senior management ranks
82% want more anti-racism education and training for employees and management
82% said their company needs to make this a bigger human resources priority
76% said their company needs a major culture change to achieve this