29% of employees think WFH had a negative impact on wellbeing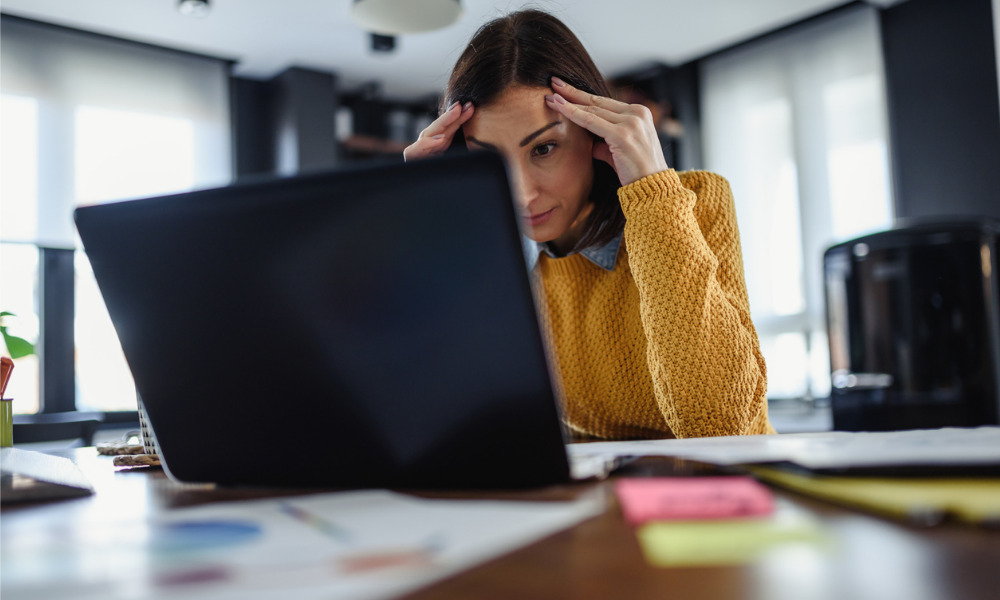 Working remotely has been a saving grace for many employers, however the blurred lines between work and home have increased employee stress and diminished overall wellbeing.
Research from the Royal Society from Public Health (RSPH) found that 29% of employees feel that remote work has had a negative impact on their wellbeing, with 56% finding it difficult to 'switch off'. But being able to disconnect from work in a remote working situation is easier said than done.
HRD spoke to Kelly Higgins, associate vice president, health solutions, at Aon and host of our upcoming webinar - Time off with pay in post-pandemic world. She talked us through the long-term effects of blurring work-life boundaries.
"Competing work and home life priorities have added to increased levels of stress and mental health decline," Higgins told HRD. "Childcare limitations for pre-school-age children, and the on and off nature of in-person versus virtual learning for children continues to have a stress impact on employees working remotely or on the front lines. Ongoing pandemic-related health and safety concerns, social distancing, vaccination decisions, and the ongoing nature of the crisis create personal stressors that combine with the stresses the pandemic has placed on work life for nearly all employees.
"For employees facing a blurred line between work and home life, a workplace culture that ensures employees feel comfortable and supported in their life outside of the workplace is key. The circumstances of the pandemic have normalized work-life overlap to a degree. For example, the current climate readily accommodates family appearing in video calls and supports workers who may be juggling work and virtual learning for their children. When employees shift back to hybrid or in-person work, and when the social strains of the pandemic lessen, it will be particularly important for employers to managing the adjustment from pre-covid workplace norms, through the pandemic, to a post-pandemic period whose outcome is evolving."
Heading back to the office is a contentious issue for both employers and employees. When we think of how we worked in 2019, that nine-to-five daily office grind seems outdated and unnatural. However, the notion of eradicating offices completely seems equally untenable. The rise of hybrid models offered an easy, manageable solution – a midway point for the office enthusiasts and the remote recluses. But even the notion of heading into work for two days a week can be unrealistic for some workers. For this – flexibility is needed.
"Flexibility has become a key concept as has supporting time off needs," added Higgins. "Programs that support personalization and increased flexibility have been growing employee benefits trends for some time. There are many things an employer can do to ensure employees feel supported in finding a balance. The value of paid vacations is discussed above. Increasingly, employers are also providing financial support during unpaid leaves by continuing group benefits and/or establishing top-up programs for employees who take time off for caregiving responsibilities.
"Attraction, retention, and engagement are all influenced by an employee's perception of the value of their benefits. A high degree of personalization in benefits is a growing expectation for employees. Adapting the benefits offer to employee needs will be a critical attribute for the forseeable future. Plan sponsor objectives will continue to focus on providing a market competitive, well-managed and engaging benefits offer. Changing employee expectations are dominated by workplace experience preferences. The desire for things like flexible hours, agile work options, and support for non-work (typically family-based) priorities and obligations reflects new attitudes about balance between work and personal life and the employer's role in supporting that balance."
To hear more on how you can help your people balance work and rest, and how to improve overall wellbeing, register for Aon's webinar here.