While there's a glimmer of hope in the sector, many food businesses are still operating at a loss – and they're calling on the federal government for additional support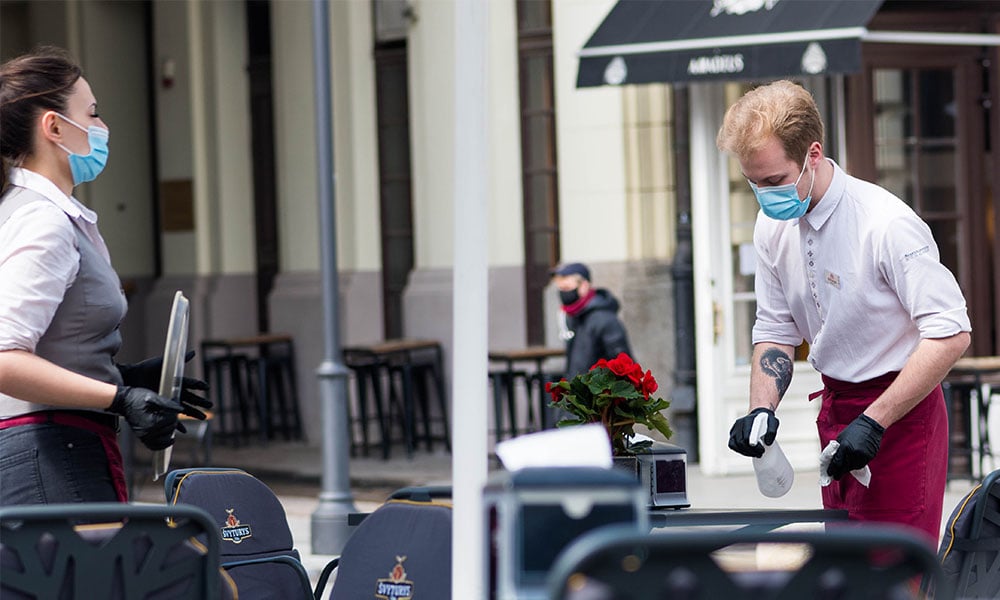 A booming foodservice sector should be part of Canada's "recipe for growth" post COVID-19.
But with the majority of food businesses still operating at a loss, they'll be needing an extra lifeline to stay afloat, research from the nonprofit Restaurants Canada showed.
"Restaurateurs are eager to help rebuild the economy and revive neighbourhoods, but they're going to need continued assistance from government to remain operational under ongoing restrictions," said David Lefebvre, Restaurant Canada's vice president of Federal and Quebec.
Of those that offer delivery, takeaway or regulated dine-in options, more than half are operating at a loss while more than 90% have seen sales fall in the past three months compared to the same period in 2019, the study found.
Read more: More businesses optimistic about hiring post-COVID 19
More than a third of food business owners (36%) estimate it would take at least a year for them to become profitable again. A third are looking at seven months to a year to bounce back, while one in five businesses are bracing for more than 18 months of struggle before they regain their footing.
The foodservice sector, which includes restaurants, enlists 1.2 million Canadian workers. Collectively, these businesses serve as the fourth-largest private-sector employer in the country, but a wave of job cuts swept through the sector as the pandemic raged on.
There is a glimmer of hope, however. In June, 164,000 jobs in food services and accommodation were recovered, according to the latest figures from Statistics Canada.
Still, some 400,000 retrenched workers remain jobless.
Without help from the government, the downturn in the foodservice sector is expected to have a ripple effect on a number of other industries, the study from Restaurants Canada suggests.
Read more: How success in the new normal is all about preparedness
For one, restaurants indirectly support more than 290,000 jobs in other sectors engaged in their supply chain. The restaurant industry is also closely intertwined with Canada's agri-food sector since restaurants spend more than $30bn yearly on food and beverage purchases.
In a thriving restaurant business, for example, as much as 95% of its annual revenue typically flows back into the economy.
A recipe for growth
"Not only was the foodservice industry among the first and hardest hit by the impacts of COVID-19, the sector will also be among the slowest to return to profitability," Restaurants Canada said.
The group is asking the federal government to "extend and strengthen support" for businesses by retaining the Canada Emergency Wage Subsidy program "for as long as restrictions are in place".
"Instead of the 75% wage subsidy suddenly dropping to zero, support should be reduced gradually as businesses get closer to manageable levels of revenue variance while operating under ongoing restrictions," the group said.
Restaurants Canada is also calling for an expansion of rent relief and commercial tenant protections and for assistance with cash flow and rising debt levels.
Read more: A guide to commercial tenant rights
"Businesses should be able to access more than $40,000 in interest-free loans through the Canada Emergency Business Account program and at least 75% should be forgivable," the group said.