HRD talks to Shiona Watson, senior director, HR at Pepsico about the company's success in retaining employees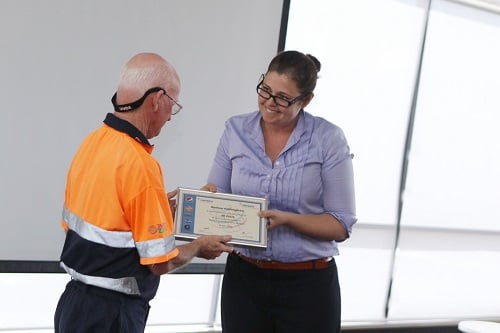 Rodney Felmingham has dedicated his entire career to PepsiCo. In fact, this year Felmingham celebrated his 50th anniversary at the company.
Indeed, Felmingham is an important part of the fabric of our Tingalpa site, according to Shiona Watson, senior director, HR at Pepsico.
"It's people like Rodney that make PepsiCo such a great place to work," Watson told HRD.
"Whilst Rodney has been the person who's worked with us for 50 years, it has been a milestone that we have all shared and celebrated together.
"Not many businesses can boast of such long tenure amongst employees and we are thankful for Rodney's commitment to doing a great job and making a positive difference for over 50 years."
So how has Pepsico gone about successfully retaining employees like Felmingham?
For are start, the company prides itself on being a workplace where people can learn, grow and bring their best to work every day, which is a core tenant of their strategy, according to Watson.
Pepsico offer a range of education programs, from PepsiCo University (an online learning portal), to informal lunch and learns, formal leadership programs through to sponsorship of external tertiary/higher education qualifications.
Moreover, children of PepsiCo employees are also eligible to apply for a scholarship to support their university study.
The ExCEL program has been in place since 1996 and is a global initiative that awards up to US$5,000 per year. Recipients are selected on the basis of financial need, academic record, demonstrated leadership and participation in school and community activities and work experience.
Watson added that Pepsico also has a longstanding commitment to programs supporting communities.
"PepsiCo is committed to supporting the communities where we operate," said Watson.
"We do this through our Helping Hands employee donation and volunteer program where are people are provided with volunteering leave so they can work directly with charitable organisations."
Watson said that employee charity donations are also matched dollar for dollar by PepsiCo.
In 2017, PepsiCo also donated 120,000 meals to Foodbank to help provide food relief to those who need it across Australia.
Another important aspect of Pepsico's retention strategy is about creating a safe and healthy work environment.
"The health and safety of our people is our top priority – we are committed to providing the systems, training and coaching necessary for employees to carry out their work safely and with due regard to the environment," said Watson.
She added that health and safety obligations and requirements for Pepsico's employees are guided by our core values and helps the company deliver on Performance with Purpose - a program to deliver long-term, sustainable performance.
"PepsiCo's Human Rights Workplace Policy also ensures a work environment that is free from all forms of discrimination where people feel comfortable and respected," said Watson.
"This policy is translated into 20 languages and broadly communicated as part of our Code of Conduct training – a process that ensures our businesses are operating in the most ethical way possible."