Advocates in the prairie province say weight should be a protected ground under the code, amid claims of workplace discrimination.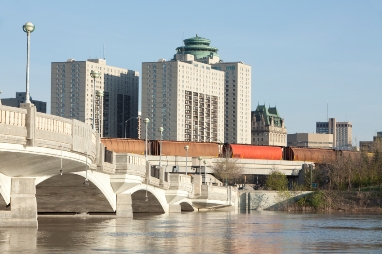 Advocates say Manitoba should expand human rights protection to overweight people because they are being passed over for everything from job promotions to surgery.
About two dozen people rallied outside the legislature Wednesday in support of Liberal legislature member Jon Gerrard and his effort to amend the province's human rights code to ban discrimination based on physical size or weight. Manitoba would be the first province to do so, he said.
"People are being made to feel ashamed or bullied," Gerrard said. "There are also issues where people are not getting the help or the treatment that they should be getting."
Lindsey Mazur, a dietitian, said some overweight people she works with are being denied surgeries and other care unless they lose weight first. In the workforce, some people are losing out on promotions because of their weight, she added.
"A friend of mine who worked at a fitness facility here in Winnipeg was told no one would want to look like her; therefore, no one would want to train with her, and a project was given to a younger, slimmer colleague of hers.
"Another person contacted me to say she was up for a promotion at her job and she asked if the other applicant was more qualified than her and she was told 'no ... but she is more attractive than you.'"
Manitoba's human rights code bans discrimination on grounds such as age, gender, religion and disability.
Across Canada, there have been human rights commission rulings in favour of obese people, but cases have involved those who were considered disabled by their obesity.
In 2010, the Quebec Human Rights Commission ruled a morbidly obese woman was discriminated against by her condominium association when she was denied a handicapped parking spot.
New Democrat justice critic Andrew Swan said people with weight issues should not have to claim they are disabled to be protected from discrimination.
Gerrard introduced a private member's bill earlier this year to ban discrimination on weight and size, but the bill never made it to a vote before the last session of the legislature ended. He reintroduced the bill Wednesday. Swan said the New Democrats will support it.
The Progressive Conservative government was noncommittal.
"Our government is very supportive of accepting everyone in Manitoba and not discriminating against everyone, so we'll certainly take a look at this bill," said Greg Nesbitt, a Tory backbencher who spoke at the rally.
"We'll have to see and debate it in the legislature."
Recent stories:
HR firm names new VP
What summary judgements mean for HR
Canada plagued by productivity deficit