Over the time Susan Soikie has been director of the Arts and Science Co-op program at the University of Toronto Scarborough Campus, she's noticed more and more co-op employers are moving away from hiring from a resume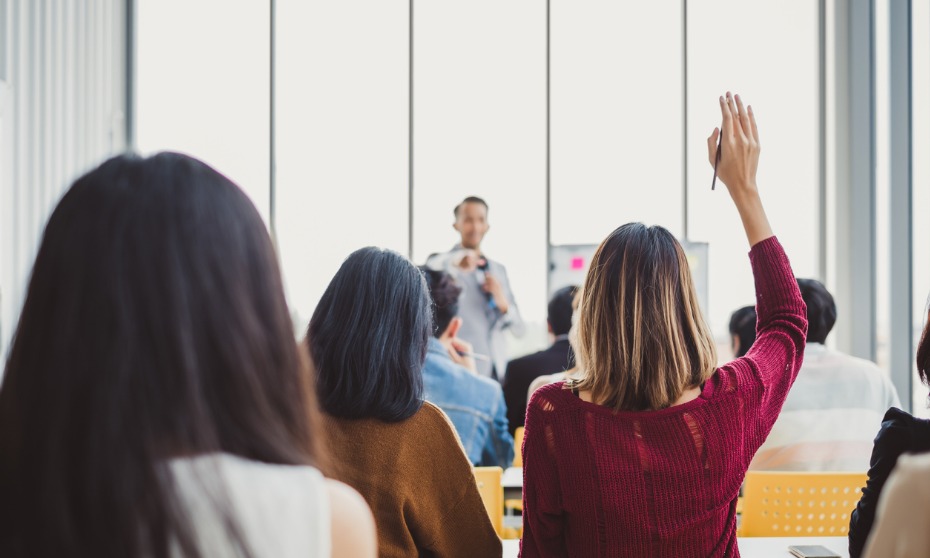 Over the time Susan Soikie has been director of the Arts and Science Co-op program at the University of Toronto Scarborough Campus, she's noticed more and more co-op employers are moving away from hiring from a resume.
"They want to engage the students and the ones that stand out are the ones that they connected to in some meaningful way," Soikie says. "We encourage employers to come on campus in creative ways - it is the best way to meet your talent."
Because they have a smaller program, Soikie says they are able to work individually with employer partners based on their needs, interests and goals including helping those who may want to visit the campus for more innovative activities. Companies are welcome on campus any time for official information sessions, but many are looking to engage with potential co-op student hires beyond the traditional job interview, and are increasingly taking advantage of the creative ways Soikie and her team do just that.
For example, Amazon was recently on campus to run an information and interview practice session; Hubspot ran a web app workshop and an information session designed to give students the inside perspective of life at the organization, from the perspective of a software engineer; Facebook visited campus to debut its North American curriculum for recruitment sessions, including a "crash your coding interview" session and a mini coding challenge that gave participants an opportunity to practice writing code in an interview setting.
It's not just the large companies that can utilize these opportunities - smaller brands also get creative by showing live demos of their software to prospective applicants, giving them a firsthand view of what they'd be working on during their work terms. Employers have also shown interest in leveraging the peer-to-peer experience through Instagram takeovers to show prospective applicants what a day in the life at their organization would look like.
LAUNCH - the school's co-op networking event - also provides a key opportunity for employers as it allows both sides to engage in freeform conversation. Employers are able to discuss their organization, advertise any particular roles that they're hiring for and provide tips for applying. This brand-building opportunity works - 84 per cent of student participants said they would consider applying at an organization they had no previous knowledge of.
"It's a great way to get their brand in front of post-secondary students," Soikie says. "Instead of just trying to hire people when they graduate and they aren't aware of that industry, that company, this allows them to get access as the students are working through their post-secondary education so when they graduate, they are already a top employer choice."
According to the school's Winter 2019 Final Evaluations, 94 per cent of employers reported they would re-hire a co-op student and there's been an 81 per cent uptick on the number of students who completed a work term in fall 2019 compared to five years ago. Soikie says last term, they posted about 1,500 opportunities for their students, and adds that many employers are looking for longer work terms.
"Co-op students are a very accessible way to bring talent into your industry," she says, adding it's also a great way to bring succession planning to a company. "It's not a commitment to hiring them when they graduate, however as you have these students coming in for these work terms, you are seeing them on the job - which is the best way to interview new future full-time candidates."
U of T's art/sci co-op program works hard to tailor the experience to a workplace's needs and support them throughout the process. Students are available for four, eight, twelve or sixteen months depending on the program, so there's a lot of flexibility in when they come in, including the option for an employer to extend the work term if it's a good match. It's also financially feasible for companies to onboard students - there's a tax credit available, $3,000 per work term per student for private companies, and wage subsidies as well.
One common concern companies have is the amount of time required to train a new student employee and how they can get them up to speed quickly.
"One of the great things we recommend is that you set it up so your outgoing student trains your next student," Soikie says, advising employers have their student create onboarding documents such as a handbook, or have the students' work terms overlap to offer the option of training.
Another recommendation is employers set out learning objectives from the beginning. By having a discussion with the co-op student where both parties get a sense of what each other wants to get out of the experience, it sets the work term up for success. It's also important to have ongoing discussions to make sure the objectives are being met.
Soikie says, as with any talent a company brings in but especially with co-op students, it's great to look for opportunities to give them exposure beyond what's on paper as their job description.
"Are there professional development opportunities? Can they expand their network - can you introduce them to other people within the company that they could sit and chat with? Is there a project they could work on that's of particular interest to them? That's what gets them really excited and motivated," she says.
Some companies have partnered with the school and take on co-op students regularly every term, but Soikie says she is often working with new employers on how to understand their options and how to maximize the opportunity. At the end of the day, the goal is a good match and a good experience for both sides. The school is flexible and involved throughout the process to ensure all parties are happy.
Soikie says they will support the company's hiring process, for example, by sending students to them for interviews or working with the company to provide space on campus to meet with potential hires. The school also posts job opportunities in accordance with the companies' schedule, and provides tips and information to help employers understand how to get the most candidates and the best candidates. For example, how long should an employer keep an opportunity open? Soikie and her team can advise on peak times - i.e. not up for a few days in the middle of midterms - and help craft the posting using the right language to ensure it's compelling and speaks to the students companies want to attract.
"We are very supportive throughout the whole recruitment cycle and while the students are out on a work term," Soikie says. The school checks in on the student at the company and chats with both student and employer to ensure everything is going well.
From their returning employer partners to new companies who might know nothing about co-op and have questions about the process, Soikie says her team is happy to share the knowledge of how it works and how to best access this unique talent pool.
"Co-op students are a really great hiring solution - they come in and they infuse innovation into your team," Soikie says. "They are connected to the current theories and practices that are going on in the industry, they're bringing in a different perspective to the workplace and we spend a lot of time preparing our students for their workplace. They're going to come in ready to hit the ground running."