'As a business, supporting employee resolutions shows a personal level of care'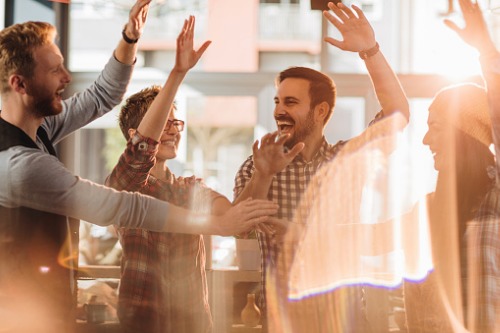 Career and professional development are two of the biggest trends for 2019, according to Alex Hattingh, chief people officer at Employment Hero.
Hattingh told HRD that this is a great opportunity to tie in new year's resolutions with what employees want in their roles, which will lead to "heightened employee engagement and satisfaction".
"As a business, supporting employee resolutions shows a personal level of care," said Hattingh.
"It shows that an employee's personal success is as important to an employer as their professional and career success."
Hattingh added are different ways businesses can approach this conversation.
Managers can ask employees one on one or in a team meeting to share a new year's resolution that is related to a professional development goal. They can then record it as a Q1 target and help them to achieve it.
This doesn't have to be expensive with a course or workshop either - on the job learning or stretch assignments with your team or other teams can easily give an individual professional development.
"You could go a step further and record each team member's biggest priority new year's resolution and check in each month," said Hattingh.
"This again shows a personal and caring interest in your employees and helps to hold them accountable."
Hattingh said the following are three ideas to facilitate this:
You could record personal resolutions as part of KPIs / OKRs / Goals
You could start a visual wall in your team's section of the office with the resolutions up and visible
You can also buddy people up who may have similar resolutions - for example, fitness or eating healthier or saving for a deposit on a house, and they can help hold each other accountable
Hattingh added that by sharing new year's resolutions, co-workers or managers can also help people make them more realistic if their goals are too aspirational, or if timelines are too tight.
"People goals can sometimes benefit from a 'business-style' approach," said Hattingh.
"If managers notice a trend with new year's resolutions they can go a step further and implement initiatives to support employees.
"I would recommend a survey, as this will make anything you implement a majority employee-selected company sponsored initiative."
Examples here may be if wellness is a popular resolution than bringing in lunch or morning yoga or meditation classes or a personal trainer once a week, could be a small investment to support employees.
Another reward is that healthy employees are generally happier employees, which benefits everyone, added Hattingh.
"Celebrating wins as managers check back in with employees is a vital part to making people feel appreciated and to motivate those who may have fallen behind or have become demotivated about achieving their goal," said Hattingh.
The other key thing for managers to remember is to be transparent, or perhaps even vulnerable in sharing their own resolutions.
"If you are someone who does not have or believe in personal new year resolutions, this is the perfect opportunity for you to ask the team to set you a Q1 improvement goal as a manager - you can use post-it notes to allow for anonymity."
Moreover, Heidi Holmes, co-founder of mentoring software platform, Mentorloop, added that most of us start the new year with a shopping list of things we want to change, improve or achieve.
"We are full of hope, determination and optimism," she told HRD. "However, the reality is many fall by the wayside, with the proper support, we are more likely to succeed."
Given work bleeds into so much of our lives these days, chances are a number of these 'resolutions' are going to be related to work, work/life and development, added Holmes.
"Employers should take the time to listen to their people, harness the power of this new-found energy and purpose, and find a way to support them in achieving some of these goals that relate back to a happier and therefore more engaged and productive employee."
In order to do this, Holmes said they must:
Give permission, start a resolution revolution: let your people know that you want to use their stories to shape your people strategy moving forward. This could be through an engagement survey or via a public Slack or internal comms channel. Creating a culture where people can share their work-related resolutions is not only a bit of fun, it's engaging content. Having visibility over this raw data will also be insightful.
Show me yours and I'll show you mine: get the conversation started and lead from the front. Have the CEO write an open letter sharing their NY's resolutions both for the company and for them personally in their work/life. 2018 was all about bad culture and bad leadership. Get your CEO on the front foot, showing humility and honesty.
Listen and act: You've listened, but now you need to show you have. 80 per cent of NY's resolutions fail, so clearly people need help. Heck, we all need help. The best way to support any work/life or career development related resolutions in a scalable and relatable way is through mentoring.
Holmes added that it's very important for employees to have a mentor to share their NY resolutions with:
Your mentor is not your manager: maybe you and your manager didn't get along so well last year - maybe you've never got along. Give your people a chance to connect with another comrade. Having a mentoring relationship with someone whose performance isn't tied to your performance is beautifully refreshing. Where we are all becoming more isolated at work, creating new connections across levels, functions and divisions is going to be critical to keeping your people engaged. These cross-functional conversations are one of the key ingredients to fostering an innovative workplace.
Goals, goals, goals: for many, it can be beneficial to talk to others who have gone through the same experiences when overwhelmed by new goals. Mentoring relationships are one way of providing the structure and support necessary for your employees to hold themselves to account in their goals and track their progress over time. To ensure mentoring is part of the conversation in your workplace, be as proactive as possible in promoting and encouraging a mentoring-friendly environment where your employees can drive their own learning and goal outcomes.