In the fast-paced technological world of today, companies are born in a matter of minutes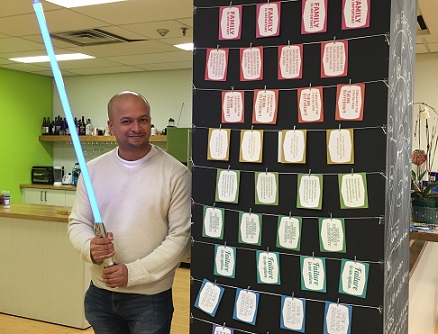 In the fast-paced technological world of today, companies are born in a matter of minutes. And, despite all the efforts to maintain a company brand, after a huge growth spurt company values could slip – and your employees will be the ones to suffer.
So, how do you keep up your brand identity after a business boom? We spoke to Tracy McDonald,
Director of Talent & Culture at Left™, who had some advice for HR leaders wanting to keep their top talent after expansion.
"Left doubled in size last year, and we anticipate the same this year," she told us. "Staying true to our company values is very important to us, as we want to maintain the culture as we grow. Through our growth last year, we have been fortunate to not only maintain our culture, but to enhance it."
So, what's the secret? McDonald believes it comes down to cementing a great culture from the beginning.
"We really recognize that people can do great things, and our core philosophy is that if we hire great people and give them the opportunity to succeed - and the permission to fail - they will do incredible things."
One of the main ways Left finds these great people is by attracting culture-aligned prospects through a variety of programs that reflect the company's core values.
"A big moment for us last year was receiving our B Corporation certification as it provided a way to have many of our cultural elements validated by an outward body," Tracy added. "B Corp is an international movement that recognizes businesses for their commitment to doing business as a force for good rather than simply for profit."
"In order to become certified, you must complete a lengthy assessment, demonstrating that the company meets the rigorous standards of social and environmental performance, accountability, and transparency set out by the non-profit B Lab."
The assessment is marked against 200 points, with organizations having to score a minimum of 80 to become certified – Left scored 101 on its first try. "In terms of our recruitment, having the B Corp stamp of approval from an outside source has been huge. We don't just talk the talk; we walk the walk."
Another initiative McDonald attributes Left's recruitment success to is its award-winning Community Engagement Program based on three main pillars: individual volunteerism, team volunteering, and charitable contributions. The program includes providing unlimited paid time off for employees to volunteer in their communities – with "community" being defined individually by each employee.
"This could be volunteering in a homeless shelter, donating blood or helping out at their kids' school," Tracy says. "Having that opportunity to leave work and volunteer in a capacity that is meaningful for the individual allows them to be more whole as a human, and they really appreciate us recognizing the importance of this part of their lives. Team volunteering activities have included, shoreline clean ups, cooking & serving meals at Ronald McDonald House BC, and participating in Christmas Hamper drives."
Understanding what attracts an employee to a company is not just an essential part of recruitment, it also has a huge impact on retention rates. McDonald believes you have to listen to the stories around the answers given by the jobseeker to truly know whether or not they'll be a good fit.