The company's headquarters is 98 per cent millennial but turnover remains "almost non-existent" says Freshii's HRD.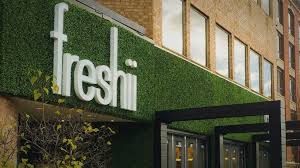 With a reputation for job-hopping, millennials are often considered hard to retain but it seems one Canadian company is having phenomenal success in the area.
"Our headquarters team is 98 per cent millennial but our turnover is incredibly low," says
Ashley Dalziel
, VP of people and culture at
Freshii
. "It's almost non-existent."
The company – established in 2005 by
Matthew Corrin
– never strays from its environmentally-friendly ethos and identifies its main focus as helping people all over the world live healthier and longer lives by making healthy food affordable and convenient.
According to Dalziel, this unambiguous mission is partly to thank for the millennial appeal.
"My feeling, and I'm a millennial myself, is people want to do work that matters. They want more than just a job and want to be part of a company that is more than just making profit," she told HRM.
"I think it's great at Freshi that it's true," she continued. "Matt built Freshi with a focus on the triple bottom line of people, profit and planet. Everything we do is geared towards helping people have access to healthier food and lives.
"It doesn't matter if you're an hourly team member or working at our head office, I think engaging people in our broader mission and that being a very authentic mission – when people come in they see that's what we're really all about – I think that is huge to the millennial employee."
Toronto-based Dalziel says one of other key things keeping the company's young workers happy is the opportunities they have to offer meaningful contributions.
"They want input into what's going on," she stressed. "Within our headquarter team, we do things like getting the whole team together for a strategic sales meeting and it doesn't matter what department or what level you're at, everyone has input into what our strategic drivers will be for the business for the year to come."
Giving people autonomy over their own careers and empowering them to take on challenges is exactly why younger workforce is keen to stay, says Dalziel.
"People are getting to play really big in their careers. They're getting exposure to things they would not be exposed to in other companies and Matthew as a leader – he puts a lot of trust in people. He gives them big jobs to do.
"As a 23 year old he started this company with no experience in the restaurant industry so he has a lot of faith in people and their capabilities, and people then want to rise to that challenge and want to perform for him."
Matthew Corrin – CEO and founder of Freshii – will be debunking myths about millennials at the upcoming
HR Leaders Summit
.
For more information on the November event, or to purchase advance tickets, click
here
.
More like this:
Millennials in the workplace: lost hope or our only hope?
MasterCard CHRO on what millennials want
Millennial women smash stereotypes about relocation