A futuristic gadget could be about to make certain workplaces a whole lot safer s a revolutionary type of training is developed.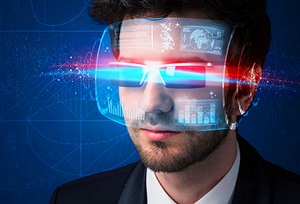 Imagine being able to navigate life-threatening scenarios by virtually walking through 3D building sites using a computer or oculus rift headset.
It sounds like the plot of the next
Call of Duty
game, but it's actually virtual reality training created to make the construction industry safer.
Designed by Associate Professor Sidney Newton and Russell Lowe at UNSW Built Environment, The Situation Engine is the first software of its kind to be developed by construction safety experts.
This achievement has not gone unnoticed, as it has recently been awarded a Premier Innovation in Education and Training Award by the UK-based Chartered Institute of Building.
In fact, it is "at the leading edge of current applications of gaming technologies for practical training in the construction sector", according to the judging panel.
It's a welcome innovation, as statistics show that construction is the deadliest industry in Canada, claiming 700 lives between 2008 and 2010 which accounts for 23.3 per cent of all workplace deaths during the period.
Gammon Construction, a major Hong Kong-based firm, has used the platform for the past six months and are praising it with significantly reducing training times.
Further, China's leading power generation company, China Light and Power, is also reviewing the system as a way to extend its safety training.
At the moment it's being used as an educational tool in the construction management and architecture programs at UNSW and other Australian universities.
Newton said the hyper-real environment engages workers and students better than theoretical tests.
"The Situation Engine allows students to experience several different sites at varying stages of construction, all of which pose risks like electrocution, falling objects or working at elevated heights," he said.
"The class can observe and forensically diagnose problems as they walk through different scenarios."
Right down to the machinery, signs and equipment, Newton and Lowe have accurately replicated Australian construction sites.
"For these scenarios to be convincing and for people to change their behaviour the sites need to look authentic and the hazards have to be realistic," said Newton.
More like this:
Tech firm Tinder offers internship to ousted student
100 per cent of HR pros would consider 6-hour work day
Are workers happier than ever?