All the mental health initiatives, yoga classes and remote working accommodations in the world won't do a thing to combat a rising global crisis in the workplace - employee burnout.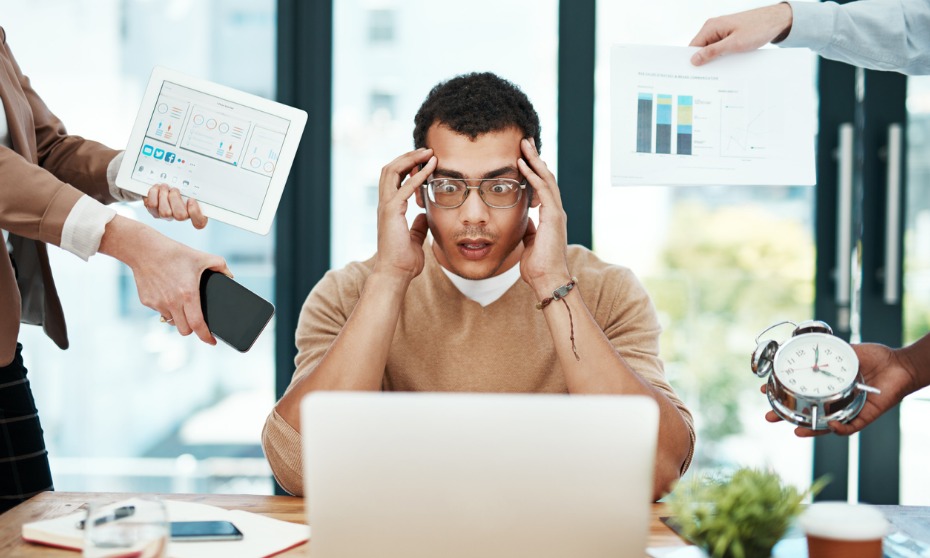 All the mental health initiatives, yoga classes and remote working accommodations in the world won't do a thing to combat a rising global crisis in the workplace - employee burnout.
According to O.C. Tanner's 2020 Global Culture Report, 79 per cent of respondents reported feeling some degree of burnout. In Canada, that level was two per cent higher, at 81 per cent.
"That's an important trend," says Alexander Lovell, manager of research and assessment at the institute. "Organizations need to start digging into this now because the effects of burnout are incredibly impactful."
Though every category in the report went up this year, wellbeing only rose by one per cent - Canada sat at 55 per cent for employee sense of wellbeing - despite the recent surge of employee health initiatives that focus on wellness and having a supportive and open workplace environment.
"Organizations can't just turn to those things as a catch-all way of impacting burnout because it's not going to make the difference they want it to," says Lovell.
Things like talking openly about stress and making it acceptable to take a few minutes to do some mindfulness, for example, are a good start, and having support for employees is critical - these things need to happen, period, Lovell says - but it's not enough.
The World Health Organization in May added burnout to the 11th Revision of the International Classification of Diseases, classifying it as an occupational phenomenon as opposed to a medical condition. It is listed in the chapter called "Factors influencing health status or contact with health services" and defined as "a syndrome conceptualized as resulting from chronic workplace stress that has not been successfully managed." ICD-11 characterizes it by three dimensions: feelings of energy depletion or exhaustion; increased mental distance from one's job, or feelings of negativism or cynicism related to one's job; and reduced professional efficacy.
To really address burnout, the first thing an organization has to think about is what in its culture is causing burnout? If burnout is the result of chronically unmanaged workplace stress, what is causing the workplace stress? It's a company's culture, Lovell says.
Yes, the nature of work itself - some positions more than others - can be stressful, but creating a strong and supportive workplace culture can help "lift that burden of the work," he explains. When there are issues in the culture, it perpetuates chronic stress and results in employee burnout - which used to be relegated to health care setting positions such as doctors or nurses, occupations that have long been identified as very stressful.
While burnout may originate in the workplace, where it effects everything from productivity, to the workplace environment - people snapping at each other, or walking on eggshells for example - it has a real and far-reaching impact outside of a company's walls.
"It comes home with you," Lovell says, noting that the report's qualitative research found that burnout started effecting employee's families, and in areas where you have the same organization that employs a lot of people, that started effecting communities.
"Think about that for a second," he says. "Organizations are causing harm to communities - not directly, but by burning people out."
So what can employers do to effect real change in their organizations?
"Step number one - assess your culture," says Lovell. He recommends employers figure out where the company's culture is contributing to workplace stress that's not being managed well. Then from there, they can start "turning on switches or pulling the levers" needed to make real change.
"Every culture is unique for an organization, so they need to do some fact-finding in their own culture."
The report, which is based on a research study of more than 20,000 employees and leaders across the world, identifies a feeling of futility as a main factor contributing to the high rate of burn out. Canadian employees - especially those in multi-national corporations with branches in Canada, versus those working in domestic companies - came in at the top of the scale for feeling nothing they do will make a difference or they were "just a cog in the wheel."
For Lovell, this makes sense because domestic companies don't have to worry about everything that they do also having to also be compliant in other countries, whereas there's probably a sense of bureaucracy in a multi-national where everything an employee does has to be scrutinized by many different people at various levels across many jurisdictions to ensure that it's a working strategy for all the laws and regulations.
"It's kind of like the darker side of globalization - we're a smaller world but we have to still deal with every country's regulations and laws, which can be exhausting," Lovell says, adding that everywhere that had burnout had a high level of futility.
There are two other main takeaways for employers, Lovell says, that can help enrich a company's culture and alleviate the stress that causes feelings of futility and, eventually, burnout. He calls for a switch from "thinking about the employee experience from a top-down perspective through the employee life cycle to more of an organic, grassroots, bottom-up approach." Everything that's happening to a person at work on a daily basis is part of their employee experience - it's not all about the big moments.
"Organizations are kind of narrow sighted when it comes to trying to impact the employee experience because they're doing it through various categories or life cycle stages when in reality the employee experience transcends that," Lovell says. "That in and of itself is a really important reframe as we look to improve the employee experience and start thinking about it differently."
Another takeaway for employers?
"Traditional leadership is dead - it's time for it to go," Lovell states.
The hallmarks of traditional leadership are from the medieval ages, he says - a high concentration of power in a small amount of people where the leader is just directing things. That doesn't resonate with any generation, he argues, and says Millennials and Gen Z-ers are "outright rejecting that approach to leadership."
What employees want out of a modern leader is someone they can describe as a mentor or an advocate - someone willing to help the employee make different connections, acting as a conduit not a gatekeeper.
The report looked at connection to purpose, connection to accomplishment and connection to one another as important markers for employee happiness, and employers can embrace this by focusing on creating experiences outside the employees' life cycle stages. Cultivating experiences that help connect people meaningfully to different aspect of a workplace's culture - giving them a sense of purpose, making it clear how their work contributes to success, helping them feel appreciated, encouraging a sense of belonging that includes connection to their leader - can alleviate burnout and "so many other things," Lovell says.
"If you think about what we're operating in from a larger perspective, our world is changing so fast," he says. He points to things like social media and advancing technology as creating new pressures for organizations, people and communities - but with these changes come new opportunities.
"It's how do we create those connections now in a different world? And that's not something we've all figured out yet - but I think that's where we need to go."
Speaking of emerging HR issues, don't forget to book your ticket to Employment Law Masterclass Vancouver here.