Genuine compassion is fast becoming a sought-after quality in the workplace but can HR really train workers to be more understanding?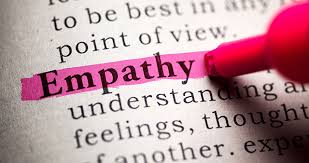 At Ford Motor Company in the US, its engineers (who are predominately male) must wear an "empathy belly" which allows them to feel what it's like to be pregnant.
This means they experience the extra weight, back pain and even the movements that imitate foetal kicking.
The logic behind it is that the engineers face the ergonomic challenges of pregnant women using the car. They can then proceed to design a car with those difficulties in mind.
That's just one example of how organisations are promoting empathy skills in their staff.
The leadership performance coach Mike Irving recently argued that it is becoming harder for bosses to say "thank you" because they're losing their empathy skills as technology and information distract them.
"Empathy is the number one skill that determines success in a leader and sadly it is lacking more and more as we become 'so busy'," he said.
Irving advised that it's absolutely critical to give staff your full attention when talking to them.
"If you find yourself getting distracted by your phone or your thoughts you're not truly engaged and present with the person you're talking to. Your relationships with your team will grow exponentially by taking this action," he said.
A recent study has also found that empathy could be the key to developing friendships, and may be particularly important for young men having supportive friendships with young women.
The research, When Empathy Matters: The Role of Sex and Empathy in Close Friendships, found that young men high in cognitive empathy attracted an average of 1.8 more female friendships than low empathy counterparts.
"It's well established that in addition to providing companionship, close friendships promote the development of interpersonal skills, learning, and growth," said Professor Joseph Ciarrochi at the Institute for Positive Psychology and Education at Australian Catholic University.
Indeed, empathy power is really about understanding and caring about other people, but also demonstrating that, according to Yamini Naidu, director of Yamini Naidu Consulting, and author of the book, Power Play.
She highlighted the response from Indonesia AirAsia chief executive Tony Fernandes when Flight 8501 crashed en route to Singapore - killing all 155 passengers and seven crew on board.
Fernandes used social media to "connect really compassionately with everybody," she stressed.
"For a CEO to have such a public and deeply empathetic response at such as traumatic time, I think was one of the things that made a big difference in a very difficult context," she said.
Naidu added that we quite often believe other people think just like us and that can create a distortion in our empathic response.
For all the latest HR news and info straight to your inbox, subscribe
here
.
More like this:
Funded jobs program doubles in size
Tell-all book attacks Facebook's culture
Friday deadline for Canadian HR Awards