Most of your team have one foot out the door. How can you recognize and change their feeling towards work?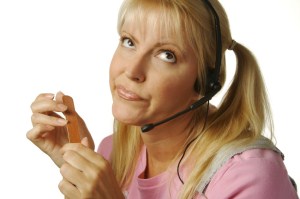 As much as some employers would like to say that all their employees are a happy and satisfied group, the fact is that there will always be discontented employees to handle.
Just a third of employees plan to stay with their current employer over the year ahead, and three-quarters have "one foot out of the door", according to Deloitte's global Talent Edge 2020 survey.
Common complaints included uncertain career paths, lack of trust in leadership, and inadequate ways of retaining top performers. But unhappy employees rarely tell their managers know how they're feeling, so how can you recognize the signs and what can you do about it?
Spotting the signs
Discontented employee will typically show several signs that point towards their status. These could include a slip in work performance, and staff members distancing themselves from associating with the organization.
Discontentment doesn't arise suddenly, but gradually and managers should be observant to spot the signs. "My view is that problems like this rarely arise all of a sudden – it's a gradual thing, and there are signs," Agoda Services VP of HR and organizational development Peter Allen said. "An observant manager should be able to tell when employees are not feeling engaged."
Workers might be unhappy for other reasons and managers should ask themselves what is causing the behaviour, he added. Look at what's happening in their lives and within the organization – your worker could have any number of reasons for a change in behaviour.
Addressing employee concerns
So you've identified the problem – now what?
"It is critical that any signs of discontentment are addressed immediately before it affects others in the team and business results," Patricia Hyndman, from DFS Venture, said.
Some managers are afraid to do this because they're worried about creating conflict, she said. They may hope the discontented person resigns and leaves on their own accord if they are not performing, or if the manager feels that they are not right for the role.
"HR and managers should be working in partnership here. Good dialogue, careful listening, an open-door policy, and maintaining trust and good relationships are the best preventive medicine, and prevention is better than cure."
Employees need a platform to be heard, and should be given opportunities to raise their concerns.
"Employees need to be given opportunities both formally and informally to raise concerns and/or seek feedback on any questions they may have. The organization then needs to be honest with them and actually respond versus not getting back to them," explains Hyndman.
However, it can be challenging for HR to get employees to be honest and comfortable in raising their concerns – and getting them to help HR address the problems.

Spot the signs
There are several signs to help HR spot a discontented employee. According to Patria Hyndman, Director Talent Management, DFS Venture Singapore, employers should watch out for the following traits:
Coming late and/or leaving early

Gossiping and being disruptive with colleagues – this could be in the form of not agreeing with a direction, or undermining the manager or creating friction within the team

Being unhappy with personal development and career paths; demanding managers to do something about it even if coaching and clear feedback have already been given

"Playing the victim"

Not completing work on time and/or avoiding meetings