Your new recruit was heralded by their former employer but you find they're a complete disaster – can you claim against the company?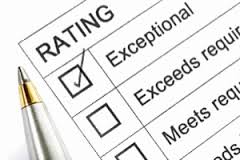 Many employers are afraid to give a negative reference for fear of being sued but what about when the tables are turned? Could HR take legal action against a company because they gave a misleadingly positive account of your terrible new recruit?
"I've never seen a situation like that before," says leading employment lawyer
Trevor Thomas
. "I think it would be a good idea to have something like that but I've never seen an employer sue a former employer based on a reference," he admits.
Vancouver-based Thomas told HRM that it would be difficult to prove that the former employer had deliberately misled the new employer.
"The other thing is that the new employer has a duty to properly vet this employee so at the end of the day I think a court would say to the new employer; 'You had a candidate before you who was looking for this job, you should have done your due diligence to properly vet this person. Not just from a reference standpoint but from speaking to this person, looking at their credentials, their skills and experience, you should have known what you were getting into, you can't go back now and blame the former employer for your failure to properly vet this person.'"
More like this:
How to handle an employee with a bad attitude
Inside Goldman Sachs staff email surveillance program
Sun Life launches "eye-opening" mental health tool